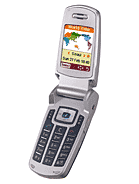 K
Hi,
Just bought this phone recently and WOW, it's really good and it's camera is excellent. But it does not come with cable and software :-(((. I downloaded Easy GPRS and obtained a Samsung data cable. When connected all the phone does is indicate that it's charging via the PC port!!! CONFUSED now. Don't have an IR port.
Anybody please help????
M
Samsung No Doubt Good Phone But what about Batterry Performance ??????
Total of 668 user reviews and opinions for Samsung E700.