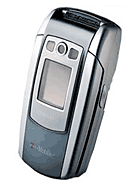 M
It's different I have the V205 and I'm looking forward to see how it holds up in comparison! I think the color and the cam are gonna be something new and a selling plus.
C
Lacos, ONLY 9 MB? I think that's pretty good memory pool!
Any info 'bout the price?

C
There's a review of the phone with lots of pics, and complete function review on the same page, and it's on english
L
I can confirm that it does not have an mmc slot. Only 9 MB dynamic memory..
K
A little disappointed with the phone....samsung have launch phones back in their home market with 256K color and 65 poly ring tones....wonder when they will manufacture such phone in gsm network...
C
This is the most beautiful phone that i have ever seen!!! GSMArena, upload a picture with its folder closed!!! It has every function i want!!! Great looks, great feats... I'll buy the first sample from the factory :) no matter the price!
Total of 513 user reviews and opinions for Samsung E715.