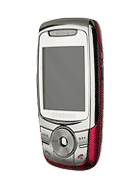 ا
شكله جذااااااب جداً وانا احب اجهزة سامسونج ولكن سؤالي هل هو عملي؟وهل الوسائط تعمل جيداً وتكون كبيره لان جوال d820 الوسائط تكون الصوره صغيره جدا؟وقد اتعبني ذلك..وهل الموسيقى صوتها عالي؟؟
وشكرا
V
Please release it already!!!! I´ve been waiting for ever to buy this phone!! I got d600 and d900, I like d600 much better than D900... I was not impressed at all when I finally got it, but this e740 looks just like what I want on a phone!
n
It's a Music Phone.
it is confirmes by P4S.
And it has so many colors pink , white, black..

?
i have this phone... got it imported from the Philippines. it's ok... not that impressive.
M
Futuristic retro goodness. Very nice design, too bad all sliders have terrible keypads..
Total of 189 user reviews and opinions for Samsung E740.