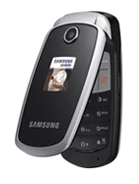 J
I'm going to buy this phone this friday. I found the only store in Belgium that sells it yay ^^.
I was looking at motorola aswell at first, but i find the menu and design of the E790 much more "business" looking :).
To bad you cant find any review of the phone.
Or maybe anyone here has one? (in english, dutch, deutsch or french if possible :))
M
too bad it has has soft keys, if else it would have been a beast! why sammy? why?
?
hi am just checking samsung phones online for quite a while now. Nothing seems to fit my wants and needs for a phone. Am considering this model to replace my old E760. But the thing is, it doesn't have an FM radio. I'm a music addict and wants to get updated about it. Doesn't stick to one radio station mopst of the time so an MP# is no good for me...
P
Since this phone uses dual core processor, Java performance is excellent than ever. It is an information from Samsung R&D people.
M
To E-SERIES GUY - Where YOU drunk when you wrote this!?! Best Samsung design ever made!
s
QCIF
Quarter Common Intermediate Format.
A standard size for images produced by low-resolution digital cameras and video cameras. QCIF images are 176 pixels wide and 144 pixels tall (176 x 144).


O
What's the world coming to? Seriously samsung...I was a fan of the E720 & E770. Best samsung phones ever made. Were you drunk when you designed this phone? Switching soon....
K
Really cannot understand Samsung. I have a E770, which have flash and very good CIF recording. This one E790 should be its successor so why no flash and only QCIF video ?
Samsung should make less phones but with better features for every models.
?
this phone looks like an improve version of x680! looks great and features have improve but it would have been even better if the external screen is colored not monochrome. anyway, you can't win em all. :)
p
This phone looks great, the specs are decent.
Does anyone think this phone is based on the motorola pebl?
Prob just me lol
Total of 34 user reviews and opinions for Samsung E790.