Add color to your messages
Samsung E950 manages SMS, EMS, MMS, and emails. SMS, EMS and MMS use one and the same editor. MMS are created through a selection from the menu or by inserting an image, which makes the editor automatically switch from SMS to MMS. EMS allows you to apply formatting and font colors to your text messages. SMS can have maximum 1836 characters (12 messages). The number of the 160-symbol chunks that a longer message breaks down to is shown in the upper part of the message composer. T9 dictionary is there to assist you; both browsing and adding new words is fast and intuitive. If sending fails, say because of a network failure, the message is saved to the Outbox. The Samsung E950 can store up to 1000 messages (Samsung D900, for example could only store 200).
The email client is relatively good. It can manage up to four accounts – POP or IMAP; download is user-defined, opting between headers only and entire messages. Not only any files from the phone memory, but also business cards, calendar events, tasks or notes can be emailed as attachments. The client can be set up to check mail at predefined intervals (user-configurable, of course). The only downside we found with the mail client is the lack of support for SSL, which practically means that if you own a secure SSL mail account you cannot use it with the Samsung E950 (Gmail is a nice example). A nice feature in most of the Samsung handsets is the ability to block email messages from certain senders or messages with certain subjects. You cannot use that filter for incoming SMS messages as you could in D900.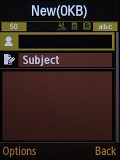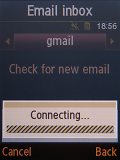 Typing an email • retrieving emails
The secret files
The Samsung E950 file browser is pretty much standard for Samsung handsets. The phone memory and the memory card are separate but they both have the same folder structure. There are folders for different types of files – images, video, music, sounds, which allow the handset to sort the memory contents. Functionality of the file browser is sufficient. You can copy or move files – both one by one or in bulk, and you can create and delete folders (except for the primary ones). Files can be sent again one by one or in bulk via Bluetooth. Throughout the whole file manager you can pick files you would like to lock to prevent deleting by accident.
The Samsung E950 picture gallery is a part of the file manager and not a separate application. Accessing it is as simple as opening the Images folder. You can copy or move images but only to the Images folder on the memory card and vice versa. Unfortunately, the picture gallery has been cut down a bit compared to Samsung D900. Here you cannot view the pictures as a plain list, only list with thumbnails is available and, further, you cannot sort files by file type or size. All files are sorted by their date of creation by default.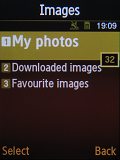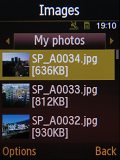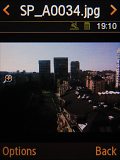 Images folder • My photos: all photos taken with the camera • opening a picture
Once you open a picture to view, you can scroll sideways to see the next images without having to return to the image list. You can view the picture full screen, but only in portrait mode (landscape pictures get cropped a bit). Additionally, you can zoom in on a picture in up to 8 steps.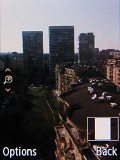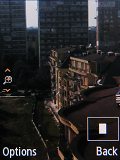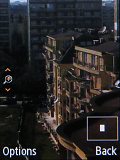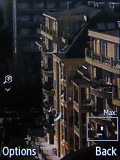 Viewing a picture fullscreen • zooming on the picture
If you wish you can do a bit of editing on your pictures using the integrated Scalado Image Editor, which is quite fast and rich in features. Processing images is quick but editing still takes time since all the features are organized in deep submenus which makes applying different effects rather sluggish. The Scalado Image Editor allows you to apply 14 special filters such as stamp, black and white, sepia, negative , milky, antique, fog, moonlight, color boost, posterize, solarize, blur, and sharpen. Then you can get serious with other effects like despeckle, noise, oil paint, emboss, sketch, sketch color, cartoon, paint, frosted glass, magic pen, spotlight, mirror. You can also adjust levels, brightness, contrast and color. You can of course flip, rotate and crop the image, as well as apply one of 10 warp styles that make pretty funny portrait images. Options are so many that elaborating on all of them calls for a full-fledged software review.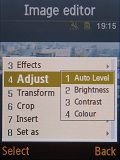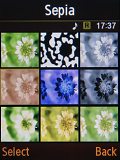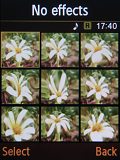 The editor interface: all those submenus • choosing a filter • choosing a warp style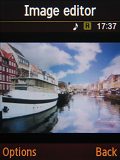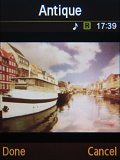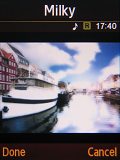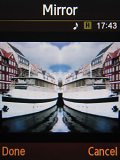 Original image • applying filters: antique, milky, and mirror
Great music player
Armed with 70MB of internal memory and a microSD card slot, the Samsung E950 can be comfortably used as a portable music player. The Music player application allows filtering tracks by author or album, or you can choose to play either the tracks you've recently listened to or the ones that you've played the most. Custom playlists can be created too. You can minimize the application to continue playing in the background. The player does have several equalizer presets (you cannot create one of your own) plus a 3D sound effect. You can also make use of some pretty loud volume levels. You can also rate tracks and mark them as your favorites.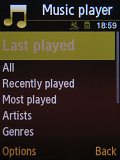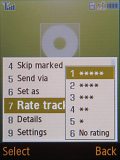 Music library • tracks list • now playing • playing options
As with most Samsung handsets, the retail box will supply you with a wired headset that comes complete with a microphone and a remote control. There's not an option to replace those, as Samsung doesn't offer a standard audio jack adapter. You can use however a Bluetooth headset for listening to music – both a mono and a stereo one will do the job as Samsung E950 supports the Bluetooth A2DP profile.
| | |
| --- | --- |
| When it comes to the audio hardware used in the Samsung E950, it has to be noted that it's once again a product of the collaboration between Samsung and Bang&Olufsen. | ADVERTISEMENTS |
When it comes to the audio hardware used in the Samsung E950, it has to be noted that it's once again a product of the collaboration between Samsung and Bang&Olufsen. The two companies have their history of cooperation, and the first IcePower-enabled mobile handsets we saw were the Samsung F300 and Samsung U600. The Samsung E950 also comes with an IcePower amplifier mobile chip. According to a third-party test, the volume level of IcePower-enabled devices is 20-25% louder in comparison to the second generation of Sony Ericsson Walkman mobiles. The sound quality hasn't changed much, as there's no dedicated sound processor (music is processed by the main ARM9 processor), however according to the Right Mark Audio Analyzer the sound experience is slightly better than rival Walkman handsets and way ahead of the S60-based devices by Nokia (except for Nokia N91). The IcePower devices lack any filters though (such as DSP), which may lead to some background noise – only noticeable in test conditions, though.
The Samsung E950 comes complete with an FM radio, which is a quite handy feature. You can store up to 30 radio stations. There is no RDS but you can set user-defined names to the stations just so you know which one to choose next time you go out.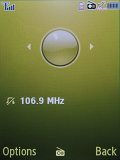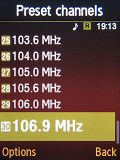 FM radio playing • stored stations
Both the Music player and the FM radio have a similar interface; the same holds true for the video player interface, too. It doesn't have many features but it can play video files in fullscreen landscape mode and you can fast-forward and rewind videos. As the camera records video in MPEG-4 format, you can rest assured that the player has full support for those – you can easily convert your videos to watch them on the go.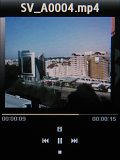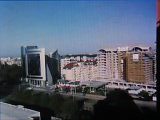 Video player regular interface • watching a video in landscape mode