Camera: LED flash and little to cheer
Samsung E950 features a 3 megapixel camera with a LED flash, which can take pictures at a maximum resolution of 2048 x 1536 pixels. It doesn't have auto focus, so taking shots of text and documents won't be possible, but it does well at larger distances, and is of course faster than every auto focus enabled camera. There are several view modes – the only way to see the whole composition is to select the "standard ratio" viewfinder. While the fullscreen viewfinder is pleasing to the eye, it doesn't allow you to see the whole composition you are shooting since it crops the center image and shows you only that.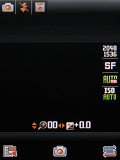 Still camera user-interface: standard ratio
The camera interface is intuitive and follows the current trend of showing settings with icons in the bottom of the screen while options appear as popup menus. The settings are extensive and include picture size, shooting mode (single or multi-shot ), color effects (black and white, negative, sepia, emboss), white balance, and ISO. An interesting feature is the Mosaic shot seen also on previous Samsung handset, which allows you to make interesting photo collages.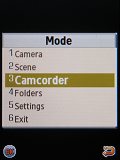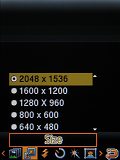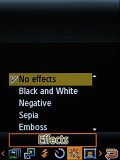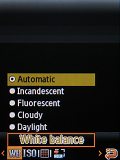 Choosing: camera mode, resolution, effects, white balance
The quality of the photos produced by the Samsung E950 camera is average. The colors are natural but the pictures have a lot of noise when compared to a similar 3.2 megapixel camera (the one of Samsung D900 in this case).
Without auto focus close-ups would prove impossible, let alone scanning text with your camera. In the same time, the handset takes pictures much faster and reliably (no focus lag), which is great for taking those spur-of-the-moment opportunist shots of moving objects. All that said, it's worth pointing out that with most auto focus cameras you can simply turn the auto focus feature off to achieve the same results.



Shooting trials with GSMArena test posters





Shooting outdoors: sky is overcast
We decided to make an improvised shootout between the Samsung E950 and the Samsung D900. Both handsets feature 3 megapixel cameras, but the D900 also has autofocus. As you all know, the autofocus doesn't necessarily improve landscape pictures such as those so the comparison is fair. If you take a look at the samples you will immediately notice the excess noise in the E950 pictures. We suppose, that it's not the sensor that messes up the things, but the software processing of the handset. That being said, it is highly possible that the retail version of the E950 might have that fixed. Since we have similar photos made by Samsung E590 (we're not publishing those here) we may easily conclude that Samsung E950 makes worse pictures than both D900 and E590.





Samsung D900 • Samsung E950 • Samsung D900 • Samsung E950
The camera is also able to shoot video – in the so-called Camcorder mode. Recording length is only limited by the available free memory. The user interface of the camcorder is pretty much the same as the one of the still camera.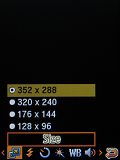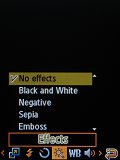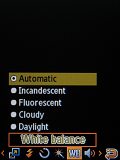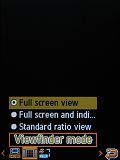 Choosing: video resolution, effects, white balance, viewfinder mode
The Samsung E950, as most other Samsung handsets, captures MPEG-4 videos with a maximum resolution of CIF (352 x 288 pixels) at 15 fps.
You may also see a sample Samsung E950 video clip
Web browser scores a mark
With the Samsung E950 you can count on EDGE and GPRS for browsing internet on the go. As we've already mentioned, it also comes equipped with Bluetooth which even allows listening to music on a stereo headset (A2DP profile support). It works seamlessly when transferring data to and from a PC. A notable enhancement to the Bluetooth File Browser service is the ability to make certain files or folders visible or invisible according to your needs. A data cable will allow for even faster file transfers. When connected, the handset gets charged, too.
Using the phone as a modem with a PC, is also an option. Such transfers can be made via Bluetooth technology or through the data cable.
The NetFront 3.4 web browser of the Samsung E950 is excellent for a feature phone – it renders pages well with or without the Smart-Fit function. It offers a mini-map so that you know where you are at on large pages, and it even has a virtual cursor, which highlights the currently active hyperlink or field.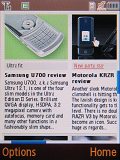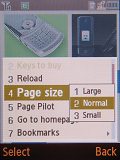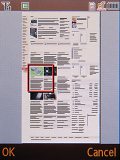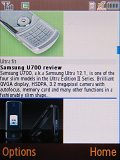 Browsing GSMArena.com in Desktop mode • Available page sizes • mini-map • Smart-Fit mode
Day-to-day management
The Samsung E950 calendar offers three views – daily, weekly and monthly. There are three types of events available: appointment, anniversary and task. The Calendar can store up to 100 items of each type. Much like D900, you can choose which calendar view should be default and you can pick which day the week starts on – Monday or Sunday.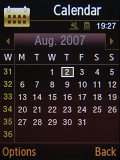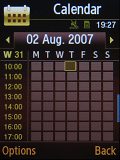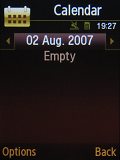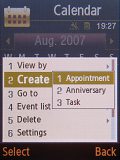 Calendar views • creating an event
Up to five alarms are available and each one of them can be set to repeat on given days of the week. There's a separate setting for the type of snooze you would like to have for each of those five alarms. You can of course choose a custom ringtone to wake you up at a preset volume level.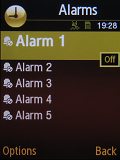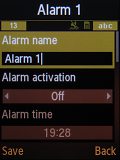 Alarms list • setting an alarm
The phone also offers a personal task manager, a voice recorder, a world time application, a calculator, and a unit converter. A countdown and a stopwatch will cater to sports-minded users. Samsung E950 supports Java, so downloading additional applications or games is not a problem.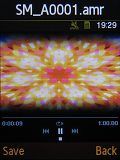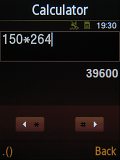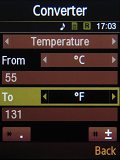 Unlimited voice recording • calculator • unit converter
Yahoo! ready
When it comes to additional applications, Samsung fails to make a real mark, but, several of them are there and deserve to be mentioned.
| | |
| --- | --- |
| As it turned out, the Samsung E950 is a wonderful phone, although the dodgy touchscreen navigation pad ruined the experience for us. It's highly possible though that this problem has a lot to do with the unit being an early pre-sales piece. | ADVERTISEMENTS |
The Image Stamp application allows users to watermark their images – simply select a watermark imprint, then select the image to be watermarked. Such an application is hardly a must-have on a mobile platform and is obviously meant for fun only.
While we saw Google search integration in the Samsung U700 that we reviewed recently, the Samsung E950 comes with an integrated Yahoo! search plus a Yahoo! messenger. Those of you using the Yahoo! services will probably be more than happy about those. They are even available as a main menu item for ease of access.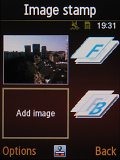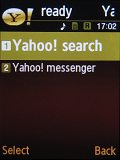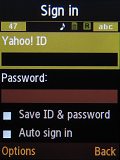 Image stamp • Yahoo! ready menu • Yahoo! messenger
Recent Samsung handsets come also with an integrated search application that is rarely seen in feature phones – the Smart search acts as a search engine, which you can use to search throughout the whole handset content – it goes through your contacts, menus, messages, etc. Further on, the Smart Search activates automatically when you start dialing a number and shows you all the available contacts which have this number combination.
And, finally it is worth mentioning that the Samsung E950 has support for viewing MS Word, MS Excel and PDF files by means of the integrated Picsel viewer. The viewer itself is a nice application, but it's rather slow.
A pocketful of games
When it comes to games, Samsung have their handsets packed with them. It's quite pleasing to see all those titles sitting in the fun corner. Alas, most the games turn out to be trial versions only. The Samsung E950 has full support for Java MDIP 2.0 so you can download additional titles and even other applications. When we say download, we mean it – the only way to get a Java application or a game work on a Samsung handset is to download it online with the handset itself.
The games that the Samsung E950 bundles up are Asphalt Urban GT, Time Rider II, Bobby Carrot, Midnight Pool, Mini Golf Las Vegas, and Tetris. As you've probably guessed it, the most interesting of them are the trial ones. Even the minimalistic Tetris game is trial, too. If you take into account the unreliable touch pad navigation you may bet that playing those games is not such a nice experience.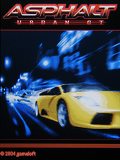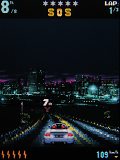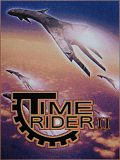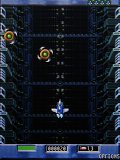 Asphalt Urban GT • Time Rider II
Final words…
As it turned out, the Samsung E950 is a wonderful phone, although the dodgy touchscreen navigation pad ruined the experience for us. It's highly possible though that this problem has a lot to do with the unit being an early pre-sales piece. So, we are looking forward to the final retail version then.
Other than that the handset has its pros and cons. While none of the cons is a real deal-breaker, the pros provide for a nice experience with this fashionable slider. The Samsung E950 doesn't have a great camera or the features of a top performer. Its appeal lies elsewhere and style comes first.