Two of Samsung's highest ranked executives - the presidents Boo-keun Yoon and J.K. Shin - have now been announced as co-CEOs of Samsung Electronics.
This move stems from acknowledging the three true pillars of Samsung's business and the need for their respective leaders to stand on equally high level in the corporate ladder.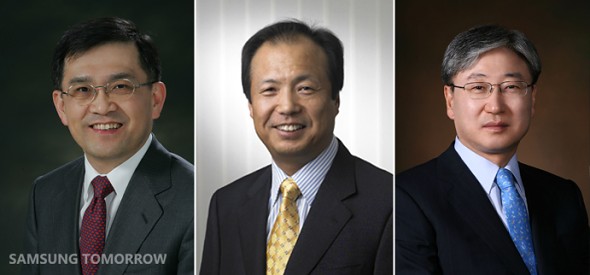 The three co-CEOs (left to right): Oh-Hyun Kwon • J.K. Shin • Boo-keun Yoon
So far president Boo-keun Yoon took care of Samsung's TV and appliance business, while president J.K. Shin oversaw the operations in the mobile field. These two will continue to manage their respective fields, but will do so as co-CEOs.
The new appointments recognize the strong performance of President Yoon and President Shin. Under President Yoon, Samsung's TV business maintained and solidified its global leadership position after becoming global No. 1 in 2006. Under President Shin, Samsung's mobile business posted significant growth and attained global No.1 position in smartphones in 2011 and in overall mobile phones in 2012.
They are now ranked equally high as the current CEO and vice chairman of Samsung Electronics - Oh-Hyun Kwon. Besides being a CEO, he is also directly in charge of the Device Solutions. That's the Samsung branch, which takes care of component manufacturing - such as memory, chipsets and LEDs. Kwon was himself appointed CEO only eight months ago.
Of course, the head of Samsung Electronics remains Lee Kun-hee, the company's Chairman. He is the son of Samsung Group founder Lee Byung-chull, and his own son - Lee Jae-yong (a.k.a. Jay Y. Lee), a current vice chairman and COO himself - is dubbed as the heir apparent to the chairmanship.
A
Samsung it not good company
D
With one CEO's cheating customers are fed up. Now 3 experts- Cheating Expert Officer
a
i am note satisfied samsung brands
ADVERTISEMENTS