Second time around
Samsung Exhibit II 4G review: Second time around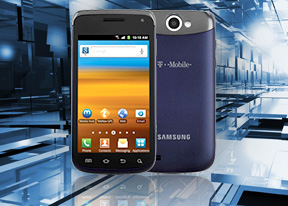 Google Maps is essential
Google Maps is a standard part of the Android package and we've covered it many times before. It offers voice-guided navigation in certain countries and falls back to a list of instructions elsewhere. You can plan routes, search for nearby POI and go into the always cool Street View.
The latest version uses vector maps, which are very data efficient and easy to cache. The app will reroute you if you get off course, even without a data connection.
Android Market has it all
After its recent major overhaul, the Android Market has become the place to go not only for apps and media, but also book, movies, etc. Its interface is simple and intuitive. The search function at the bottom right corner will assist you in finding anything you can possibly need.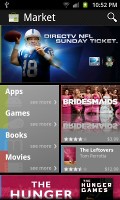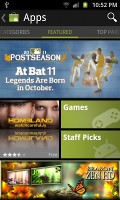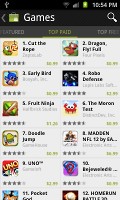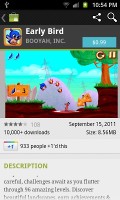 The Android Market keeps evolving
We must note that, in the case of the Samsung Exhibit II 4G, the wireless provider has gone out of its way in putting all kinds of proprietary apps, whose usability hovers around the absolute zero. Having them on board clutters the phone's launcher and takes away from its resources for no good reason.
Kies Air turns your phone into a web server
The Samsung Exhibit II comes with Kies Air preloaded. The app connects to the local Wi-Fi network (or it can create a Wi-Fi hotspot) and gives you a URL to type into your computer's web browser.
From there you can manage just about anything on the phone – from contacts, messages (including composing messages), to browsing images, videos and other files straight in your desktop browser. You can grant or reject access to computers and see who's connected to the phone at any moment.
The cool thing is you can stream music with handy playback controls. It works for videos too.
Final Words
The Samsung Exhibit II 4G is one of the most unpretentious phone we've seen this year. Its dull looks do it no justice as software-wise, the device is identical to the current Galaxy S II lineup.
We did find the device a bit laggy at times while putting the TouchWiz launcher to its paces. It appears that the latest incarnation of it is suited much better for dual-core smartphones.
The Samsung Exhibit II 4G costs the highly acceptable $199.99 without any contract commitment. T-Mobile offers a slew of pay as you go plans for it, including a $30 a month one, which is offered in partnership with Walmart.
You must look really hard to find similar functionality for this kind of money. As always, we did some research and have found a couple of alternatives. Just keep in mind that this time, we are talking only contract-free prices.
Nokia C6-01 is the most viable alternative we could find. The Symbian device costs $229.99 online, and offers an impressive set of features for its price tag. Among them is a clear black AMOLED screen, 8MP camera and a metal clad body. If you are not stuck on Android, you will surely like this one.
The latest Sony Ericsson Xperia mini can also be found in the $200-dollar price range. The smartphone packs an impressive spec sheet, and trounces the Exhibit II in terms of looks. It will not however, support T-Mobile's speedy HSDPA network.
The Samsung Exhibit II 4G's main goal is to bring people into the T-Mobile fold by offering them access to the Magenta's "4G" network and affordable plans, at an acceptable price. In this aspect, it has no alternative in terms of functionality and price. If this is what you are after, it will do the job for you. Otherwise, it is a tough sell.