User Interface: Gingerbread and TouchWiz
The Samsung Exhibit 4G runs Android 2.3.3 Gingerbread, covered with Samsung's own TouchWiz UI. The usual four docked icons at the bottom of the screen are present, along with the familiar functionality.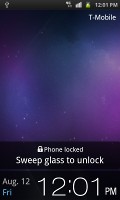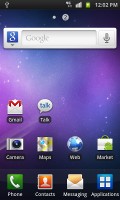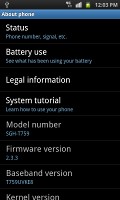 The TouchWiz user interface comes preinstalled on top of the Android OS
We have prepared a video of the Exhibit's UI in action. You can see it below:
The Exhibit 4G supports up to seven homescreen panels, which can host every widget and shortcuts you'll ever need. However, if you don't need all seven of them, the unnecessary ones can be deleted. Doing so makes the phone noticeably snappier.
Sliding the notification bar down reveals the Android notification area. It is majorly overhauled from the stock Android one and holds five switches for Wi-Fi, Bluetooth, GPS, sound and rotation-lock.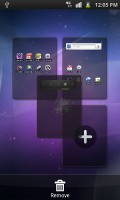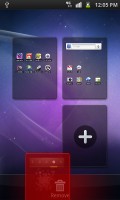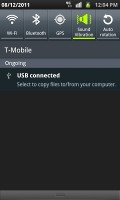 Editing the homescreens • the notification areae
Pressing the menu button while on the homescreen lets you add variety of content on it (a press and hold on the homescreen does the same thing), add or delete homescreen panels, change the wallpaper or quickly access the settings menu Live wallpapers are supported as well. The contextual menu has shortcuts too for search and notifications.
By default, the main menu consists of side-scrollable panes, much like the homescreen, instead of a vertical scrollable grid (like in the vanilla Android). List view is available too.
You can rearrange icons freely. Icons are shown in a 4x4 grid with a total of 16 icons per menu screen.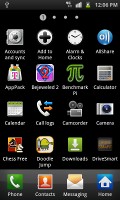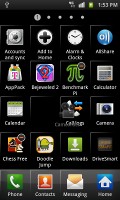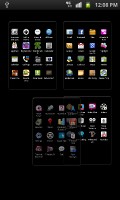 The main menu • editing the main menu
The TouchWiz preinstalled task manager saves you the need to install a task killer. It gives the user details on RAM usage, the amount of free storage and can be accessed through virtually any spot in the UI by holding the home button.
Synthetic Benchmarks
Being a mid-range device, the Samsung Exhibit 4G surely isn't a powerhouse when it comes to putting it through some benchmarks. Don't get us wrong - It doesn't do a bad job, but it just can't compare to the dual-core beasts that are currently ruling the high-end market. We ran a couple of popular benchmark tests and here are the results:
The Samsung Exhibit 4G is powered by a 1 GHz ARM Cortex-A8 processor, and Hummingbird chipset. The device has 329MB of user-available RAM. What's important however, is that, overall, we felt no lag or signs of inadequate amount of processing power when we used the droid.