The Samsung Exynos 7420 chipset has been tested in the Geekbench 3 benchmark, likely residing in a prototype Galaxy S6 unit. The SoC aced the benchmark test scoring 5478 and 1520 points in the multi-core and single-core tests, respectively.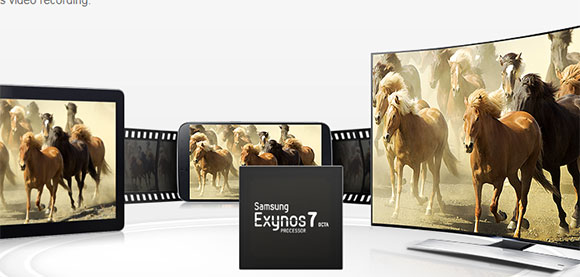 In comparison, the Exynos 5433 with 1.9GHz CPU clock scores on average 4000 points in the multi-core test. GeekBench reports that the CPU in the Exynos 7420 is clocked at 1.5GHz, but that's likely the speed of the slower, Cortex-A53 cores.
However, it's not all sunshine and roses, because the HTC Nexus 9 and the Nvidia Tegra K1 have a fighting change against the Galaxy S6 prototype that was likely the host of the Exynos 7420. In the single-core testing, the Tegra K1 and its dual-core 2.5GHz Denver CPU score 1895 points.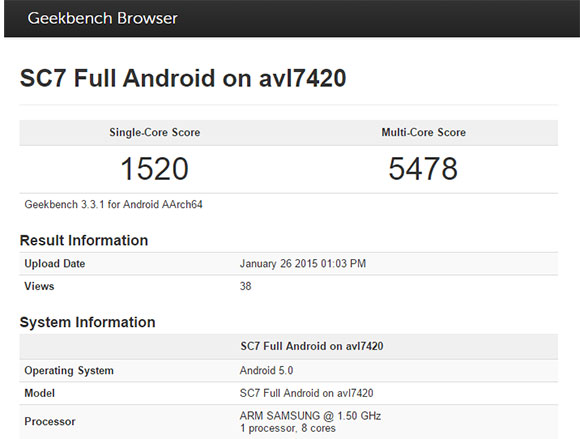 Additionally, the benchmark result page reports the test device to spot 3GB of RAM and run Android 5.0 Lollipop. Earlier, the Galaxy S6 was reported to also be available with 4GB of RAM. Further speculations suggest a 5.5-inch QHD (1440×2560 pixels) display, 20MP main camera, and 5MP front-facing snapper. We'll surely find out more about the Galaxy S6 during MWC 2015 in March.
a
The iphones are less powerful evey year than android phones years old. iPhone 6 is the first time apple fans haven't been greatly ripped off. I last owned an iPhone 4s and a HTC one s, which was half the price.bthe HTC one s peed all over the iPhone ...
?
no hes trying to say octa core is crap in performance, its only for marketing. you say it saves power compared to quad core (for android), but quad core doesnt waste any battery, when its under light usage it underclocks itself. in fact any processor...
R
Octacores aren't for performance, they're for better battery life! my galaxy tab s is no powerhouse with an octacore processor, but it uses the lower powered quadcore processor when it's not under a strenuous workload, and uses the more powerful one ...
ADVERTISEMENTS