Samsung switched on its own Exynos line for flagships with a small number of mid-rangers also powered by the Samsung-branded chipsets. Next year that number might grow, weening the Galaxy line off the Snapdragon dependence.
Two chipsets – Exynos 7650 and Exynos 7880 – are roughly in the Snapdragon 620 range. They have a big.LITTLE configuration of Cortex-A72 and Cortex-A53 (the core counts for both is unclear) and Mali-T860 GPU. Both will be built on a 28nm range.
The difference comes from a slight clock speed advantage for the 7880 (and possibly core count, again it's unclear), an extra core for the GPU (4-core vs. 3-core) and faster RAM access (17GB/s vs. 14.9GB/s).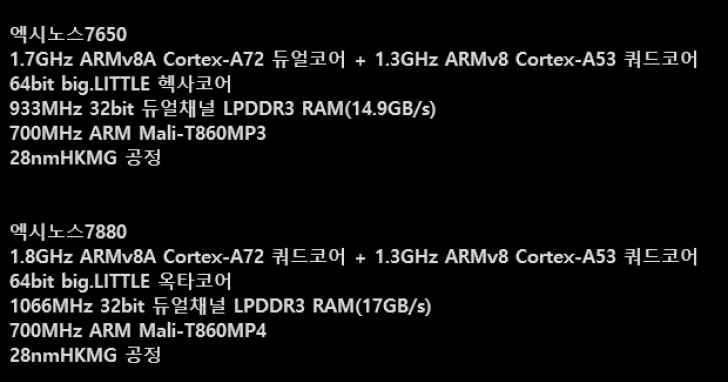 The Cortex-A72 is based on ARMv8A and is the successor to the A57 used in current designs. It should improve performance and power efficiency, though it's not clear if the old manufacturing process will allow it to challenge current flagship. The GPU is similarly a new generation – the Galaxy S6 stable uses Mali-T760, but has double the cores.
?
Custom Rom lock down has been more of a carrier issue,.
?
If these is in fact are to go head-to-head with 620, I doubt they will run on hexa-core, they more likely are to operate on octa-core
D
that is a good point, but i was talking about preformance , but yes. i didnt think of that one , :)