User interface is rather old-school
Samsung F110 Adidas has interface similar to most other handsets by the manufacturer. It offers several graphical transitions and animations but is nothing special really.
The stand-by display can offer either the proprietary dynamic Home screen or a still image as wallpaper. The step counter can be visualized on the stand-by screen but only if you opt for the image wallpaper.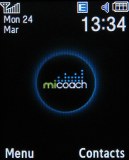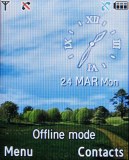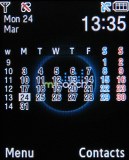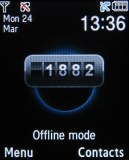 Home screen: regular and dynamic • calendar overlay • active pedometer overlay
The main menu consists of a 4 x 3 grid of icons. There are no colors here and it's rather gloomy. You can change the theme, but all the available ones follow the same pattern. In fact, it seems all the themes have been created to suit the different colors the Adidas phone. The white one is best for using under direct sunlight. The standard black one is totally illegible with the sun beating down.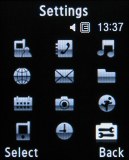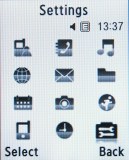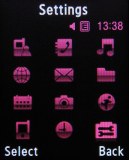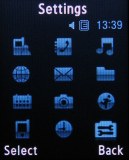 Some of the available main menu themes
The phonebook of the Samsung F110 Adidas can store up to 1000 contacts with multiple fields. It displays the names from the phone memory only or all names from both the phone memory and the SIM card at once. Over 20 fields of information are available for each contact.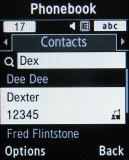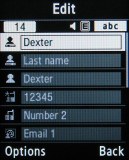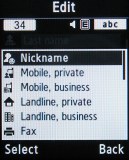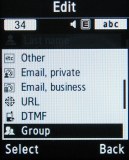 Phonebook: contacts list • editing a contact • adding custom fields
As expected, signal reception with the Samsung F110 Adidas phone was flawless. Of course if you are out there running, you won't have problems hearing an incoming call thanks to the wired headset. For every other situation the loudspeaker should prove loud enough.
Here is how the Samsung F110 stacks up against some of the other handsets we've measured in our speakerphone loudness test.
| | | | | |
| --- | --- | --- | --- | --- |
| Speakerphone test | Voice, dB | Pink noise/ Music, dB | Ringing phone, dB | Overall score |
| Samsung F110 Adidas | 68.9 | 65.8 | 73.5 | Good |
| Nokia 6500 slide | 74.2 | 72.8 | 78.2 | Very Good |
| Nokia N81 | 68.8 | 67.8 | 75.7 | Good |
| Samsung E250 | 71.9 | 64.7 | 69.8 | Average |
| Sony Ericsson W910 | 77.5 | 70.7 | 82.7 | Excellent |
| Apple iPhone | 67.2 | 60.2 | 66.6 | Below Average |
You can find more info about our loudspeaker test, as well as the results of all other tested devices here.
Samsung F110 Adidas can handle SMS, MMS, and email. Naturally, a T9 dictionary is present and it does its job quickly and intuitively. Incoming messages, like calls, can also be blocked based on a user-defined black list.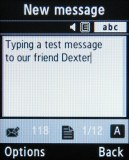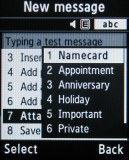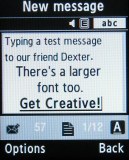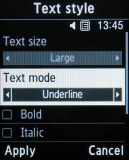 Typing a message • inserting attachments • changing font style and size
The email client is relatively good but it doesn't support SSL so is useless with Gmail.
The Samsung Adidas file browser is pretty much standard for Samsung handsets. Since there is no memory card slot, there is only the 1GB worth of integrated storage at your disposal. There are folders for different types of files - images, video, music, sounds, which allow the handset to sort the memory contents. You can copy or move files freely and you can create and delete folders.
The picture gallery is an inherent part of the file manager and not a separate application. Accessing it is as simple as opening the Images folder. You can view the pictures as a plain list or as a list with thumbnails. And again, you can sort files by date, type, name, and size. You can view pictures in both portrait and landscape.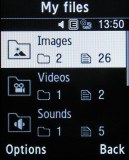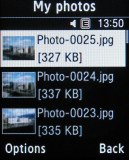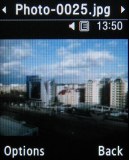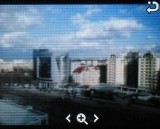 File browser • opening camera photos • viewing an image in portrait and landscape