Music player is excellent
The available 1GB storage should be enough to use the Samsung Adidas phone as a portable music player - in fact it's one of the main skills to look for in a track sidekick.
The Music player has a dedicated shortcut on the keypad and allows filtering tracks by author, album, genre or you can choose to play either the tracks you've recently listened to, or the ones that you've played the most. If that doesn't seem enough, you can create your own custom playlist. The music player can naturally be minimized to play in the background.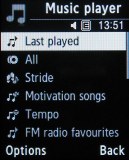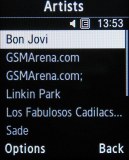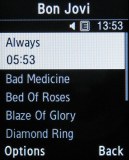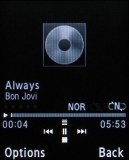 Music player • filtering tracks by artist • playing a track
While the Samsung F110 Adidas doubles as music player during your workouts you can rest assured that you are enjoying high quality audio reporduction. It offers better audio quality than most of the handsets we've tested so far. That is why we decided to compare it with an Apple iPod in our audio quality test. You will see that they have rather similar frequency response curves - the reason behind this is that Apple are actually using music chips made by Samsung.
| | | | | | | |
| --- | --- | --- | --- | --- | --- | --- |
| Test | Frequency response | Noise level | Dynamic range | THD | IMD + Noise | Stereo crosstalk |
| Samsung F110 Adidas | +0.49, -1.07 | -89.1 | 88.7 | 0.0023 | 0.021 | -88.8 |
| Apple iPod | +0.41, -1.16 | -91.6 | 91.8 | 0.0043 | 0.015 | -83.6 |
| Samsung U900 Soul | +0.29, -1.25 | -84.6 | 84.6 | 0.017 | 0.052 | -82.9 |
| Samsung U600 | +0.41, -1.12 | -89.2 | 86.5 | 0.0040 | 0.019 | -86.9 |
| Sony Ericsson K770 | +0.21, -1.04 | -85.7 | 88.8 | 0.014 | 0.030 | -84.8 |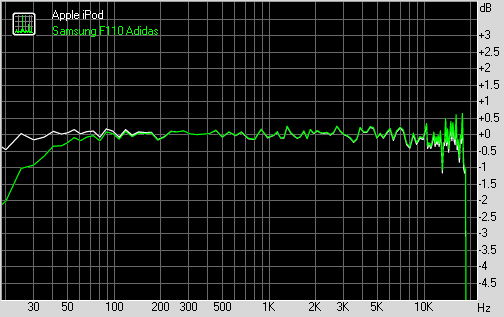 Samsung F110 vs Apple iPod
You can find more info about our audio quality test here.
As with most Samsung handsets, the retail box will supply you with a wired headset that comes with a microphone and a remote control. This time around, the remote control serves as a 3.5 mm audio jack adapter so you can use own pair of headphones.


The sports headset and the mic/remote with 3.5mm audio jack
Music is easily transferred to the Samsung F110. When you connect the F110 via the optional data cable, choose either miCoach/Media player connection mode, or Mass storage connection mode. The first one allows the F110 to sync with your Windows Media Player music library using the MTP protocol. If you don't use Windows Media Player, the second mode would allow you to simply paste a music folder onto the F110 storage memory, which unfortunately is only 1GB.
The Samsung F110 comes complete with an FM radio. It has original interface with a virtual knob that you control with your D-pad to find stations. There is no support for RDS but you can record radio broadcasts as you please.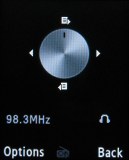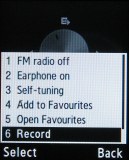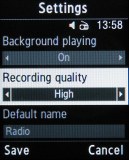 FM radio playing • some of the options • broadcast recording properties
The video player doesn't have many features but all the essentials are covered - it can play video files in fullscreen landscape mode and you can fast-forward and rewind videos.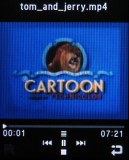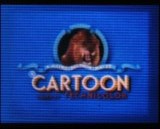 Playing a video in portrait and landscape mode
Camera is somewhat disappointing
The Samsung F110 Adidas makes use of a 2 megapixel snapper with a maximum image resolution of 1600 x 1200 pixels. It doesn't have auto focus, or a flash of any kind.
The camera interface is intuitive and follows the current trend of displaying settings with icons in a toolbar at the bottom of the screen, while options appear as popup menus. The settings are extensive and include picture size, shooting mode (single, multi-shot, mosaic shot and panorama), color effects (black and white, negative, sepia, etc.), white balance, and ISO (up to 400).
The camera interface operates in landscape mode and the viewfinder uses the whole screen.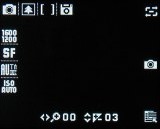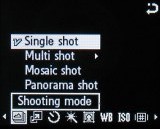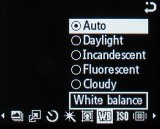 Camera viewfinder • camera settings on toolbar
Here are some 2-megapixel camera samples:
Finally, we come to the video recording capabilities of the camera. Samsung F110 shoots video in the so-called Camcorder mode. The user interface of the camcorder doesn't differ from the one of the still camera except for the available options.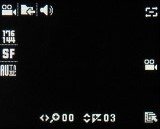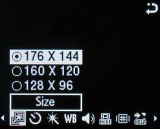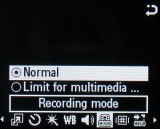 Camcorder viewfinder • camcorder settings on toolbar
The Samsung F110 Adidas is quite an underdog when it comes to video recording. Its capabilities max out at QCIF resolution at 12 fps. At least videos are recorder in MPEG4 format rather than 3GP. Nevertheless, we are not publishing QCIF video samples for quite some time now.
With the Samsung F110 you can count on EDGE and GPRS for browsing internet on the go. The NetFront 3.4 web browser is excellent for a feature phone - it renders pages well, with or without the Smart-Fit function. It offers a mini-map so you know where you are on large pages, and it even has a virtual mouse pointer, which highlights the currently active hyperlink or field.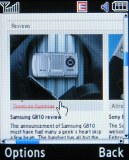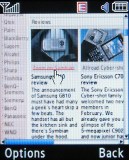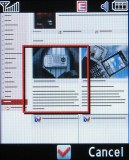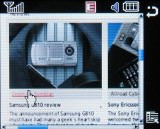 Browsing GSMArena.com: regular and small page size • mini map • going landscape
However the Samsung F110 is slow to pan and scroll to the extent it becomes tedious to work with. Plus the low resolution does pay a penalty here.
The phone works seamlessly when transferring data to and from a PC. The USB connection has PC Studio, miCoach/Media player, Mass storage and Printer modes. Each of them can be set as default, otherwise the user will be prompted for action upon connection.