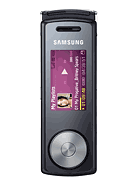 b
this fone should have a standard 3.5mm jack

i hate their adapters and the fact that there is a protruding lid to cover the plug
?
No stereo bluetooth? I dont believe that, Samsung wouldent put all this effort into this phone and leave out all the neat stuff
T
It looks like a really nice fashion phone, but no stereo bluetooth is goin to hurt it.
S
Well it's a Music Phone and Designed Like a Real MP3 Player i Like that idea !!
G
Looks far better than the X830. Expandable memory and proper phone buttons might make this 1 sell better
A
my friend has the X830 , it sux, you can only spin one way , screen quality is very bad , so is the camera itself. The only good thing is its design.
S
good design, innovative as they are the only manufacturer that makes a phone like an Mp3 player :)
Total of 434 user reviews and opinions for Samsung F210.