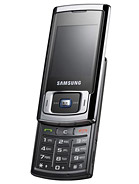 z
i have bought the same phone in ROMANIA...by the name J770 and where it says on the phone "Anycall"...on mine it says "SAMSUNG", but this isn`t very important, what matters is that in my opinion it`s good phone, i`ve seen better but this one is good enough
m
liviutz, 12 Dec 2008there is a samsung j770. i don`t see this on gsmarena .. it`s exactly the same .. i`ve bought ... moreindeed in Romania is known as J770. i have to say it's a wonderful phone, very fashionable and stylish and the music player has great quality. you can upgrade the memory by microsd up to 8Gb!
l
there is a samsung j770. i don`t see this on gsmarena .. it`s exactly the same .. i`ve bought one of this yesterday but it`s j770 not f268 i can`t find the model anywhere & it`s not a fake .. i bought it from a real samsung dealer ..
k
this phone is only available in korea from Anycall only
1
Actually it's a good phone. not 2 MP, it,s 3 MP
S
I want to take Samsung !! But iam afraid because some people told me that Samsung not good mobile and you will bored quicely of it ....... but some people they advice me to take samsung

I don't know
T
Looks like a good phone to not have 3G
?
What can you say about this phone? Is this really handy? How about the life? Does it get wrecked easily?
c
this unit is a taste of samsungs view on phones


their high end phones are released first, then they will create a lower end unit which almost exactly looks like its high end counterpart


this vision appeals to many as there will be no..discrimination or some sort
S
This looks really nice for a cheap phonr! 10/10 on the design!
?
a low-end phone which actually looks sexy... just cause you want a prepaid doesn't mean you need to settle on a bulky ugly phone.

what, do you first three want a freakin medal? lol
N
Nice phone,sleek design.
3rd.
p
nice phone for users who don't want expensive phone...
2nd
t
this phone is bad
first
Total of 35 user reviews and opinions for Samsung F268.
ADVERTISEMENTS