Gallery is really user-friendly
The Samsung F480 picture gallery is an inherent part of the file manager and not a separate application. Accessing it is as simple as opening any folder that contains images. You can now copy or move images to any folder of your choice, unlike some older Samsung handsets where only the Images folder was available for that purpose.
There are two view modes for the gallery. In fact those are available throughout the whole file manager but opting between them is only reasonable when browsing pictures. The list view mode presents files as a list, with a really small thumbnail next to each filename. The thumbnail view shows a grid of 3 x 3 thumbs and the filename of the currently selected one is displayed below the grid. You can sort your images (or any other files for that matter) by date, type, name, and size.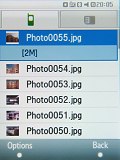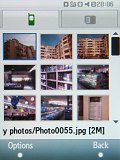 The two available gallery view modes
Once you open a picture to view, you can sweep you fingers across the screen to see the next images without having to return to the image list. You can view a picture in both portrait or landscape modes. You can also zoom in on a picture to see greater detail though we must warn you that zooming in and out is quite slow and irritating. This is due to the fact that the zoom steps are rather small and you need to go through quite a lot of them until you are actually able to get more detail.
Picture gallery video
Here is a sample video so you can see how picture browsing actually works on Samsung F480. The gallery has a real nice interface, even with its problems here and there.
There is another thing to warn you about in the picture gallery. It does have some issues displaying images taken with the phone. When zoomed in they look as if the handset is not capable of displaying all the image colors and severe banding is visible. This means that instead of displaying a nice smooth color gradients where this is necessary large uniform colored spots appear. Those photos look ok when downloaded to a PC or any other device, so no worries about this being problem of the camera.
Music player is now touch-friendly
The music player of Samsung F480 has also been improved and optimized for touch operation. It has better looks although the functionality isn't changed. Not that it needs to, as the player is capable of doing almost anything you can ask for.
The music player allows filtering tracks by author, album, and genre. You can also choose to play either the tracks you've recently listened to, or the ones that you've played the most. If that doesn't seem enough, you can create your own custom playlists. The music player can naturally be minimized to play in the background.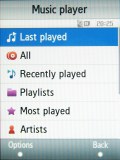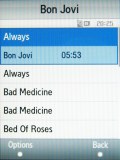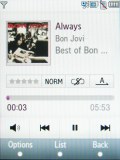 Filtering tracks by artist • now playing interface
The widget responsible for controlling the music player is cool, allowing quick access to the full version of the application by a single click only. You can also start, stop and alternate tracks straight from the home screen if you prefer. A well deserved pat on the shoulder also goes to the FM radio widget.
There are a number of sound effects available when playing a track. Starting with surround, adding dynamic sound and finishing with some common equalizers (rock, jazz etc.), it's all there with Samsung F480. Not that we are such great fans of those sound effects but they are still worth mentioning.
| | |
| --- | --- |
| "...The music player of Samsung F480 has also been improved and optimized for touch operation. It has better looks although the functionality isn't changed. Not that it needs to, as the player is capable of doing almost anything you can ask for..." | ADVERTISEMENTS |
Finally, the Samsung F480 allows touch-performed fast forwarding and rewinding, as well as track rating. Add all those extras to the generous 228MB of internal storage and the memory card slot, and you get a great portable music player.
Music player
We shouldn't also forget that Samsung F480 is equipped with an FM radio with RDS. The RDS itself is the most advanced one we have seen on a mobile phone, displaying the station name on one row and the additional information on the other. Furthermore, the Samsung F480 radio offers intuitive controls and it even has an integrated music recognition feature much like Sony Ericsson's TrackID. We tried it once and it had no problem returning the right result for us.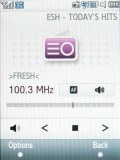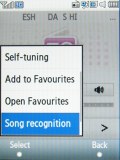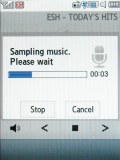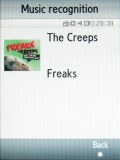 FM radio interface • song recognition turned out nice
The video player is the only multimedia part of Samsung F480 that somewhat disappointed us. Not that it's that bad in terms of user interface or something. All the essentials are covered - it can play video files in fullscreen landscape mode and you can fast-forward and rewind videos. You can also jump to a specific second of your video.
What really bothered us is the limited compatibility. Samsung F480 was unable to play a VGA video at 30 fps taken with the camera of a Nokia N95 8GB. The "resolution unsupported" error was very bad news to us as it means that you would have to convert any video you want to watch on your F480. A real pity, as the large screen provides for good video watching experience. However, it is doubtful if anyone will be patient enough to convert a lot of videos for this purpose.
Unfortunately, we are unable to provide information about the audio quality of Samsung F480. Our unit had a problem, which made producing accurate results impossible. From what we have seen so far by Samsung, we don't doubt that the final result will be worth it.