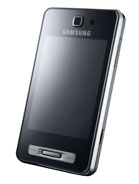 K
gREAt!!! but i know this is quite expensive but it's ok !!!! hahahahah!!!!! gud news!!! loking forward to have this on my bare hand....
P
Looks so much better then Prada and all other touch screen phones.. Im gonna get this one!
o
bad phone!!!, no wi-fi, no symbian
?
i know lg and samsung are d same company but wtf, taking ur padners designs so boldly come on this 1 is to obvious, come man!
?
It miight look like the Prada, but the functions are ten times better.
P
Vieuwty/Prada rip off, but still it looks good!
Only to bad no WiFi.... That would make the phone complete!
h
What a rip off of the prada phone.
g
wha were they thinking by not including wifi

this thing just wont work
b
viewty samsung style only worse
l
I totally agree with everyone on this , Where is the wifi. Whats the point of going through all this effort to produce this model without including wifi? I the iphone didn't have wifi, it would be yet another pseudo failure like apple tv. But its the wifi that makes things exciting, being able to surf [for free] on a large screen at home or in the coffee shop.
b
no WLAN/WIFI...so what? Big mistake
s
model looks good,some doubts.what is the processor speed ? what is the price in india?
L
No wifi??? so its a mistake!!!!
N
hip hip hurray !!! i am the first one to post an opinion here.

Samsung you deserve it, unless it has a xenon flash, image stabilizer, a good battery backup & a great sound quality, if it has all this, then it will be surely a choice for most of the mobile freakers.
Total of 4555 user reviews and opinions for Samsung F480.
ADVERTISEMENTS