Samsung have announced the new reincarnation of their highly popular Samsung F480 model. This time there's a Rockstar Edition featuring PINK and her new album. You can bet that the new editions have new colors as well.
The mark of any good product is its longevity. And clever manufacturers know how to make the best out of their successful products. Yeah, you probably remember Motorola RAZR. But we digress...
The Samsung F480 (also known as the Samsung Tocco) is among those products that get multiple editions in a marketing effort to continue their product life.
F480 already got revamped under the Hugo Boss branding and now Samsung have announced two new reincarnations - the Samsung F480 Rockstar Edition an the Samsung F480 La Fleur.
The rockstar in question is Pink and her new album "Funhouse", which reached the top of the charts in the UK and debuted second in Germany and the US.
The new Samsung F480 Rockstar has shed its serious black looks and slipped into something more… pink. Aside from that, it also picked up the songs from the album and a 1GB memory card. The other perks are a Pink-branded wallpaper and with a bit of luck 10 people will have the chance to win two tickets each for the tour promoting the album.
The F480 Rockstar edition will be available in Germany in February with an asking price of 499 euro, which seems unreasonably steep.
As for the Samsung F480 La Fleur edition - it's price is not currently known but it should hit the market really soon as well.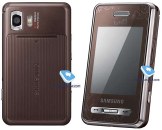 Samsung F480 La Fluer (source Mobile-review.com)
Unfortunately, the F480 La Fleur edition may be offered on a regional basis only (much like the Rockstar edition in Germany), which means it would hit only the Russian market.
Beside the new outfits both the new editions are functionally the same as the original F480, which is a pretty nice phone even now an year after its announcement.
A quick glance at the spec sheet reminds of the 2.8 inch touchscreen with QVGA resolution, a 5 megapixel camera with autofocus and LED flash, 7.2 Mbps HSDPA, a document viewer and lets not forget the TouchWiz UI, the F480 was the first Samsung phone that used it. You can read more about it in our dedicated F480 review.
?
does it would be avillible in pakistan
?
When will this phone be available in the UK and what price would it be? Please reply.
?
When will this phone be priced? I hoped it would be priced already and I could buy it.....
ADVERTISEMENTS