The Samsung Focus app, not to be confused with the 2010 Samsung Focus handset is now officially available. The software is listed for free on the Google Play Store and up for grabs for anyone with a Samsung, running Android 6.0.1.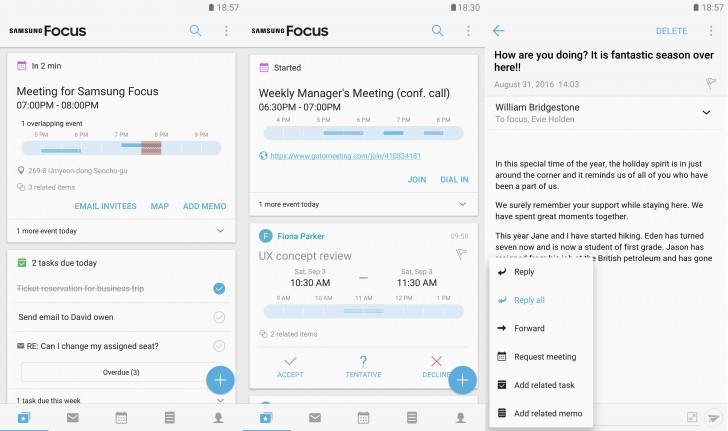 The App is all about productivity. Much like BlackBerry's signature Hub, it provides one centralized location for your communication needs. That means quick access to e-mail inboxes, Contacts, Events, Memo and Tasks. All of these are woven together and share a common search function and can easily exchange information as well. For example, you can quickly create a calendar entry based on email contents.
Better yet, Samsung Focus has a powerful e-mail client working in the background. It offers support for standard protocols like IMAP and POP3, but also Exchange ActiveSync. That means you can easily setup access to a corporate Microsoft Exchange server. There is also Office 365 compatibility, as well as various event, contact and task sync features.
?
No Pr boy, this is a Samsung story, we came here to enhance Samsung with Samsung..it just works, if we wanted to take stuff from an inferiir phone brand of any breed all the way down to apple, we would be on a page relating to them,..we're not. Bye...
?
Just Download the BlackBerry Hub + Services from Google Play available for any Android device running lollipop and higher.
W
Could you do a review on it, as well as the Blackberry suite of apps for android.... 😆