Different kind of flagship
Samsung Focus S review: Different kind of flagship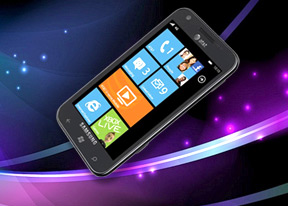 An 8MP camera with a dedicated button
The Samsung Focus S packs an 8MP autofocus camera, capable of shooting photos with 3264x2448 pixels in resolution. An LED flash is on board as well.
The camera UI is pretty simple – you have your viewfinder and some controls on the right. From top to bottom they are the still/video camera toggle, second video-call camera toggle, virtual zoom buttons and an extended settings menu. On the left you have an arrow that takes you to the images taken with the camera; alternatively you can do a swipe gesture too.
The camera app on Windows Phone offers very extensive settings, ranging from scenes and effects to white balance, contrast, saturation, sharpness, ISO and more.
Interestingly the camera key will wake the phone with a single press – that is unlocking it and start the camera. There's an option that prevents the shutter key from starting the camera if the proximity sensor is triggered (to prevent accidental launches when the phone is in your pocket). This option is off by default.
The images captured with the 8MP camera of the Samsung Focus S come out pretty good – there's plenty of detail and noise is kept well under control. Contrast is good too, but colors are a bit oversaturated and the white balance is a bit too cold for our liking.













Samsung Focus S camera samples
The video camera maxes out at 720p
The video camera interface is identical to the still camera one and has plenty of features too. You can calibrate contrast, saturation and sharpness, change the white balance or exposure compensation and also add image effects. You can use the LED as a video light too.
Your captured videos appear in a thumbnail slideshow just as they do in the Pictures hub and Music & videos hub. You get a flash on/off toggle in the settings menu too - the phone uses the LED as a video light.
Just as on every other WP smartphone the Samsung Focus S video recording capabilities max out at 720p. That's no longer considered top of the food chain achievement and you should expect miracles from it. Still, the Focus S videos aren't bad either with a good amount of resolved detail (for the 720p league), smooth framerate and decent colors.
Here is a video, captured with Samsung Focus S's camcorder.
And, as always, here goes an untouched 720p video clip.
Connectivity is abundant with options
The Samsung Focus S has quad-band GSM/GPRS/EDGE support and tril-band 3G with HSPA (14.4Mbps downlink and 5.76Mbps uplink).
The local connectivity is covered by Wi-Fi b/g/n with DLNA and stereo Bluetooth 2.1. Bluetooth is currently limited as to what it can do – there's no file transfer support, for one.
Syncing with a computer is done with the Zune computer application. It's the only way to transfer files directly between your computer and your Windows Phone – there's no Mass storage mode, even now with Mango.
You can sync files with Zune over the USB cable and Wi-Fi. There's a Mac version of available too - Windows Phone 7 Connector. You can check our detailed review of the Zune software here.
Additional SD storage isn't available on Windows Phone so the Focus S doesn't offer such an option.
Another syncing option is the cloud. SkyDrive is a free Microsoft service that gives you 25GB of cloud storage. You can even have your photos automatically uploaded as soon as you snap them.
Mango brings Wi-Fi hotspot functionality too. All you need is an active SIM card with a data connection and you're all set.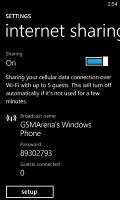 Wi-Fi hotspot is at your disposal
The web browser is flash-less, but impressive
The Internet Explorer on Widows Phone was updated to the latest version for the 7.5 update and it improves the user interface.
The URL bar is always visible (but the status bar at the top of the screen is auto-hides, so you don't actually lose any screen real estate) and next to it is the refresh button. You can, of course, bring up the extended settings, which offer a great deal of options.
The URL bar also serves as a search bar, which is a handy shortcut for looking things up if you're not sure which site exactly will do the job.
The browser interface is quite minimalist - you have only the URL bar at the bottom with a reload icon to the left. Swiping the bar upward reveals shortcuts for tabs, recent, favorites, add to favorites, share page, pin to start and settings. The settings menu offers the usual options like location, allow cookies, delete browsing history but it does offer a very neat option to choose a global preference for mobile or desktop site versions.
The browser makes the controls in web pages look just like their equivalents in native apps. So, a web app can look just like a native app with practically no extra effort from the designer.
The six tab ceiling hasn't been lifted - it's not too bad, but competing OSes don't have such limitations. We were also hoping to see text reflow, but no luck on that either.
What has changed is performance - the new browser relies on hardware graphics acceleration to provide smoother graphics (and video) and animation and the JavaScript engine have been retooled as well.
Microsoft are so confident that they've set up a page specifically for testing the performance of your phone - both JavaScript and graphics. You can find the page here.
Don't be afraid to pit the phone against even a desktop browser - the tests are pretty demanding and if you're not running a recent version of the major desktop browsers, your computer will surely break a sweat.