Samsung France giving Note7 customers 128GB microSD and chance to win VR Park experience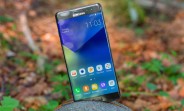 Samsung's Vice-President of Samsung Electronics France has written a letter to all its customers in that were affected by the Galaxy Note7 recall / debacle / discontinuation situation. For their troubles, and to show its appreciation for its customers, Samsung France is giving these customers a free 128GB microSD card and a chance to win one of 1,000 free trip packages to Samsung's Life Changer Park
Samsung's VR theme park was a result of partnering with local theme parks to collaborate on attractions that incorporate Samsung's Gear VR into the experience. Winners are also allowed to bring a guest for a day of fun on Tuesday December 20 or 27.
SamMobile shared a copy of the letter which also mentions a €100 rebate if the affected customer would like to get a Galaxy S7 or S7 edge in place of the Note7. In the case of the US, Samsung was gracious enough to let customers keep the free promotional gifts like the free year of Netflix, or Samsung's newest fitness watch: the Gear Fit 2.
D
I don't have Samsung phone,coz I can't afford.
p
I buy samsung galaxy j2 last Nov 20,i choice samsung since i notice that it's a good brand,but after 1week when I wake up in morning my phone is not working anymore.I don't know why.and i didn't switch on anymore!i go to the store where i bought ...
D
We have strict laws in here. Strict laws about consumer rights but it's just that they don't see Ph as one of the countries which provide them good income since people in here are all practical. We don't pay for the brand, we pay for the product.