Samsung's full report of its Q2 performance is out (there was a preliminary report earlier this month) and gives us a more detailed picture of how the tech giant did in the second quarter. Sales for the company as a whole reached $41.8 billion (up 21% year on year), operating profit was $5.9 billion (up 72% YoY) and net profit was $4.6 billion (a 48% increase YoY).
Just the handset division of Samsung accounted for $18 billion in sales, a 75% increase from the sales from Q2 last year. IT & Mobile communications (of which the handset division is a part of) reports $21.1 billion in sales and an operating profit of $3.7 billion - a massive 145% jump up year on year.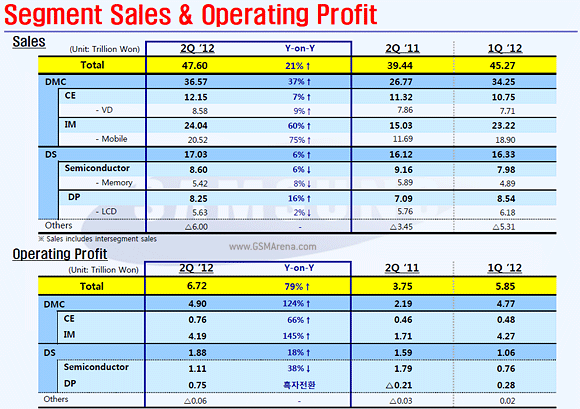 During Q2 of this year, Samsung shipped an estimated 50 million smartphones, compared to Apple's 26 million iPhones. According to Reuters, Samsung broke a smartphone sales record in Q2.
Demand for Samsung's smartphones increased QoQ by a "low single digit %", while feature phone sales cooled off. The newly launched Galaxy S III flagship and strong sales of the Galaxy Note phoneblet along with higher demand for other high-end Samsung smartphones are behind the increased profit. The Average Selling Price also went up.
Samsung predicts better smartphone sales in Q3 and expects feature phones to bounce back. There will be new "products with diverse price ranges" and tablet competition will continue with "new product launches" (we'll see what they deliver on August 15).
Samsung, of course, makes a lot more than just phones. You can read their report for all the details, but here's a quick summary. Sales of LTE network equipment decreased quarter-on-quarter. TV sales increased a bit and now over 60% are LED TVs (up from mid 50%), 3D displays are also in demand. Mobile/server DRAM is selling better than desktop DRAM, NAND demand improved due to new mobile product launches.
Source (PDF)
?
the iphone was not the first user friendly smart phone. nor was it the first phone capable of many things. Even non touch screen phones had some functions way better than the iphone back in the day. The iphone just created this false image. Not to me...
?
We thank very much for the pioneers of touchscreen in 2004: Nokia 7710 and SonyEricsson p910. They were bulky,very complicated to use for common people and for this reason touch screen technology were almost forgotten UNTIL...2007 WHEN WAS LAUNCHED T...
D
By the way, you didn't even quote me correctly...
ADVERTISEMENTS