Image editing is sweet
If you wish you can also edit your pictures using the integrated Image Editor - it's a very capable application, especially for a non-smartphone. It allows you to apply a whole bunch of effects and adjustments.
Transformations and crops, as well as insertion of various items, are also available. All in all, the Samsung G400 Soul offers you virtually all of the most popular editing capabilities you could possibly use on a cell phone. However, we still doubt it anyone takes image editing on their mobiles seriously.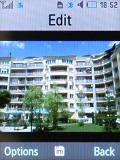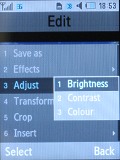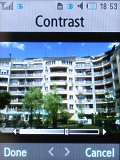 The image editor allows a huge number of picture adjustments
Music player for the Soul
Armed with generous internal memory of 120MB and a microSD card slot, the Samsung G400 Soul has every premise to act as a portable music player. It is therefore important that the music player application be up to the task.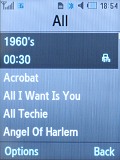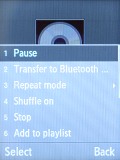 The capable music player can also display album art
The Music player application allows filtering tracks by author, album, genre and composer. You can also choose to play either the tracks you've recently listened to, or the ones that you've played the most. If that doesn't seem enough, you can create your own custom playlists.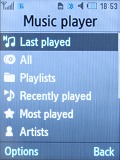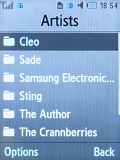 Tracks can be filtered by author, album, genre and composer
The music player can naturally be minimized to play in the background. There are 7 equalizer presets called Sound effects. Beside those you also get wide and surround options.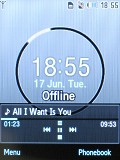 The player can also be minimized to play in the background
The Samsung G400 Soul comes complete with an FM radio, which is doing quite well in terms of user interface. It has the self-tune option to store all stations of clear reception at the moment. There is also RDS that can be switched on and off depending on your taste.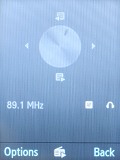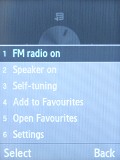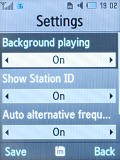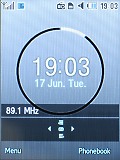 The FM radio with RDS can also run in the background
The video player doesn't have many features but all the essentials are covered - it can play video in fullscreen landscape mode and you can fast-forward and rewind.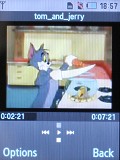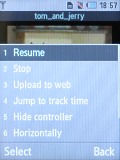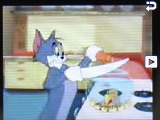 The video player is much more usable in landscape mode
Samsung G400 Soul is a very good performer in terms of audio quality. We are fully satisfied with most of the values, except the total harmonic distortion and inter modulation distortion where the values deviate significantly. We are aware that these results might be due to the beta version of the G400 we're reviewing and hope that the problems will be fixed before the handset hits the shelves.
Unfortunately, the Samsung G400 Soul lacks a standard 3.5 mm or even a 2.5 mm audio jack. You're therefore limited in your choice of headsets, unless of course you find a suitable adapter. Then again, you can use a Bluetooth headset - both mono and stereo will do, as Samsung G400 Soul supports the Bluetooth A2DP profile.
Samsung G400 Soul is an underachiever in total harmonic and inter modulation distortion.
You can find more info about our audio quality test here.
| | | | | | | |
| --- | --- | --- | --- | --- | --- | --- |
| Test | Frequency response | Noise level | Dynamic range | THD | IMD + Noise | Stereo crosstalk |
| Samsung G400 Soul | +0.38, -1.68 | -93.2 | 94.4 | 0.356 | 0.797 | -97.4 |
| Samsung U900 Soul | +0.29, -1.25 | -84.6 | 84.6 | 0.017 | 0.052 | -82.9 |
| LG KU990 Viewty | +0.29, -2.07 | -86.8 | 83.8 | 0.020 | 0.0124 | -86.6 |
| Nokia N81 | +0.39, -1.13 | -86.6 | 85.8 | 0.041 | 0.040 | -69.9 |
| Samsung U600 | +0.41, -1.12 | -89.2 | 86.5 | 0.0040 | 0.019 | -86.9 |
| Sony Ericsson K770 | +0.21, -1.04 | -85.7 | 88.8 | 0.014 | 0.030 | -84.8 |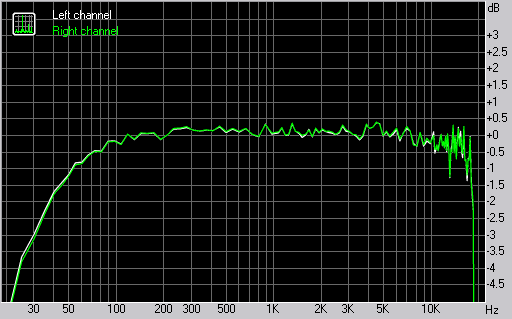 Samsung G400 Soul frequency response graph