Organizer and applications
The Samsung G400 Soul calendar offers three views - daily, weekly and monthly. There are five types of events available for setting up: appointment, anniversary, holiday, important and private. Each of those has its own unique fields and an alarm can be set to remind of it. The Calendar can store up to 100 appointments, 50 anniversaries, 50 holidays, 20 important and 20 private events. Much like with previous Samsung handsets, you can choose which calendar view should be default and you can pick the starting day of the week - the options are Monday or Sunday.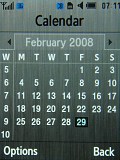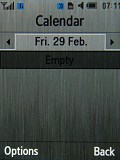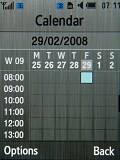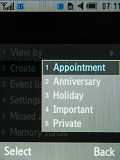 The different calendar view modes and the available events
There are five alarm slots on Samsung G400 Soul. Each of them can have its own snooze time, number of repetitions and activation days. The volume can also be different for each alarm and all but one of them can be renamed to the user's liking. The Wake-up alarm is the exception. Furthermore, you can set different tones for each alarm and you can choose whether it should trigger phone vibration.
Among the other offerings are the voice memo recorder, a world clock application, a calculator, and a unit convertor. A countdown timer and a stopwatch will probably seem appealing to sports-minded users. There is also a handy to-do manager that can help you organize your time better.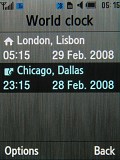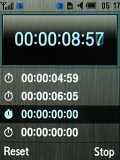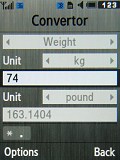 Some of the remaining applications - world clock, stopwatch, and convertor
The final application worth mentioning in Samsung G400 Soul is the integrated document viewer. It supports MS Word, MS Excel and PDF files and handles them all pretty well. However, the application is so slow it ruins the whole experience. Both scrolling and zooming on documents does take ages and we find that quite annoying.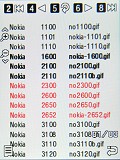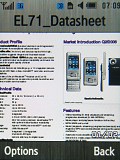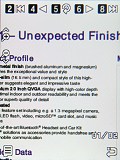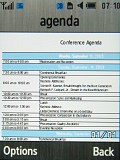 The document reader manages all common types of documents but is way too slow
Final words
All those who like the Soul can now do it body and soul: the lineup has it all already in terms of form factor. And it's definitely not like throwing in a clamshell just for the sake of having one. Samsung G400 Soul brings a notable "first-to" record. Not only is it the first 5 megapixel clamshell, but is well decked out with niceties like face detection, image stabilization, and wide dynamic range and excellent image quality.
G400 Soul also stands out with that dual screen setup: two equal in size and resolution TFT displays. Touchscreen and haptics on top are just as sweet. Add the good set of features and you get yourself a deal.
Designwise, we could wish the phone was a little more compact, especially with the flip up. The poor sunlight legibility of the external display also ruins some of the experience. QVGA video recording at 15fps is the other thing we're not happy to see in a hi-end cameraphone.
Even so, the Samsung G400 appeal is likely to extend beyond the clamshell devotees. The Soul pedigree (enhanced by distinct exterior), the great imaging and the balanced feature set will possibly convince those who like to weigh benefits against costs. The style conscious will make up their mind a lot easier.