Connectivity
In terms of connectivity Samsung G800 offers nice functionality for this price range. The USB slot is slightly modified so using the TV out cable from older models is out of question.
A USB cable is provided in the package and the G800 supports two USB connection profiles: Media player and Samsung PC Studio - we saw no trace of a Data storage profile. It will be a real pity if this is not fixed in the retail version but our guess is that it will be taken care of.
Bluetooth v2.0 with A2DP profile support allows listening to your favorite tracks on a stereo Bluetooth handsfree. Finally, quick network data transfers are assured by the EDGE and 3G with HSDPA support.
Browsing the internet
We have already mentioned that Samsung G800 is supposed to be an entertainment device. Therefore it is very important that its web browser performs well or otherwise it may leave quite a large crowd of people disappointed.
In fact the browser is quite good. It renders pages nicely but we cannot help ourselves but feel that the 2.4" screen could be put to a better use in the smart-fit view.
The case here is that large parts of it get wasted when displaying pages and they look somewhat unnatural. If you are used to mostly browsing on your desktop PC, that is. Activating the desktop browsing mode makes up for that to some extent but navigating around web pages is much more difficult that way.
Still, in both cases the web browser of Samsung G800 is able to do the job you would expect it to, although sometimes with a little extra effort. It highlights the active hyperlink or text entry field to ensure better browsing experience.
So overall our verdict on the browser is that it is good enough for the phone but still not among the best we've seen.
Organizer deserves praise
The Samsung G800 calendar offers three views - daily, weekly and monthly. The events available for setting up are five types: appointment, anniversary, holiday, important and private. The Calendar can store up to 100 appointments, 50 anniversaries and holidays and up to 20 important and private events. Much like U600, you can choose which calendar view should be default and you can pick the starting day of the week - the options being Monday or Sunday.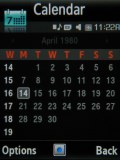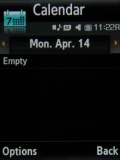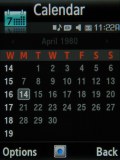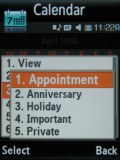 The three different calendar views • There are five types of events available for setting up
The number of alarm slots is also the same as in Samsung U600 - five, each with a variety of configurable options - snooze time, repetition, etc. You can of course choose a custom ringtone to wake you up at a preset volume level. You can also choose if your phone should automatically power up upon alarm activation. This feature can be quite handy if you have the habit of switching off your handset at night.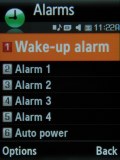 There are five alarm slots on Samsung G800
Among the other organizer offerings are the voice memo recorder, a world time application, a calculator, and a unit converter. You can also use the memo and task applications for making notes. A countdown timer and a stopwatch are also available.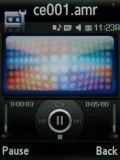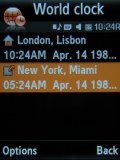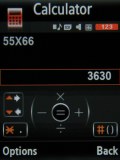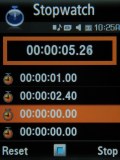 Some of the other organizer applications: voice recorder, world clock, calculator and stopwatch
Unfortunately, there were no games preinstalled on our Samsung G800 but we do believe this will change by the time the phone hits the shelves. After all this handset is a true entertainment powerhouse and leaving it without games will be a real pity.
Final words
Samsung G800 is without doubt a strong contender in the cutthroat market share race. If you are looking for a dedicated cameraphone with a great camera, then you might have just found your next handset. It may not be the best looking mobile around, however it has its own brushed-metal style that some of us liked.
| | |
| --- | --- |
| "...Samsung G800 is without doubt a strong contender in the cutthroat market share race. If you are looking for a dedicated cameraphone with a great camera, then you might have just found your next handset..." | ADVERTISEMENTS |
The Samsung G800 has its flaws anyways. The slow memory card reading and the issues we had with the display have no place in a high-end cameraphone.
For us the Samsung G800 seems more of a proof of concept, rather than a really viable 5-megapixel solution. It won't win the masses and become as popular as G600 for example. But it leaves a mark that will hold at least until midrange handsets start to offer 5 megapixel cameras and optical zoom.