The Mobile World Congress formerly known as 3GSM has announced its yearly nominations for Best Mobile Handset or Device.
Funnily enough, Samsung have a been nominated for a non-existant Samsung G900, but after we contacted the organizing body of the award it turned out to be Samsung G600.
The other four nominees beside the Samsung G600 are the LG KU990 Viewty, the Nokia 6500 classic, the Sony Ericsson W910 Walkman and the underdog as we see it - the Skype phone offered by 3UK carrier.





Samsung G600 • Nokia 6500 classic
The judging criteria that led to this bunch to be picked out include qualities such as "great looks with simplicity and ease of use, integral intelligence and simple, rapid access to varied content and services on the move. New form factors and innovative designs are also part of the formula." The GSMA panel will also take into account the unique attributes (i.e. key market differentiators or Unique Selling Points) of the devices and some environmental considerations in terms of materials used and power consumption.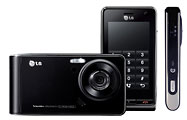 Sony Ericsson W910 • LG KU990 Viewty
If we were to make nominations for the Global Mobile Awards 2008, the shortlist might have looked a bit different though - it's only the LG Viewty and probably the Sony Ericsson W910 that we find worthy enough of those pre-selected. The Nokia N95 8GB is a great multimedia driven device with no match in this category, while the Apple iPhone would also deserve a place in these ranks as a device with a revolutionary user interface. The Samsung F700 with the innovative Croix user interface would have also been a strong contender. This year has been heavy on touchscreen devices and not having more of those in the shortlist seems strange (bear in mind we don't know anything about Samsung G900).
Another change in the competition is that all mobile handsets are in one single ctegory - Mobile Handset or Device. Just as a flashback, last year's winners of the Best 3GSM Mobile Handset or Device award was the Sony Ericsson K800, while it's runner-up Samsung Z560 was selected as "Highly recommended". There was another winner, however in a different category. The Samsung D900 was announced Best Made for Mobile Infotainment for Sports & News Content.




The 3 Skypephone is available in either black or white with two different trims
This year's winners will be presented at the gala awards dinner on Tuesday 12th February, during the world's biggest communications industry event, the Mobile World Congress in Barcelona (11-14th February 2008). You can bet we will be there reporting live.
b
i have just bought a samsung g900 on ebay don,t know what the sh.. to expect as the seller used a g600 photo ! conned again maybe!
n
Sorry, you are so wrong. the best phone there is the uk's 3 / skype phone. works better than anyother phone i have evr owned. it does what it says on the box. and i sell phones for a living and have done for 15 years!!!
R
LG Viewty will WIN the race bruv undoubtedly...
ADVERTISEMENT