If you travel the world you'll see all sorts of wonders Ė beautiful landscapes, impressive architecture and people still using flip phones. While the clamshell design is well past its peak and mostly survives in the feature phone market, Samsung occasionally puts out a flip smartphone.
The latest carries the memorable name of Samsung G9098 and is a dual-SIM, dual-standby Android smartphone for China. It has two 3.67" Super AMOLED touchscreens of WVGA resolution (480 x 800) so that you can use the phone both open and closed.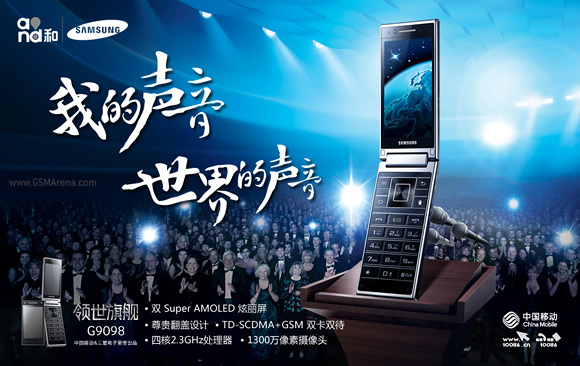 The Samsung G9098 runs "Android" with TouchWiz on a Snapdragon 80x chipset (quad-core 2.3GHz CPU, but no exact model given). It packs a 13MP main camera and a 2MP front-facing camera, plus a microSD card slot.
The connectivity is quite comprehensive with support for both GSM (tri-band 2G and dual-band 3G) and TD-SCDMA (3G). It seems that the SIM slots are one of each type and the 3G GSM tech comes with a catch - "only when Hong Kong, Macao, Taiwan and international roaming." There's also dual-band Wi-Fi a/b/g/n, Bluetooth 4.0, GPS + GLONASS.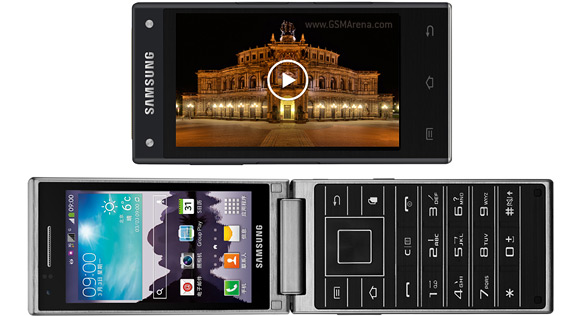 The Samsung G9098 may be a bit thicker and heavier than you're used to, measuring 117 x 59.5 x 15.8mm and weighing 179g. It has a relatively small battery of 1,900mAh capacity.
Overall it's sort of the Galaxy S5 to the Galaxy S4 of flip phones, the Samsung I9230 Galaxy Golden. Except for the inexplicably low screen resolution (but hey, you have two).
D
Can you use the Samsung G9098 in the u/k
R
Hey i wanna know from you where you bought otium and how much
Y
will this sm-g9098 be available in the uae