6.5-inch LCD has high contrast ratio, not so high brightness
The Galaxy A02s has the same display as the A12 at first glance - a 6.5-inch PLS LCD with 720x1600px resolution in a 20:9 ratio. The Poco M3 and the Redmi 9 do have 1080p panels, though the Realme 7i stands at 720p as do the Moto G8 Power and G9 Power.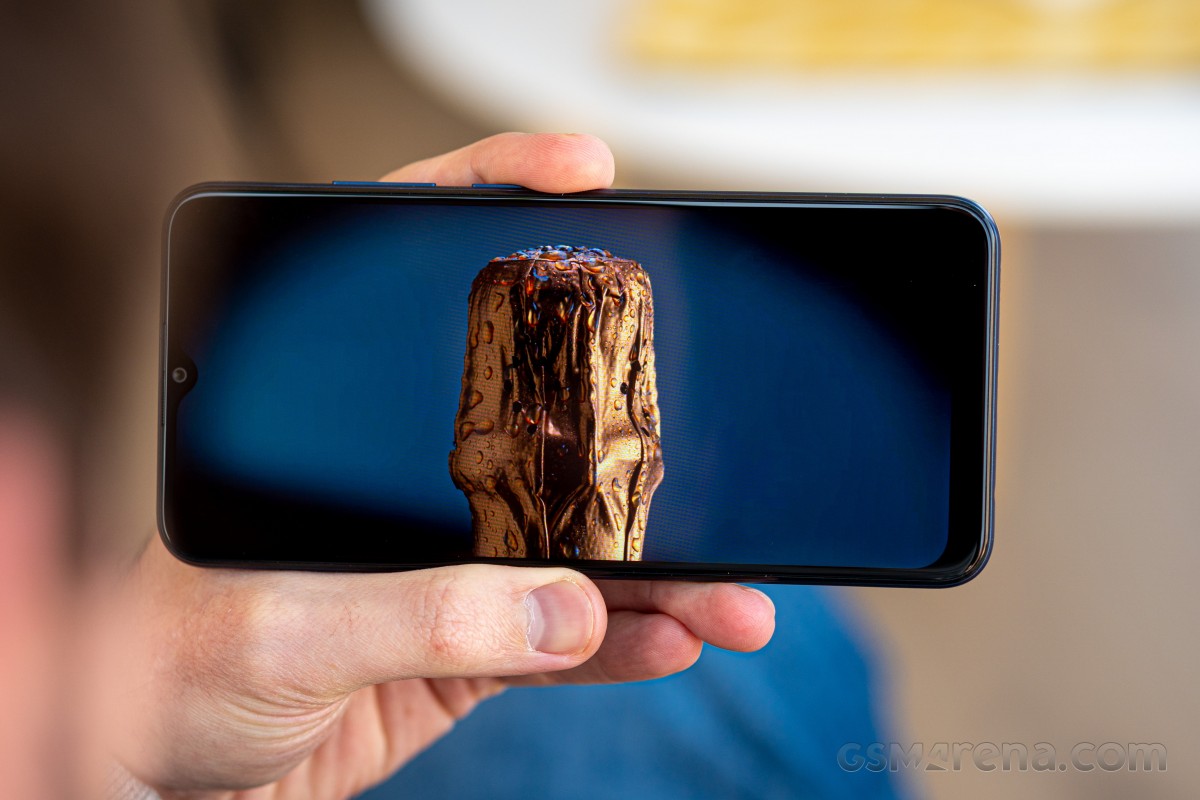 In our testing, however, the A02s returned different results than what we got out of the A12. The contrast ratio was higher on the A02s, approaching an excellent 1800:1, compared to the 1350-ish-to-one on the A12 thanks mostly to the deeper blacks.
The maximum brightness of around 400nits is virtually the same we measured on the A12 in manual mode, though that one had a (small) boost in Adaptive mode, which we didn't see here on the A02s.
Display test
100% brightness
Black,cd/m2
White,cd/m2
Contrast ratio
Samsung Galaxy A02s
0.23
406
1765:1
Samsung Galaxy A12
0.292
398
1363:1
Samsung Galaxy A12 (Max Auto)
0.349
472
1352:1
Samsung Galaxy A21s
0.317
408
1287:1
Samsung Galaxy A21s (Max Auto)
0.384
491
1279:1
Poco M3
0.252
395
1567:1
Poco M3 (Max Auto)
0.277
439
1585:1
Realme 6
0.343
451
1315:1
Realme 7
0.31
457
1474:1
Realme 7 (Max Auto)
0.374
526
1406:1
Huawei P smart 2021
0.353
442
1252:1
Motorola Moto G8 Power
0.341
500
1466:1
Motorola Moto G8 Power (Max Auto)
0.53
741
1398:1
Moto G9 Power
0.259
435
1680:1
Moto G9 Power (Max Auto)
0.325
521
1603:1
Similarly to the A12, there are no color modes on the A02s. Color reproduction is different on the A02s, though, with an even stronger blue shift (the white point is some 14 units off the mark) and an average dE2000 of 7.3 when examining sRGB color swatches. Those numbers were 8 and 4.9 on the A12, respectively.
Samsung Galaxy A02s battery life
There's a 5,000mAh battery inside the Galaxy A02s, same as in the A12 we had here a couple of weeks ago. We got more or less similar endurance out of the A02s, too.
We clocked Wi-Fi web browsing at 16:29h, while video playback in airplane mode worked out to 16 hours flat, both numbers ever so slightly longer than on the A12. The voice call result was 34 full hours on the Galaxy A02s, again a little better than what we got out on the A12. Standby battery draw turned out higher on the A02s, however, ultimately hurting the overall result. In any case, the Galaxy A02s' Endurance rating of 114h is still excellent.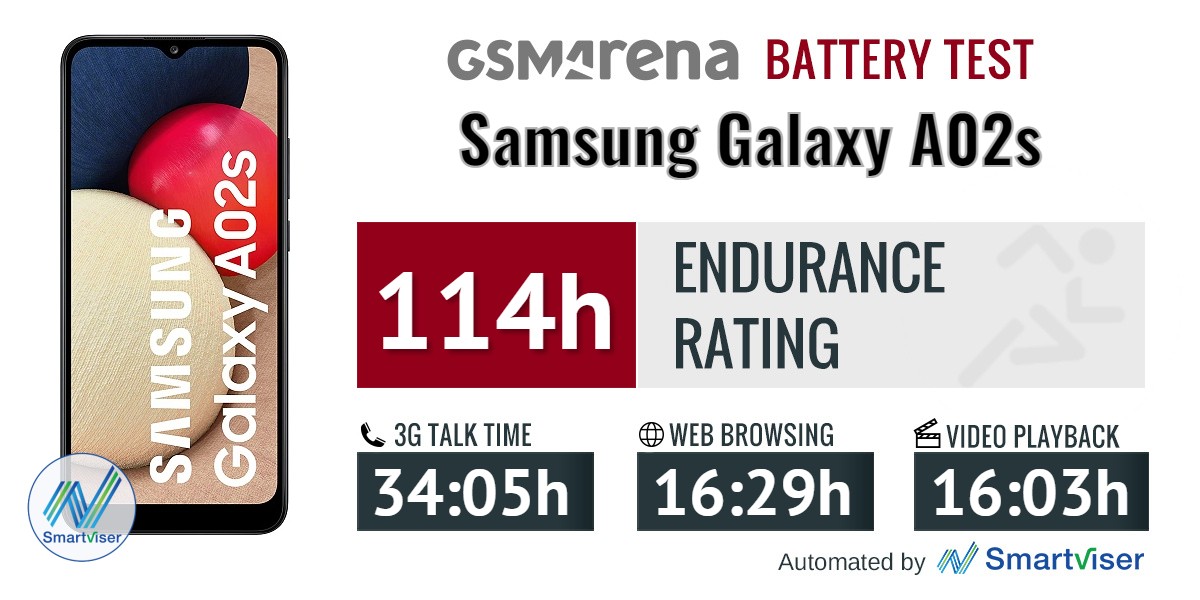 Our battery tests were automated thanks to SmartViser, using its viSerDevice app. The endurance rating denotes how long the battery charge will last you if you use the device for an hour of telephony, web browsing, and video playback daily. More details can be found here.
All test results shown are achieved under the highest screen refresh rate mode. You can adjust the endurance rating formula manually so it matches better your own usage in our all-time battery test results chart where you can also find all phones we've tested.
Charging speed
The Galaxy A02s ships with the 15W Samsung Adaptive Fast Charging adapter (QuickCharge 2.0 compliant), a staple in the Samsung charging history that was replaced for flagships in recent years, but you can still find it bundled with the lesser models.
With this included charger, we clocked a little over two and a half hours from flat to full and 30% at the half-hour mark. Neither number is spectacular in the grand scheme of things, but the A02s charges quicker than the A12, so another small win for the cheaper phone.
30min charging test (from 0%)
Huawei P Smart 2021
42%
Xiaomi Redmi 9 (18W)
33%
Realme 6i
33%
Samsung Galaxy A02s
30%
Infinix S5 Pro
30%
Poco M3
25%
Samsung Galaxy A12
20%
Xiaomi Redmi 9
20%
Motorola Moto G9 Power
20%
Time to full charge (from 0%)
Huawei P Smart 2021
1:42h
Motorola Moto G9 Power
2:19h
Poco M3
2:30h
Samsung Galaxy A02s
2:36h
Samsung Galaxy A12
3:03h
Speaker test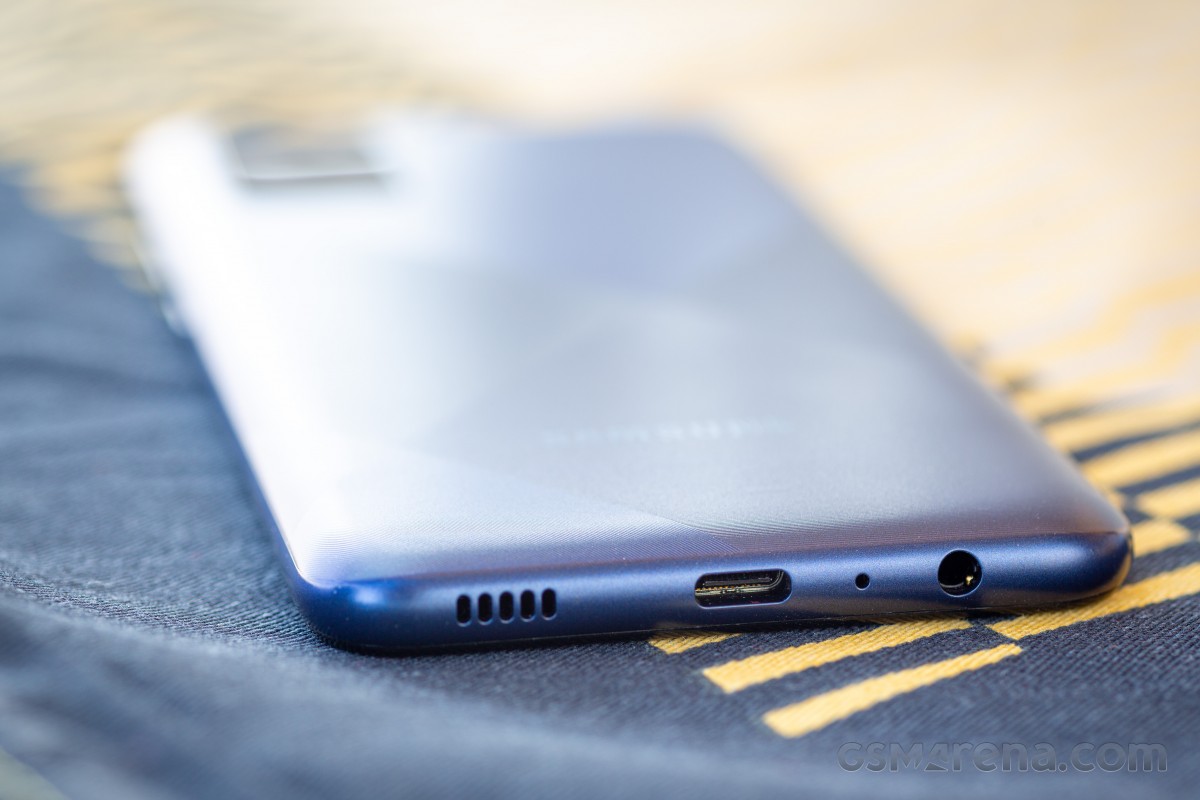 Typically for the class, the Galaxy A02s has a single speaker located on the bottom of the handset. In our testing, it returned a slightly louder result than the A12, just enough to make it into the 'Average' bowl for loudness. It sounds a little better, too, with noticeably more sparkle in the highs and nicer vocals, though bass remains non-existent.
Use the Playback controls to listen to the phone sample recordings (best use headphones). We measure the average loudness of the speakers in LUFS. A lower absolute value means a louder sound. A look at the frequency response chart will tell you how far off the ideal "0db" flat line is the reproduction of the bass, treble, and mid frequencies. You can add more phones to compare how they differ. The scores and ratings are not comparable with our older loudspeaker test. Learn more about how we test here.