One UI 2.1 and Android 10
The Galaxy A21s runs Samsung's latest software combo, consisting of Android 10 with OneUI 2.1. The Korean maker has managed to maintain a surprisingly consistent look for its custom skin for quite some time now, and existing Samsung users on older devices should feel right at home with the general layout.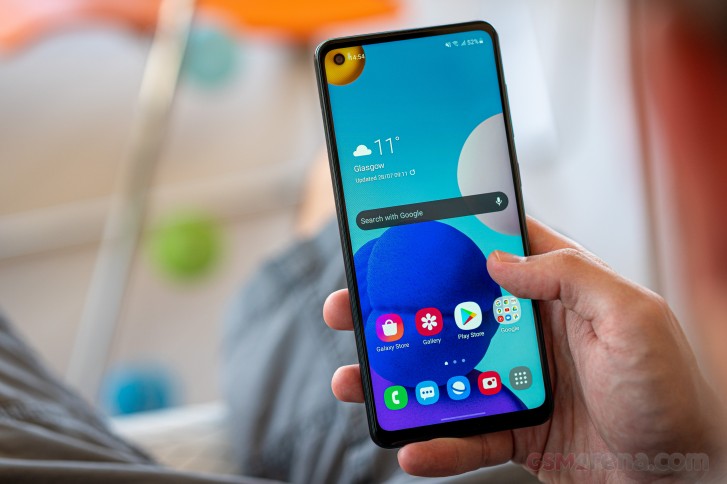 OneUI 2.1 has reached a level of maturity where simplicity, order, and good organization are a given. The Galaxy A21s greets you with straight-forward lockscreen and home screens, with both Google and Yandex widgets ready to rock.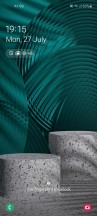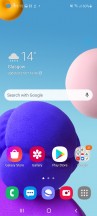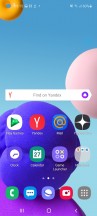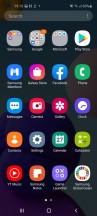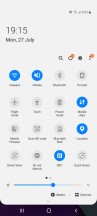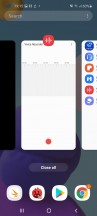 Lockscreen • Homescreen • Homescreen • App drawer • Notification shade • Task switcher
If you are into customization, OneUI is surprisingly malleable. The built-in themes capabilities are extensive and include a rich online repository of both free and paid options. You can mix and match individual aspects of the design, like icons. You can also have the lockscreen background change automatically.
The A21s lacks a couple of features you may find on more expensive and AMOLED-packing Galaxies - such as the Edge panels and lightning, as well as the Always-on Display.
Navigation options, however, are all-inclusive. Out-of-the-box, the Galaxy A21s is set up with the old-school, familiar nav-bar. Gesture navigation is also available, and you get to pick between the One UI 2 set of actions or go back to the One UI 1 way of doing things. The former is similar to the current native Android 10 approach with a swipe-in from the sides for 'Back' and swipe-up from the bottom for Home or task switcher. The old way is by swiping up from three separate areas on the bottom that do what the on-screen buttons before them used to do.
Dark mode is a relatively new feature, at least in its current, dynamic and customizable state. It skins UI elements in black and shades of dark gray and also invokes the dark modes of supported apps, which include the in-house ones as well as most of the Google suite. Oh, and the GSMArena app, since its last update. You can also make use of an automatic scheduling system that toggles Dark mode at sunrise and sunset, respectively or set your own time-based schedule.
Biometrics on the Galaxy A21s include an optical fingerprint reader and basic camera-only face detection. The A21s is a consistent performer when it comes to fingerprint recognition and unlocks the phone in a flash.
It is worth noting you have the ability to speed-up facial recognition at the expense of some security. The phone even allows you to override the requirement for open eyes for the unlock to work.
As a result of some of its extensive partnerships with third parties, like Microsoft, Samsung also throws in a few MS pre-loaded apps out of the box, to accompany its already above-average collection of in-house offerings. This might be considered bloat by Android purists, but if you don't want to use them, Microsoft apps are not too much in your face.
You'd be happy to learn that the Galaxy A21s also supports FM radio and the FM app is pre-installed.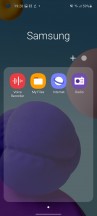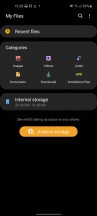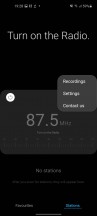 Apps • File explorer • FM radio
There are also features like the Game Launcher and Game Booster in case you need to optimize your phone's in-game behavior.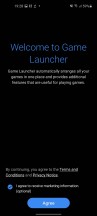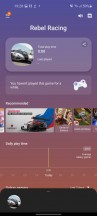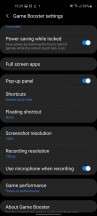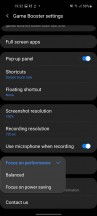 Game Launcher, Game Booster and Game Plugins
Update, 7 August: The Galaxy A21s DOES have screen auto-rotate unlike what our initial review findings suggested.
Performance and benchmarks
The Galaxy A21s employs the Exynos 850 entry-level chipset by Samsung. It has an octa-core Cortex-A55 processor with all cores clocked at 2.0GHz.
The SoC offers a modest Mali-G52 MP1 GPU.
Finally, the Galaxy A21s is available in three different configurations - 3GB RAM + 32GB storage, 4GB RAM + 64GB storage, and even 6GB RAM + 64GB storage. There is a standalone microSD slot in case you need to expand your storage.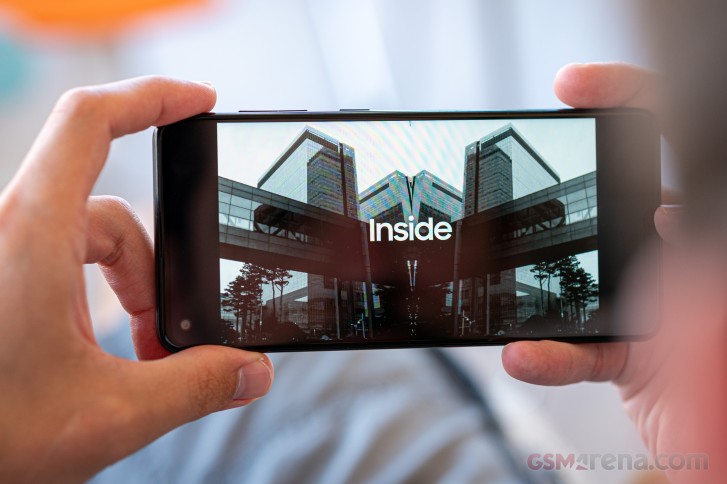 First, we ran GeekBench, and it's no surprise that every other phone did better. The Galaxy A21s has no powerful cores (such as Cortex-A7x) whatsoever, and its Cortex-A55 CPU hit rock bottom of our CPU chart.
GeekBench 5.1 (multi-core)
Higher is better
Huawei P40 Lite
1862
Xiaomi Redmi Note 9S
1785
Sony Xperia 10 II
1413
Realme 6i
1349
Xiaomi Redmi 9
1325
Samsung Galaxy A41
1175
Samsung Galaxy A21s
1100
GeekBench 5.1 (single-core)
Higher is better
Huawei P40 Lite
591
Xiaomi Redmi Note 9S
570
Realme 6i
388
Xiaomi Redmi 9
362
Sony Xperia 10 II
315
Samsung Galaxy A41
309
Samsung Galaxy A21s
184
The Galaxy A21s has a single-core Mali-G52 GPU, which is enough for an okay graphics performance under a 720p screen. Sure, it is far from ideal, but for this budget class - it is enough.
GFX 3.1 Manhattan (onscreen)
Higher is better
Realme 6i
31
Huawei P40 Lite
30
Realme 6S
27
Xiaomi Redmi Note 9S
26
Samsung Galaxy A21s
19
Samsung Galaxy A41
12
Sony Xperia 10 II
10
GFX 3.1 Car scene (onscreen)
Higher is better
Huawei P40 Lite
18
Realme 6i
17
Realme 6S
16
Xiaomi Redmi Note 9S
15
Samsung Galaxy A21s
11
Samsung Galaxy A41
6.9
Sony Xperia 10 II
5.6
Finally, AnTuTu 8 puts the Galaxy A21s once again at the bottom of our chart. Its CPU score came low, and combined with the mediocre performance in graphics, storage, and UI - the final number turned out to be pretty low.
AnTuTu 8
Higher is better
Huawei P40 Lite
325777
Realme 6S
278982
Xiaomi Redmi Note 9S
254000
Realme 6i
202275
Xiaomi Redmi 9
201829
Sony Xperia 10 II
196545
Samsung Galaxy A41
170044
Samsung Galaxy A21s
107157
The Galaxy A21s biggest issue is the weak processor. While an eight-core CPU is the standard today, most if not all, competitors offer at least two powerful cores such as Cortex-A75. The underpowered CPU makes for uninspiring UI performance, and some lag or stutter do happen once you start populating those homescreens and apps with content.
The single Mali-G52 GPU is enough for budget gaming under a 720p display. It will be far from smooth or stutter-free, but possible it is. Lighter games may even do rather well.
Performance-wise, the A21s is not up to par with the competition, crippled by its disappointing processor. Sure, it is a budget phone, but we expected a bit more honestly, even in this class.