Android Pie and One UI
The Galaxy A30 comes with the new One UI based on Google's latest Android Pie. It premiered on the Galaxy S10 phones, and it's a promising replacement of the previous Samsung Experience UX. Just as expected, it packs heavy customizations and tons of old and new features but presented in a cleaner and simplistic way.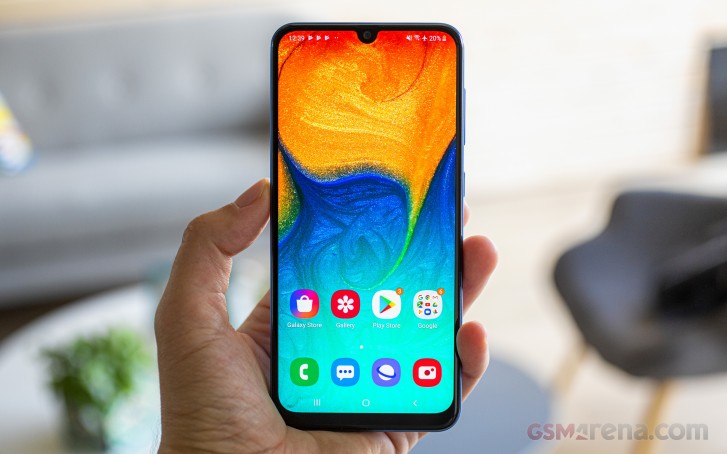 If you've used Samsung UX over the past few years, you will probably work your way around quickly. However, there are a couple of major revamps that may seem strange or even uncomfortable at first, but we think the changes are for the better.
Aside from the colorful new icons that might not be to everyone's taste (you can swap the default ones with another icon pack), Samsung has implemented numerous changes towards more effective and comfortable one-handed use. Now all system menus, including the drop-down menu with all the quick toggles, are located on the bottom half of the screen, so they are within reach of your thumb. It takes some time getting used to, but we think it's a pretty smart solution.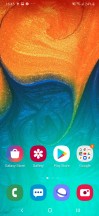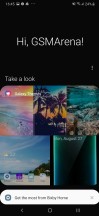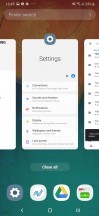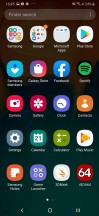 Home screen, recent apps and app drawer
Speaking of one-handed use, there are still some small tidbits that Samsung forgot about. For example, the app folders still open in full-screen with the icons placed on the upper half of the display, which means you'll have to use your other hand to reach them.
And just like everyone else, Samsung has its own way of implementing Google's new gesture-based navigation. They work as conventional buttons - swiping from the bottom-left brings out the recent apps menu by default and swiping from the bottom-right takes you a step back. You can swap them in the settings menu, but the home button remains as a single swipe from the bottom-center. If you swipe and hold, it will summon Google's Assistant.
In the end, Samsung saved a couple of pixels on the bottom, but the gestures still feel half-baked.
What doesn't feel half-baked, however, is the Always On Display feature. It gives you plenty of options although not as many as on the Galaxy S10 phones (there is no brightness setting or wallpaper option here). You can choose different clock styles and font colors, what notifications to be displayed, and when the AOD to be shown - on tap, always, or scheduled.
In line with the rest of the UI changes, the general Settings menu has been revamped too. It's pretty compact, and some of the settings you might be looking for have ended up elsewhere. For example, the Device care sub-menu now accommodates the Battery settings and information, storage and memory management and the security features. Tapping on the Battery icon will open up the familiar battery menu full of settings and adjustments. Aside from the usual info and features which you'd find on pretty much every other Android handset, Samsung has added a couple of additional options.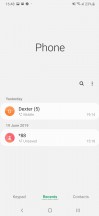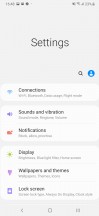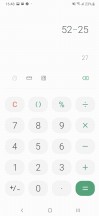 Settings and other apps are redesigned for one-handed use
You have three power modes - Optimized, Medium-power saving and Maximum power saving. Optimized is the default one with performance cranked up to the maximum. In the upper right corner of the battery menu sits another sub-menu giving you more granular control over your power consumption.
Speaking of granularity, the Advanced menu gives you the option to set notifications to pop-up in a small view with which you can interact.
Google's push for the so-called Digital well-being has reached Samsung's One UI too. If you were ever wondering how much time you spend on your phone and which apps you mostly used, the Digital well-being sub-menu would give you the details. It's cool, but it will probably stay unused by most users.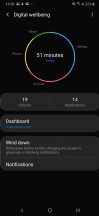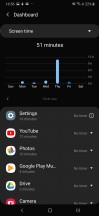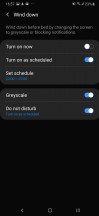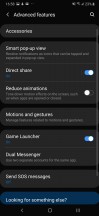 Advanced settings and Digital Wellbeing
As before, Samsung's own take on the custom Android is full of features and pre-installed apps. We are overwhelmed, and it's hard to go over every one of them. And besides, there are plenty of carry-overs from the previous software versions. Some users may be annoyed with the heavy customization and set of pre-installed apps, especially if you are coming from a vanilla Android.
For multimedia you have the new Gallery app by Samsung for browsing photos and videos, while Play Music handles well, your music. There is also an FM radio app on board, a proprietary My Files file manager app, Samsung Health app, Bixby assistant, among others.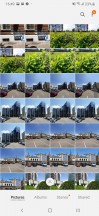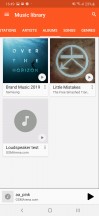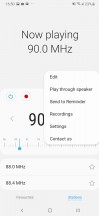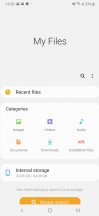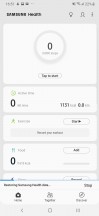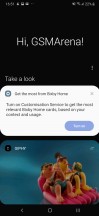 Gallery • Play Music • FM radio • My Files • Health • Bixby
And although not perfect, we kind of like where Samsung is going with this. It's addressing an issue that's been overlooked for quite some time since the new wave of huge smartphone displays. One-handed operation on the One UI is much more pleasant and comfortable. Oh, and the inclusion of the Camera Night mode was a long-awaited feature for more than just a few users.
Performance and benchmarks
The Samsung Galaxy A30 is powered by Samsung's Exynos 7904 chipset, which is essentially a downclocked 7885 and we already met it within the Galaxy A40. The SoC packs an octa-core processor with 2x high-performance Cortex-A73 cores clocked at 1.77 GHz and 6x power-efficient and smaller Cortex-A53 cores ticking at 1.59 GHz. For graphically intensive tasks, the Exynos 7904 relies on the Mali-G71 MP2 GPU.
When it comes to memory, the phone comes either with 3GB or 4GB of RAM depending on the model's base storage - 32GB or 64GB. The one we got for this review has 4GB/64GB.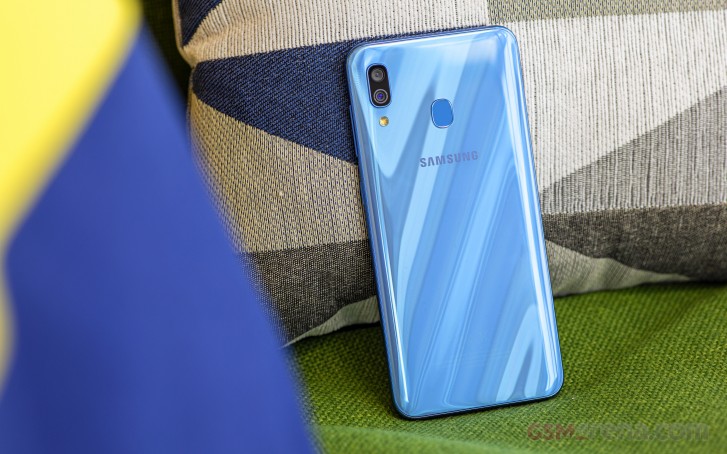 We kick things off with the usual CPU testing to see where the Exynos 7904 stands. The scores aren't showing a winner, but nobody really expected a chart-topper. One A73 core ticking at 1.77GHz is powerful enough and would beat any A53 one, while it's not that far from the A73s clocked at 2.2GHz or similar.
GeekBench 4.1 (single-core)
Higher is better
Samsung Galaxy A50
1715
Xiaomi Redmi Note 7
1650
Honor 8X
1618
Realme U1
1567
Nokia 7.1
1344
Samsung Galaxy A40
1325
Samsung Galaxy A30
1319
Samsung Galaxy M20
1313
Motorola Moto G7
1255
Sony Xperia 10
848
The inferior clock of the high-performance core takes its toll on the multi-core test putting the Exynos 7904 processor around the bottom of our chart. But it's still a good enough score for the class.
GeekBench 4.1 (multi-core)
Higher is better
Realme U1
6004
Honor 8X
5651
Xiaomi Redmi Note 7
5411
Samsung Galaxy A50
5396
Nokia 7.1
4975
Motorola Moto G7
4755
Samsung Galaxy M20
4160
Samsung Galaxy A30
4146
Samsung Galaxy A40
4112
Sony Xperia 10
3985
The dual-core Mali-G71 performance is far from ideal. It's not rock bottom, but neither is stutter-free as what we observed on the A50. The good news is it will run most of the cool games, but some stutters and bottlenecks are to be expected.
GFX 3.1 Manhattan (onscreen)
Higher is better
Samsung Galaxy A50
13
Honor 8X
13
Xiaomi Redmi Note 7
13
Realme U1
12
Sony Xperia L3
11
Nokia 7.1
9.7
Sony Xperia 10
7.8
Samsung Galaxy A30
7.4
Samsung Galaxy A40
7.4
Samsung Galaxy M20
7.1
Motorola Moto G7
6.4
GFX 3.1 Car scene (onscreen)
Higher is better
Samsung Galaxy A50
8
Xiaomi Redmi Note 7
7.7
Realme U1
7.1
Honor 8X
6.7
Nokia 7.1
5.9
Sony Xperia L3
5
Samsung Galaxy A30
4.6
Samsung Galaxy A40
4.6
Samsung Galaxy M20
4.4
Sony Xperia 10
4.3
Motorola Moto G7
3.5
3DMark SSE 3.1 Unlimited
Higher is better
Xiaomi Redmi Note 7
1409
Samsung Galaxy A50
1353
Realme U1
1133
Sony Xperia 10
903
Samsung Galaxy A40
647
Samsung Galaxy A30
587
Samsung Galaxy M20
587
Motorola Moto G7
569
Sony Xperia L3
445
The AnTuTu multi-score is far from ideal, too, but we just can't expect more from such a cheap phone. Unless it's a Redmi, that is.
AnTuTu 7
Higher is better
Samsung Galaxy A50
144574
Realme U1
144436
Xiaomi Redmi Note 7
139075
Honor 8X
137276
Nokia 7.1
117175
Samsung Galaxy M20
108658
Samsung Galaxy A40
106388
Motorola Moto G7
106292
Samsung Galaxy A30
96550
Sony Xperia 10
89697
Sony Xperia L3
78894
Obviously, this downclocked Exynos chipset wasn't met to put out an impressive performance, but to get the job done. And indeed, it does a very good job for the trivial Android operations and occasional games. Sure, dropped frames and stutters are highly possible, but you did sign up for this with opting for a rather budget phone. The good news is that those hiccups not that big and they don't happen super often, so at the end of the day you should be happy with what you paid for.