Tangible camera upgrades
The Galaxy A51 packs a rather compelling camera setup. It starts with a 48MP Quad Bayer main unit, one you'd find on about 9 out of 10 midrangers today. Then there's a 12MP ultra wide-angle cam, an upgrade over the 8MP ultra wides Samsung's been fitting on anything that's not a flagship.
And here's where it gets interesting - the A51 also has a 5MP macro camera, when others opt for a much more modest 2MP unit for close-ups. It's also a longer lens on the A51 when compared to the prevailing ultra-wide macro units - with an equivalent focal length of 25mm it doesn't require you to stick the phone into your subject quite as much.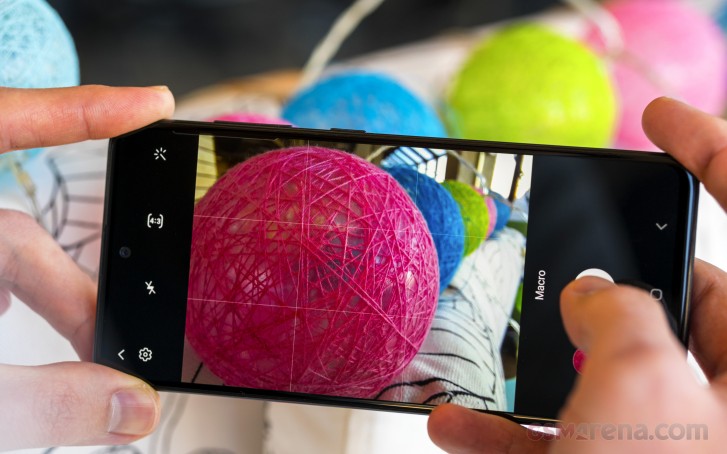 There's another 5MP camera on the back to serve as a depth sensor and to up the camera count in press materials.
Over on the front, a 32MP Quad Bayer selfie shooter peeks from within the punch hole.
The camera app is the same you'd find on every Samsung with a few minor design tweaks introduced with One UI 2.0 like the larger font for the modes and the outline for the selected mode as opposed to the solid bubble of before.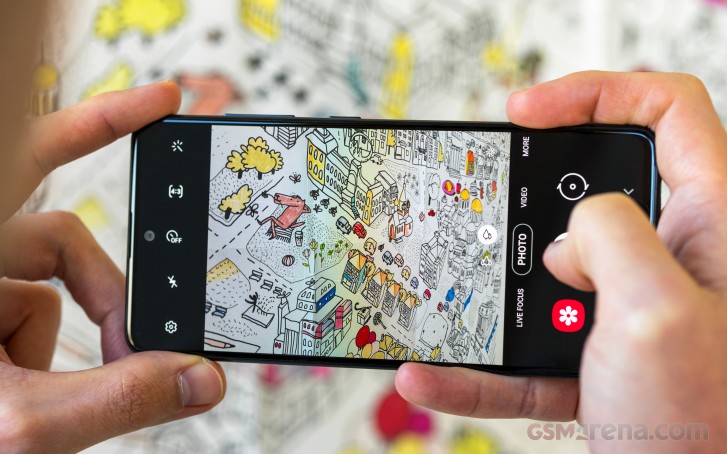 Functionally, it's mostly identical to any other camera app out there. Swiping left and right will switch between all available modes, and there's also an option to re-arrange or remove some of the modes from the viewfinder. Vertical swipes in either direction will switch between front and rear cameras.
The settings icon is located in the upper left corner of the screen and gives you fine control over the cameras. The usual stuff like video resolution, grid lines, location data, etc., can be found there. You can also turn on and off the Scene optimizer and set the HDR to auto or manual. Meanwhile, right in the viewfinder, you get an aspect ratio selector, which is how you can engage the 48MP mode - 4:3H as opposed to the 12MP 4:3 non-H.
There's a Pro mode too, but as we've come to expect from the company's midrangers, it's not very Pro. You can only choose ISO (in the 100-800 range), exposure compensation (-2/+2EV in 0.1EV steps), and white balance (by light temperature). There's no shutter speed selector or manual focus.
Image quality
The Galaxy A51's takes decent pictures, but doesn't really make us go 'wow'. It does have quite a good dynamic range and handled our harshly lit scenes well. Images are reasonably sharp, and straight lines, for example, are well defined, but we're not big fans of how the phone renders random fine detail like grass or fine tree branches. Noise is also competently removed. Colors are generally nice, and the phone strikes a good balance with saturation.
The 48MP mode is available if you absolutely insist on getting super large files to little practical benefit. You could potentially extract some more detail going that route, but you'd be sacrificing dynamic range in the process.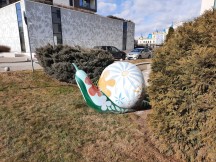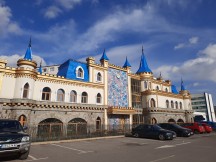 Camera samples, main camera, 48MP
The ultra wide-angle cam is a significant upgrade from the one on the A50, and it offers improved sharpness and detail. Dynamic range is also substantially better, making for an altogether pretty capable ultra-wide camera as far as midrangers go.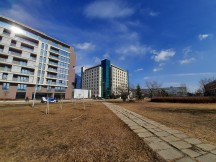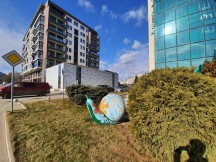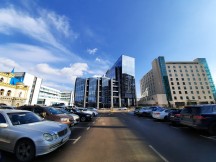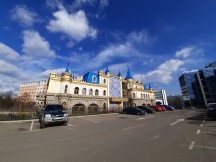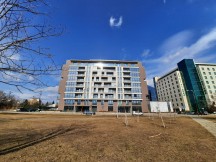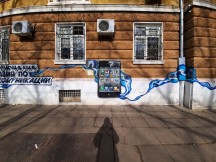 Camera samples, ultra wide angle camera
Low light photos out of the Galaxy A51 aren't great. The main camera's output is soft and noisy, while the colors are relatively desaturated. Dynamic range is decent, for what it's worth.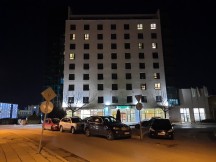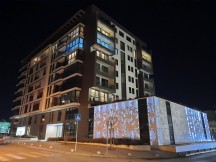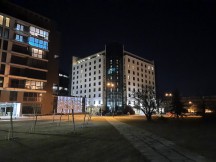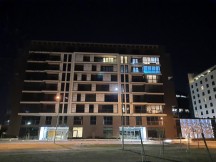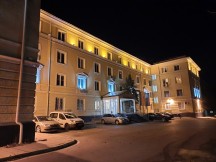 Low-light samples, main camera, Photo mode
The ultra wide-angle cam, predictably, fares even worse on most of these counts, though we could say that it manages to hold on to color better.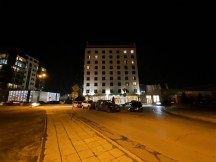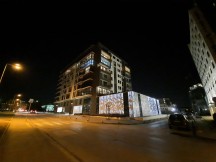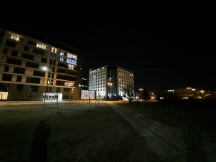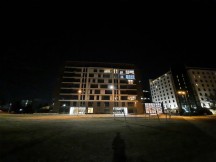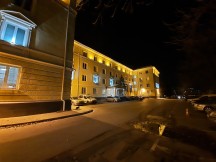 Low-light samples, ultra wide angle camera, Photo mode
Night mode fixes a number of the A51's low-light photography issues, but it comes with a caveat of its own - it introduces a significant crop and outputs 8MP images. On a positive note, photos from the main cam are now sharper, and with better definition in the shadows, though we can't say there are gains in terms of color.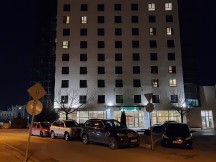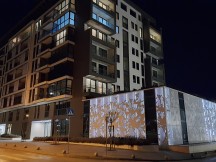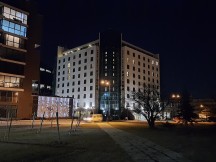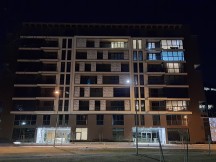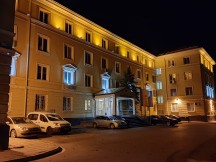 Low-light samples, main camera, Night mode
Night mode is slightly beneficial to the ultra wide-angle camera's output too, where it improves the noise performance significantly. The flipside to that is that photos are also a bit softer.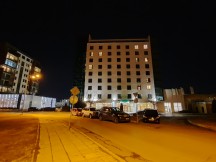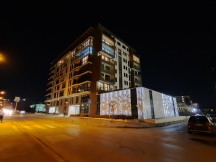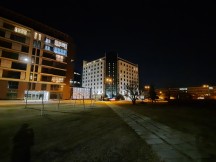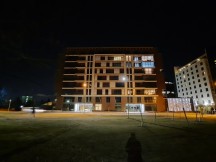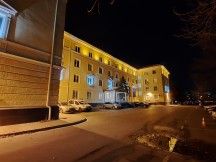 Low-light samples, ultra wide angle camera, Night mode
Portraits
Portraits out of the Galaxy A51 are really good. Subject detection and separation are exemplary, and the blur looks just right at its default 5/7 setting (which you can adjust pre- or post-shot). HDR is also available in Live Focus mode, which isn't a given for all phones' portrait modes. It works successfully on non-human subjects as well.
Close-ups
The Galaxy A51's dedicated 'macro' camera is superior to the bulk of most other smartphone 'macro' cameras on the market. It offers more detail and a relatively more usable working distance (3-5cm the viewfinder says). However, it being fixed-focus means that you'd better have steady hands and subjects otherwise you could end up with a blurry shot on account of not keeping the distance in the sweet spot.
Once you're done with the real world samples, head over to our Photo compare tool to see how the Samsung Galaxy A51 stacks up against the competition.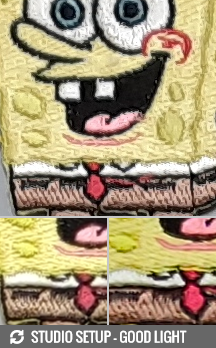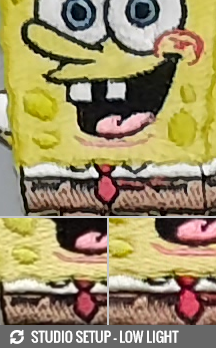 Samsung Galaxy A51 against the Xiaomi Mi 9T and the Realme X2 in our Photo compare tool
Selfie camera
For whatever reason, the A51's selfies come out at 12MP, as opposed to the logical 8MP that the 4-to-1 conversion we've come to expect from Quad Bayers would give. It's an approach we saw on the Galaxy A60's main rear cam and on the Galaxy A70 front and back, so it's not new. We'd say that the phone does the binning from 32MP to 8MP and then upscales to 12MP to make for a better sounding number. A 32MP mode is also available but comes with no HDR, so we would steer clear of that.
The images turn out okay in the end with nice colors and wide dynamic range. The detail is quite good as far as selfie cameras go too.
Portrait mode may not be able to quite match the rear multi-cam setup and isn't as proficient along the border between subject and background. Even so, it does work reasonably well - we didn't experience any blunders in processing (chopped ears are our favorites), and HDR is present, so we'd happily use it.
Video
The Galaxy A51 records video up to 4K30, with all of its standalone cameras - that includes the main one and the ultra-wide on the back and also the selfie camera. Oddly enough, it doesn't do 1080p at 60fps.
2160p videos get a bit rate of about 48Mbps, while 1080p makes do with 17Mbps, and those numbers are the same for both cams. Audio is recorded in stereo at 256kbps.
Video quality is alright for a midrange phone, but it won't have you raving. The main cam's footage has accurate colors and is nicely contrasty while still packing a good dynamic range. Its 4K does have an overprocessed look when you zoom in closely and isn't spectacular pixel for pixel. 1080p, on the other hand, is more conservatively sharpened and is quite likable.
The ultra wide-angle cam's colors in video are slightly washed out when compared to the main shooter, and contrast is a bit lower, but neither is to the point of being an issue. It does have a pretty good dynamic range as these cameras go and handled our fairly demanding scene with grace.
Stabilization isn't available in 4K, but the A51 wills stabilize 1080p footage from both of its rear cameras. Videos from the ultra wide-angle cam look very smooth and stable indeed, whether you're walking or pointing in a constant direction. As for the main cam, it can have a tendency to hunt for focus as you walk, which creates an annoying effect ruining the perception of stability. It's fine if you're keeping it pointed somewhere and pans are quite smooth too.
The Super steady mode was a bit of a disappointment as it clocked at 25.5fps as opposed to a steady 30fps and looked, well, less steady than the regular stabilized footage from the ultra wide-angle cam.
Here's a glimpse of how the Samsung Galaxy A51 compares to rivals in our Video compare tool. Head over there for the complete picture.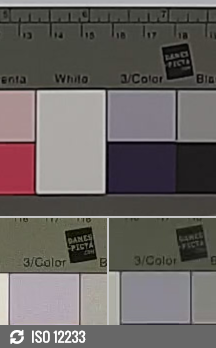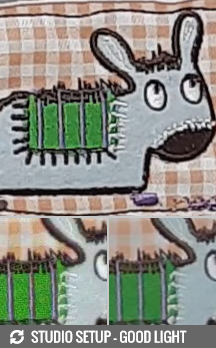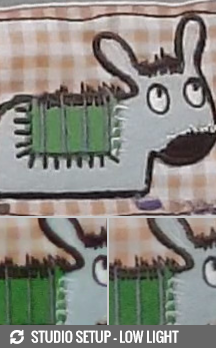 Samsung Galaxy A51 against the Xiaomi Mi 9T and the Realme X2 in our Video compare tool
And here's a brief video with the front-facing camera to showcase the 4K selfie-shooting capabilities.