Samsung Galaxy A5 (2018) will actually be called A8 (2018), Bluetooth filing reveals
For whatever reason, it looks like Samsung is ready to change the branding for its A series smartphones. The successors to the Galaxy A5 (2017) and A7 (2017) will not be called A5 (2018) and A7 (2018), as you'd expect. A few days ago we found out that the latter of those two is actually going to go by the name A8+ (2018), and now it's time to see what its sibling will be named.
It turns out that the device we've so far been referring to as the Galaxy A5 (2018) will be sold by Samsung as the Galaxy A8 (2018). It has the model number SM-A530, which means it's definitely supposed to be next in line from the A5 (2017), which is SM-A520.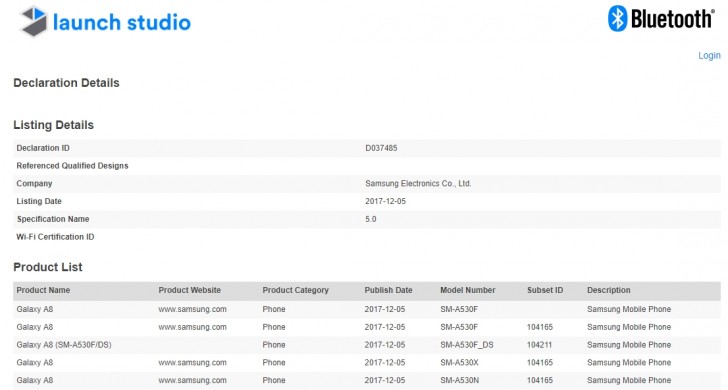 The reasons for Samsung's change of strategy in this regard are not known yet, but perhaps it has something to do with making sure that the A series handsets are in line in terms of naming with the flagship S line - so you have the S8 and S8+, and now the A8 and A8+ to complement those in the mid-range.
Both the A8 (2018) and the A8+ (2018) are expected to ship with Infinity Displays, employing the very popular 'tall' 18:9 screen aspect ratio - with 1,080 x 2,160 resolution. A rear placed fingerprint scanner will be found on both. The A8 should be powered by an Exynos 7885 SoC or Snapdragon 660 (depending on market) paired with 4GB of RAM, and its display size will be 5.5".
A
10000000++++ I tooo want A3 2018 in infinity with a decent pricing
?
Noooooooo I want A3 2018 in infinity
ADVERTISEMENTS