The Galaxy A6 moniker has been floating around in the rumor mill for a good three years now. But only recently has there been actual development on the matter, with Galaxy A6 and A6+ handsets, already Wi-Fi certified and spotted on GeekBench. As per an earlier industry insider tip, the SM-A600FN and SM-A605G were apparently only intended for a trio of markets - Europe, Russia, and Middle East.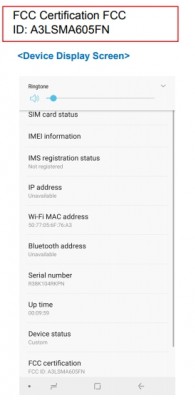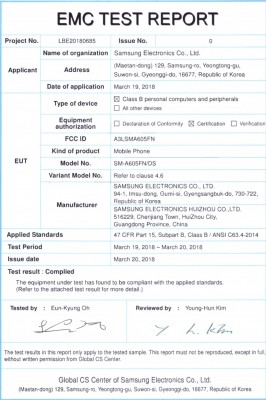 Samsung Galaxy A6+ FCC documents
However, both devices have been recently spotted in FCC filings, meaning Samsung is already going through the process of certifying the pair for the US market. The FCC IDs in question are A3LSMA605FN and A3LSMA600FN, for the A6+ and A6, respectively, leaving pretty much no doubt that the devices are closely related. The obligatory FCC e-label placement screenshot for the SM-A600FN even shows the about screen of the phone, complete with a clearly visible "Galaxy A6" moniker.
As per current rumors, the basic Galaxy A6 is expected to pack an Exynos 7870 chipset, seen in the Galaxy A3 (2017) and some phones from the more affordable J series. Along with it - 3GB of RAM and an Android 8 Oreo-based, Samsung Experience UI 9.0 ROM on top.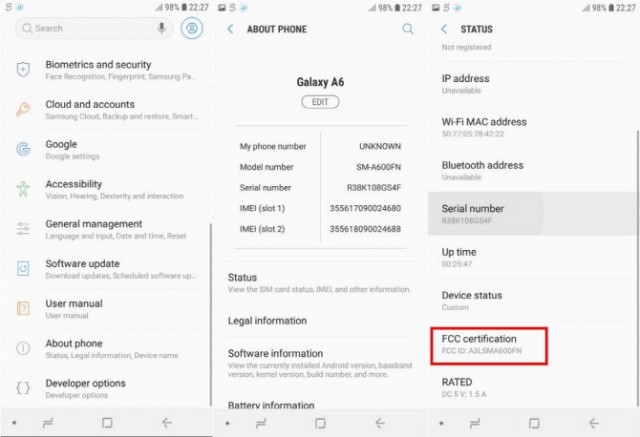 The Galaxy A6+ will, apparently, go for a Snapdragon 625, plus 4GB of RAM - a rather uncommon choice for the Korean giant, which rarely offers Qualcomm handsets outside the US. There is still no word on pricing, but going by the older chipsets of choice, we can only assume the pair will be positioned in the lower range of the midranger segment.
Thanks for the tip Akshay Kumar.
?
Akshay Kumar hounding the tech leaks now? I was thinking about buying an a series phone but either the price is too much or the specs are crap. I guess Samsung is a no go.
?
I didn't stated that I know the price but .... less then two months ago I was seriously considering Samsung's J and A's models with this chipset. They all were equipped with only 16GB and prices were in range €240-280. My assumption is that new phone...
Actually. confirming what the person were referring. as in "Nope. I don't see a price. just like you didn't".