Stride across
Samsung Galaxy A7 (2016) review: Stride across
Display
The Samsung Galaxy A7 (2016) comes with a 5.5" Super AMOLED display, which has 1080p resolution (that's 401ppi). All this sounds familiar to owners of the original A7, but the matrix has been improved, leading to better image quality.
For one, it's brighter. On manual you can get up to 425 nits, a healthy upgrade over the old one. In Auto mode, however, the maximum jumps up to 536 nits, almost 200 nits better than the original. At the minimum setting the display puts out less than 2 nits - even the sleepiest eyes can look at the screen without getting blinded.
The Galaxy A7 (2016) suffers from the same flicker issue as the A5 (2016). The effect isn't noticeable to the naked eye, but it's definitely there and may cause headaches in people who are susceptible. The effect grows stronger when you reduce the brightness (especially under 40%) as it's part of how AMOLED displays are dimmed.
Display test
100% brightness
Black, cd/m2
White, cd/m2
Contrast ratio
Samsung Galaxy A7
0.00
349
∞
Samsung Galaxy A7 (2016)
0.00
425
∞
Samsung Galaxy A7 (2016) max auto
0.00
536
∞
Samsung Galaxy S6 edge+
-
410
∞
Samsung Galaxy S6 edge+ max auto
-
540
-
Xiaomi Redmi Note 3
0.42
403
953
Meizu MX5
0
346.00
∞
Meizu m1 metal
0.50
390
780
Motorola Moto X Play
0.41
620
1520
The extra brightness definitely helped with the sunlight legibility, which is among the best around. Not S6 edge+ great, but among the best for its price class. We do this test on manual mode, Auto will further improve legibility.
Sunlight contrast ratio
Samsung Galaxy S6 edge+
4.615
HTC One A9
4.274
Samsung Galaxy S6 edge
4.124
Samsung Galaxy Note5
4.09
Huawei Nexus 6P
4.019
OnePlus X
3.983
Oppo R7s
3.964
Samsung Galaxy A7 (2016)
3.918
Samsung Galaxy J7 outdoor
3.879
Samsung Galaxy J2 outdoor
3.873
Samsung Galaxy A8
3.859
Apple iPhone 6
3.838
Motorola Moto X (2014)
3.816
Samsung Galaxy A5 (2016)
3.789
Apple iPhone 6s
3.783
Meizu Pro 5
3.781
Vivo X5Pro
3.706
Samsung Galaxy A7
3.679
BlackBerry Priv
3.645
Apple iPhone 6s Plus
3.53
Microsoft Lumia 950
3.512
Oppo R7 Plus
3.499
Samsung Galaxy J7
3.422
Meizu MX5
3.416
Oppo R7
3.32
Samsung Galaxy J2
3.235
Motorola Moto X Play
3.222
Lenovo Vibe Shot
3.113
LG Nexus 5X
3.092
Huawei Mate S
3.073
Microsoft Lumia 640 XL
3.065
Apple iPhone 6 Plus
3.023
Samsung Galaxy Note
2.97
Huawei Mate 8
2.949
HTC One S
2.901
Sony Xperia Z5
2.876
Microsoft Lumia 550
2.851
Sony Xperia Z5 compact
2.784
LG V10
2.744
Xiaomi Redmi 3
2.735
Sony Xperia M5
2.69
Xiaomi Mi 4i
2.641
Xiaomi Mi 4c
2.574
Microsoft Lumia 640
2.563
Motorola Moto G 4G
2.546
Oppo F1
2.528
Sony Xperia Z5 Premium
2.525
Sony Xperia M4 Aqua
2.503
Motorola Moto G
2.477
Huawei G8
2.471
Sony Xperia Z
2.462
Huawei Honor 7
2.406
ZUK Z1 by Lenovo
2.382
HTC One E9+
2.305
Sony Xperia C5 Ultra
2.253
Xiaomi Redmi Note 3 (MediaTek)
2.249
Sony Xperia C4 Dual
2.235
Motorola Moto G (2014)
2.233
LG Nexus 5
2.228
Huawei P8
2.196
Xiaomi Redmi Note 2
2.166
OnePlus Two
2.165
HTC One X
2.158
Archos 50 Diamond
2.134
Xiaomi Redmi Note
2.119
Huawei P8lite
2.078
Moto G 3rd gen max manual
2.026
Sony Xperia E4g
1.972
OnePlus One
1.961
Meizu m2 note
1.892
BlackBerry Leap
1.892
HTC Butterfly
1.873
ZTE Nubia Z9 mini
1.759
Sony Xperia U
1.758
Asus Zenfone Selfie
1.68
Motorola Moto E (2nd Gen)
1.675
ZTE Nubia Z9
1.659
Motorola Moto E
1.545
Sony Xperia M
1.473
Xiaomi Redmi 2
1.311
Sony Xperia C
1.283
Meizu MX
1.221
Samsung Galaxy mini 2
1.114
Another change is the much improved color accuracy - when you put the display on Basic screen mode, the average deltaE is 1. That's the lowest we've seen yet! Even the maximum deviation is quite tiny, just 2.2. Of course, if you prefer punchier colors, you can switch to Adaptive mode. The trade off is that the average deltaE goes up to 8.1 (that's about the same as the Xperia Z5 screen).
Connectivity
The Samsung Galaxy A7 (2016) offers both single and dual-SIM versions (though only one may be available in your region).
The phone supports LTE Cat. 6, which is good for 300Mbps downloads. The 3G HSPA+ tops out at 42.2Mbps. Note that only the SIM card that is selected as data SIM will connect to a 3G/4G network, the other one tops out at 2G/EDGE.
There's dual-band Wi-Fi a/b/g/n for a local Internet connection. There's no 802.11ac support, but that's not a huge deal. Bluetooth 4.1 and ANT+ are available for smartwatch and sports sensors connections.
The Galaxy A7 (2016) supports NFC and MST (Samsung's proprietary tech that emulates magnetic cards) for Samsung Pay. The fingerprint reader will secure your transactions, which gives the phone a leg up in security compared to classic debit/credit cards. If you are interested in using this feature, make sure your bank supports it.
The microUSB 2.0 port does not have MHL, so no TV-out, but you can use USB OTG to connect external storage or accessories. The port also does Quick Charge 2.0 (15W), but there's no wireless charging.
The phone has an FM radio too, great for tuning in to free live broadcasts that require no data connection.
Battery life
The Samsung Galaxy A7 (2016) has a 3,300mAh battery, which is a bit more than the S6 edge+ and Note5, while competitors boast 4,000mAh batteries.
The Smart Manager monitors app usage and will optimize apps that you haven't used for a while (preventing them from draining the battery in the background).
Also, here you'll find two modes - Power saving mode and Ultra power saving mode. For both, you get an estimate of how much battery life you can expect if you enable the mode.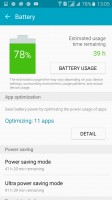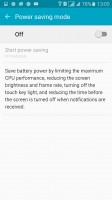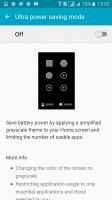 Checking up on the battery • Power saving mode • Ultra power saving mode
The Galaxy A7 (2016) scored slightly better Endurance rating than the A5 (2016), 96 hours with one SIM, but putting in a second SIM even things out with a 77 hours reading for the two. We expected a bit more, given the 400mAh bump in capacity.
We won't split hairs, though, moderate users will charge their phone once every three days, heavy users every two.
The individual tests showed a noted improvement, though. The A7 (2016) lasts 5 hours longer for calls, 2 more for web browsing and 1 more for video playback. Compared to the Galaxy S6 edge+ it offers less talk time, but more web browsing (the differences aren't very significant though).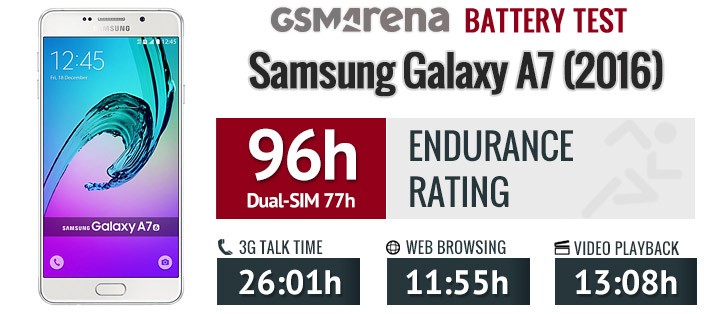 In 2016 we're transitioning to using a fixed 200nit screen brightness for our battery tests instead of merely positioning the brightness slider at 50% which worked out to a relatively random brightness level.
The brightness level of 200nits, which we've chosen for our tests, has become somewhat of an industry standard. But more importantly, it's both the median and average value of the brightness levels at which we've tested all reviewed devices so far. This means our older battery life results will remain equally relevant and comparable as they were before.