The Samsung Galaxy A7 has leaked a lot up until this point, yet for some reason the smartphone maker still hasn't announced it to complement the two existing members in the A series - the A3 and the A5.
So the Galaxy A7 just keeps on leaking. Today we can see it in a leaked catalogue for South Korea. This listing gives us another round of specs for the device. What's perhaps more interesting is that alongside the A7 the Galaxy Grand Max has leaked too, as part of the same leaflet.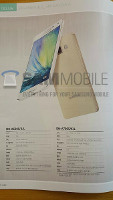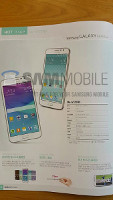 Samsung Galaxy A7 and Galaxy Grand Max
So, here's what we should expect from the Galaxy A7, in terms of specs. It will come with a 5.2-inch 1080p Super AMOLED touchscreen, a 13 MP rear camera, a 5 MP front snapper, a 1.5 GHz octa-core processor, 2GB of RAM, 16GB of expandable storage, and a 2,500 mAh battery. It will run Android 4.4.4 KitKat and will sport connectivity options such as LTE, Wi-Fi, Bluetooth, and GPS. The A7 will be just 6.3mm thin and it will weigh 140g.
Moving on, the Galaxy Grand Max has a 5.2-inch 720p LCD touchscreen, a 13 MP rear camera, a 5 MP front-facing camera, a 1.2 GHz quad-core CPU, 1.5GB of RAM, 16GB of built-in storage (expandable via microSD cards), and a 2,500 mAh battery. It too will come with Android 4.4 KitKat preinstalled, as well as LTE support. It's 7.9mm thin.
These two phones are headed to South Korea in the near future, where the Galaxy A7 will be offered by all three carriers over there. There's been no word on whether these devices are going to be sold elsewhere in the future, but our guess would be that they will. It's just unclear when.
A
I thought it gonna be 7 inch... i just want to plat the cococ game only...
n
Why so many variante? This jeopardize people's trust in the brand
b
i dont think u r right .................samsung is the phone which taking care the policy from NOKIA...this now no one can be the name of NOKIA
ADVERTISEMENTS