Of the three members in Samsung's soon to be unveiled A series of smartphones, we've so far known the least about the Galaxy A7. The A3 and A5 have seen many more leaks than the biggest of the bunch, and we basically already know everything there is to about them - save for a release date, that is.
Well, today we can finally say the same thing about the A7, because it's been put through the paces of GFXBench. And thanks to this development, we get to see all of the phone's most important specs.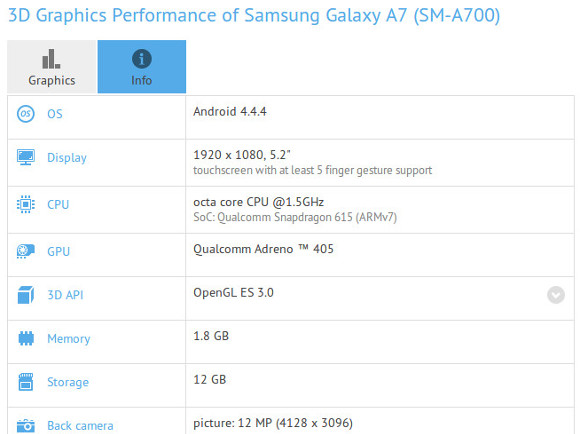 Like a user agent profile hinted a few days ago, the Galaxy A7 will be sporting 1080p screen resolution and a 64-bit chipset. Interestingly, though, its display size won't be 5.5" like previously leaked, but a more sensible 5.2" instead.
The SoC in question has been revealed to be the Qualcomm Snapdragon 615, which sports an octa-core CPU (in this case clocked at up to 1.5 GHz) and an Adreno 405 GPU. Complementing it are 2GB of RAM, while the built-in storage space should be 16GB (of which around 12GB will be user-accessible).
The main camera is expected to be a 12 MP unit with Full HD video recording, while the selfie snapper will top out at 5 MP. The phone will also have an accelerometer, Bluetooth, a compass, GPS, NFC, and Wi-Fi.
That's all we have for now, hopefully Samsung will make the A series official pretty soon. Otherwise, we wouldn't be surprised to see more leaks about these handsets coming our way.
w
IT is complemented by 2GB RAM , not 3GB
?
Samsung Galaxy A7 have to contained this basic specs, if like to close 2014 number one smartphone in world! Happy End for all samsung fans 1.Display.- 5.5"inches FHD - Super Amoled - CGG 4 - 421~ppi 2.Memory.- 3GB RAM 3.Cipset.- Exynos ...
?
please why not with ARMv8 Snapdragon 615, or this another fake smartphone of samsung with fake chip, please do it in two versions Snapdragon 615 and another with Exynos 5433 with this basic specs: Samsung Galaxy A7 with exynos chip: 1.Displ...
ADVERTISEMENTS