Browser and Chrome
The Internet app is the Android browser modified by Samsung. It supports multiple tabs (including incognito ones) and if you sign into your Samsung account, it will sync open tabs and bookmarks with other devices on that account.
A cool features lets you use your fingerprints to sign into web sites. The first time you enter username and password as normal and then select the option to remember the login using fingerprints. Then when the website asks for a login, the phone will prompt you to put your finger on the Home key and a second later the info is filled in and submitted. We found that this doesn't work with all types of login pages, but it should work on most.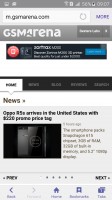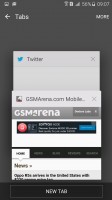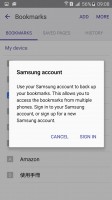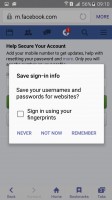 The Internet app • syncing tabs • singing into web sites using a fingerprint
Chrome comes on all Androids as part of the Play Services package. It can sync tabs too (based on your Google account) and has the data-saving option of compressing pages before they are sent to the device. It will even automatically detect foreign language sites and offer to translate them.
Both the Internet app and Chrome support Multi Window.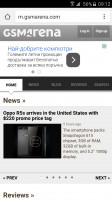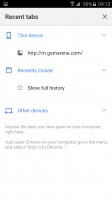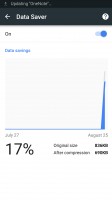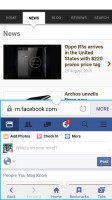 Chrome • syncing tabs with other devices • reducing data usage • Multi Window
Other preinstalled apps
Samsung has partnered with Microsoft and offers three preinstalled apps (that you can't uninstall either). There's OneDrive to handle cloud-syncing needs (including photo backup). You get a free 100GB with your phone. The other app is OneNote for a more advanced note taking and syncing experience than the Memo app offers.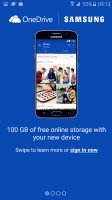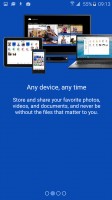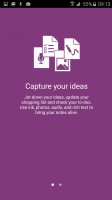 OneDrive and OneNote come preinstalled
Smart Manager shows even more collaboration and is a one-stop shop for maintenance of your device. It's divided into four parts. Battery shows estimated battery life remaining/time until charged and will warn you of abnormal battery usage. The Power saving and Ultra power saving modes can be activated from here.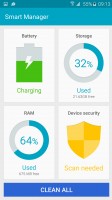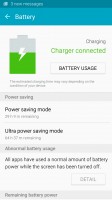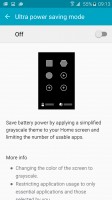 Smart Manager • Battery use • Ultra power saving mode
The Storage section leans on Clean Master to free up some storage by deleting unnecessary files. RAM closes running apps to free up RAM. Other than misbehaving apps, we can't think of a reason to manually close apps on a 3GB device.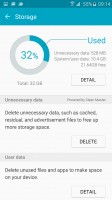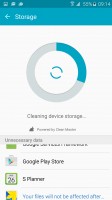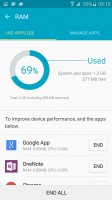 Cleaning up the storage • freeing up RAM
The fourth section is Device security. It offers My KNOX, which create separate working spaces for personal and work apps (think BlackBerry's Balance). KNOX Active Protection promises to safeguard you against hacks - it's disabled by default for casual users and enabled for enterprise users.
It slows down performance a bit and adds 1 second to the boot time. What you get is verification that the system apps haven't been tampered with and real-time kernel protection to avoid unauthorized access from apps to the core of the operating system. There's also a McAfee-powered malware scanner on board.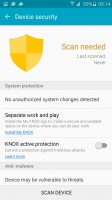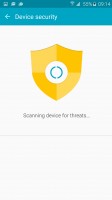 KNOX can balance work and personal apps, protect you from malware and hacks
The Voice recorder app has two modes - standard and Voice memo, which automatically transcribes the note into text.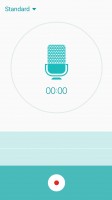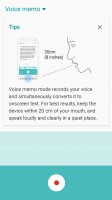 Voice memo can record interviews and take down notes
S Planner is the familiar Samsung replacement for the Google calendar. It defaults to a Month and agenda view, and has a clean Material Design interface. You can add a 7-day weather forecast and multiple calendars.
The My Files app is the built-in file browser. It's beginner friendly with its Category view (e.g. view all photos), but you can browse the whole internal storage) The app also integrates Google Drive so you can seamlessly handle files in the Google cloud. We would have loved to see OneDrive integration too, it would have made using those 100GB easier.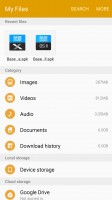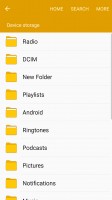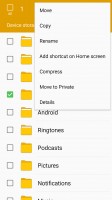 My Files handles local and cloud (Google Drive) files
S Voice is still on board, even though it had to relinquish its traditional shortcut. It can handle a wide variety of voice commands - call or text someone, take down memos and calendar notes, check the weather or read the news, answer spoken questions and so on.