Software
The Galaxy A8 (2018) runs Android 7.1.1 Nougat - no Oreo just yet, but it will come eventually. There's a healthy dose of Samsung Experience on top, version 8.5, so everyone who's seen an S8, Note8, or even a J7 (2017), should be right at home.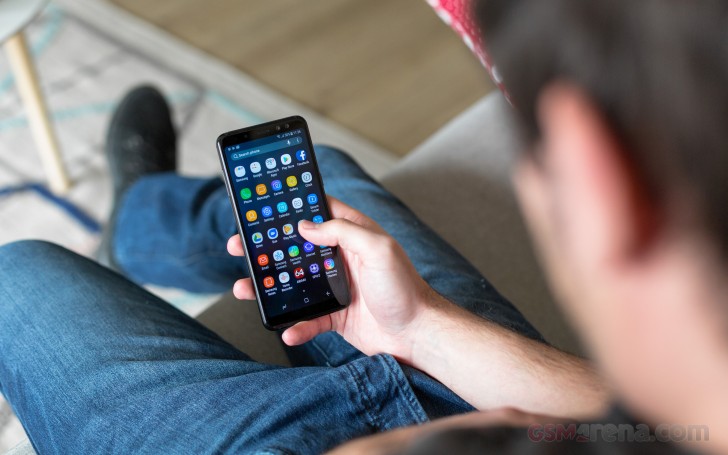 It's the same sky-blue-on-off-white color scheme for the settings and menus, and the 'Light and line' iconography introduced with the S8. Basically, there's no discernible difference in the UI between recent Samsungs.
Benchmarks
The Galaxy A8 (2018) is powered by Samsung's own Exynos 7885 chipset. At least that's what benchmarking apps report - Samsung hasn't gone official with such an SoC, and it's not listed in the spec sheets either.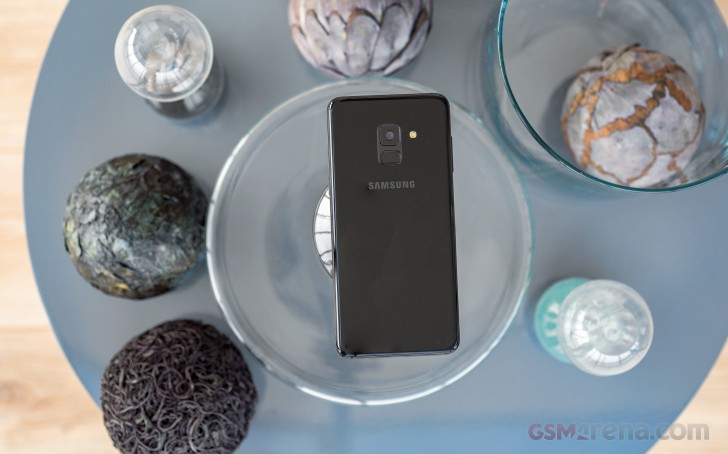 What is listed is the CPU configuration and it's one we haven't seen before. The processor consists of two powerful cores clocked at up to 2.2GHz, and six more ticking at up to 1.6GHz. That would be two Cortex-A73 cores and six Cortex-A53 ones - color us (pleasantly) surprised.
We were eager to see how that setup performs, naturally, and ran a few benchmarks on the Galaxy A8 (2018) we have handy. It's not a final unit we're testing, strictly speaking, so the numbers churned out by retail units could potentially end up different, if at all.
GeekBench 4.1 (multi-core)
Higher is better
Samsung Galaxy S8
6656
Samsung Galaxy S8+ (SD 835)
6301
Oppo R11s
5907
Oppo F3 Plus
4695
Samsung Galaxy A8 (2018)
4418
HTC U11 Life
4140
Motorola Moto X4
4136
Sony Xperia XA1 Plus
3783
Huawei Mate 10 Lite
3603
GeekBench 4.1 (single-core)
Higher is better
Samsung Galaxy S8
1991
Samsung Galaxy S8+ (SD 835)
1832
Oppo R11s
1614
Samsung Galaxy A8 (2018)
1532
Oppo F3 Plus
1438
Huawei Mate 10 Lite
913
Sony Xperia XA1 Plus
901
HTC U11 Life
873
Motorola Moto X4
866
AnTuTu 6
Higher is better
Samsung Galaxy S8
174435
Samsung Galaxy S8+ (SD 835)
168133
Oppo R11s
121638
Oppo F3 Plus
91458
Samsung Galaxy A8 (2018)
85389
HTC U11 Life
72854
Motorola Moto X4
71224
Motorola Moto Z2 Play
68322
Oppo F5
63889
Huawei Mate 10 Lite
63068
Samsung Galaxy A7 (2017)
60767
Sony Xperia XA1 Plus
55657
Basemark X
Higher is better
Samsung Galaxy S8
42370
Samsung Galaxy S8+ (SD 835)
34951
Oppo R11s
20914
Oppo F3 Plus
16695
Samsung Galaxy A8 (2018)
15299
Samsung Galaxy A7 (2017)
14619
Motorola Moto X4
14479
HTC U11 Life
14286
Motorola Moto Z2 Play
10455
Sony Xperia XA1 Plus
9543
Oppo F5
9205
Huawei Mate 10 Lite
8721
Camera
The Galaxy A8 (2018) is equipped with a 16MP rear camera with an f/1.7 aperture lens - that's the same resolution as the previous generation, only with a brighter lens. It's got phase detection autofocus, but no optical stabilization. There's a trusty old single LED flash - it's how Samsung rolls.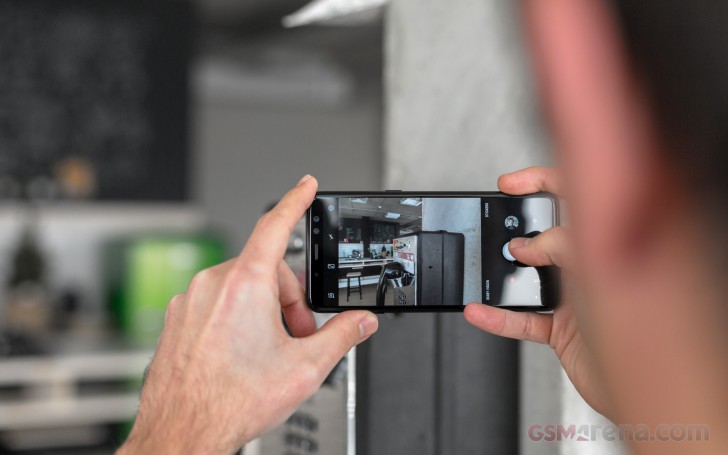 Then again, in a Samsung-first, the Galaxy A8 (2018) comes with a dual front-facing camera. It's a 16MP+8MP pairing, each with an f/1.9 aperture, with a fixed focus plane. Not to be mistaken with the Live focus feature for variable blurring of backgrounds post-shot - that's really the dual camera's main reason for being here.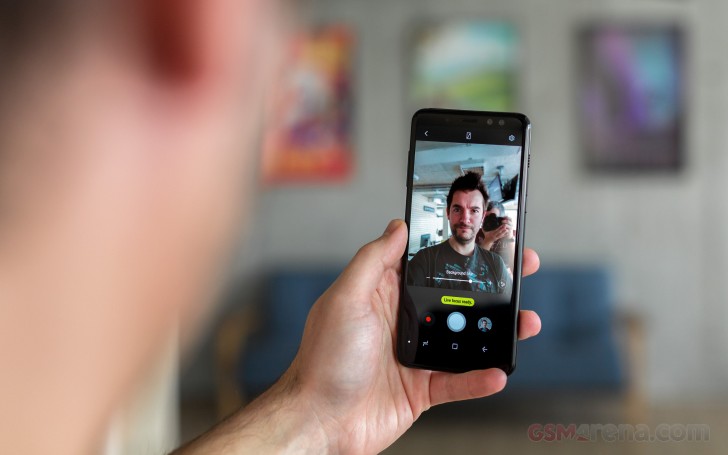 Thing is though, between the limited time we've had with the phone and the drab weather we've been having, we couldn't really take any nice test samples. At least not with the rear camera. Here are a couple of selfies to try and make up for that.
That would be all for now. We'll probably try to shoot some more samples tomorrow if the weather is on our side.
First impressions
Bridging the gap between midrange and top tier, the A-series are getting closer to what was once the definition of a flagship. Samsung pulled its punches here and there to let the S8/S9 breathe more easily, but upon first glance the Galaxy A8 (2018) looks like a compelling package at a reasonable price point. Reasonable, that is, in the universe of ever-growing prices.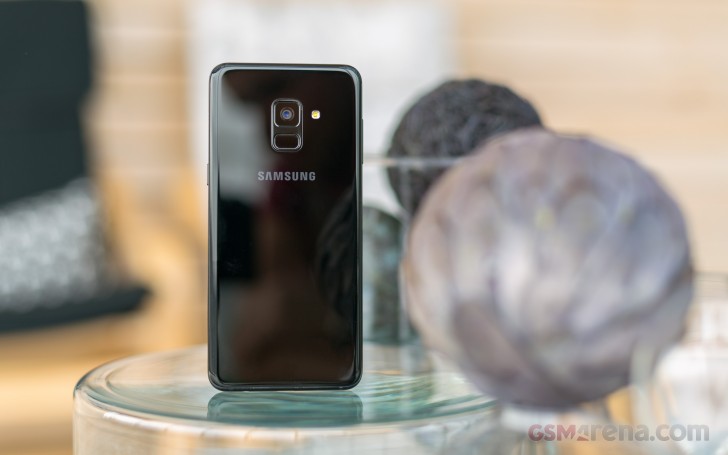 That said, the A8 (2018) still has a lot to prove - we're yet to test its battery life, promising as the specs may be, and those cameras need to be subjected to some thorough pixel peeping. Those are tasks for the in-depth review, however - stay tuned for that.