Internals
Let's quickly get the hardware walkthrough out of the way, before we get to the main attraction. The Samsung Galaxy A9 (2018) is built around the Snapdragon 660 chipset. It's a solid mid-range option, which offers a potent Octa-core (4x2.2 GHz Kryo 260 & 4x1.8 GHz Kryo 260) processor setup and an equally respectable Adreno 512 GPU and a DSP well capable of 4K video capture and overall handling each one of the four main cameras.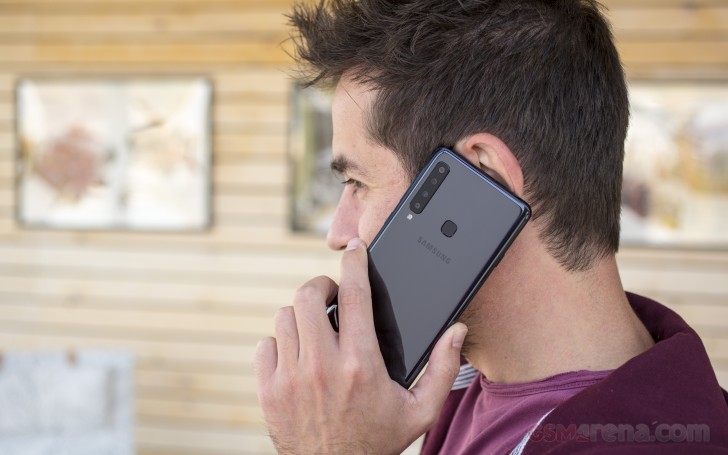 All important connectivity bases are also covered, including Dual-band Wi-Fi ac, Bluetooth 5.0, NFC, for Samsung Pay, among other things and the Korean giant even threw in an FM radio. All the sensors are also accounted for, and Samsung didn't skip on Adaptive Fast Charging. It's still based around Quick Charge 2.0, but it's better than nothing for topping-off the sizeable 3,800 mAh battery pack the A9 (2018) is packing. Nearly Galaxy Note9 capacity, we might add.
Still, even in the absence of any official pricing for the Galaxy A9 (2018), as of writing this, we can't shake the feeling that a handset, unlikely to open at an MSRP below EUR 600, could have made the jump to Qualcomm's exciting new Snapdragon 710 chipset. That would have meant a more efficient 10nm process, better GPU, DSP, and a faster modem, among other things.
Still, we won't reminisce about hypothetical missed opportunities here and will instead focus on the positives. Like, the well-rounded 6GB/128GB memory setup the Galaxy A9 (2018) comes standard with. The latter is even extendible via microSD, and certain markets will get an 8GB RAM tier, as well. Although, frankly, that seems a bit excessive at this juncture in time and with this choice of chipset.
AnTuTu 7
Higher is better
Xiaomi Mi 8 SE
170218
Samsung Galaxy A9 (2018)
141011
Nokia 7 plus
140820
Realme 1
138524
Huawei Mate 20 Lite
136583
Realme 2 Pro
132958
Xiaomi Mi A2
130927
Nokia 7.1
117175
We ran a few quick benchmarks, and this combination of hardware performs just as expected on the Galaxy A9 (2018).
GeekBench 4.1 (multi-core)
Higher is better
Xiaomi Mi 8 SE
5908
Nokia 7 plus
5893
Samsung Galaxy A9 (2018)
5856
Realme 1
5741
Huawei Mate 20 Lite
5574
Realme 2 Pro
5531
Nokia 7.1
4975
Xiaomi Mi A2
4625
GeekBench 4.1 (single-core)
Higher is better
Xiaomi Mi 8 SE
1890
Nokia 7 plus
1634
Xiaomi Mi A2
1617
Samsung Galaxy A9 (2018)
1595
Huawei Mate 20 Lite
1595
Realme 1
1511
Realme 2 Pro
1462
Nokia 7.1
1344
No surprises in CPU nor GPU to speak of. We also threw in a few other devices, representative of popular mid-tier chipsets, like the Snapdragon 710, we mentioned earlier. Or the Kirin 710, MediaTek Helio P60 and the Snapdragon 636, just to get a better overall picture.
GFX 3.0 Manhattan (1080p offscreen)
Higher is better
Xiaomi Mi 8 SE
33
Samsung Galaxy A9 (2018)
23
Nokia 7 plus
23
Xiaomi Mi A2
22
Realme 2 Pro
21
Huawei Mate 20 Lite
20
Realme 1
20
Nokia 7.1
16
GFX 3.0 Manhattan (onscreen)
Higher is better
Xiaomi Mi 8 SE
30
Samsung Galaxy A9 (2018)
21
Nokia 7 plus
21
Xiaomi Mi A2
21
Realme 1
20
Huawei Mate 20 Lite
19
Realme 2 Pro
18
Nokia 7.1
15
GFX 3.1 Manhattan (1080p offscreen)
Higher is better
Xiaomi Mi 8 SE
23
Samsung Galaxy A9 (2018)
15
Nokia 7 plus
15
Xiaomi Mi A2
15
Realme 2 Pro
14
Huawei Mate 20 Lite
14
Realme 1
12
Nokia 7.1
10
GFX 3.1 Manhattan (onscreen)
Higher is better
Xiaomi Mi 8 SE
22
Samsung Galaxy A9 (2018)
14
Nokia 7 plus
14
Xiaomi Mi A2
14
Huawei Mate 20 Lite
13
Realme 2 Pro
12
Realme 1
12
Nokia 7.1
9.7
That's a pretty solid achievement, considering our unit came with a memo indicating the early nature of its software.
Camera
That early software memo turned to be rather applicable once we got around to snapping some camera samples. Most photos taken with the main 24MP camera had some issue with the white balance, but we managed to snap a few keepers. That said, we suspect it's too early to pass any judgment on the image quality.
As we said earlier, technically, the Samsung Galaxy A9 (2018) has a total of four cameras on the back. Practically speaking, however, only three of these are directly usable, with the last 5MP, f/2.2 snapper only being used for depth information. In Samsung terms, it is a "Live Focus" helper camera.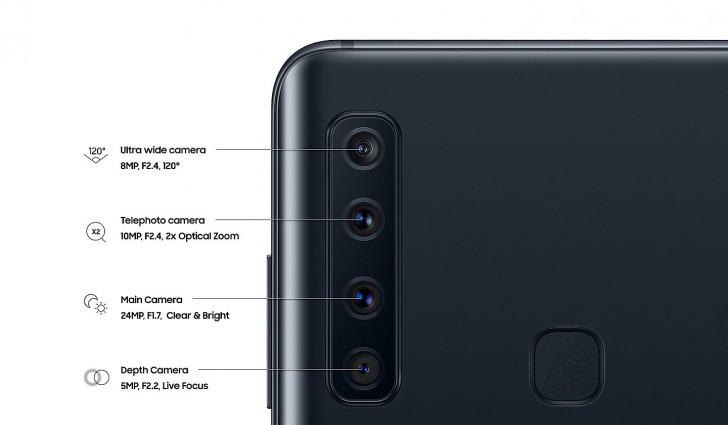 The rest of the snappers are spearheaded by the main 24MP, f/1.7 unit. It's the brightest of the bunch and what you will likely end up using most of the time. Positioned on top of it is an 8MP, f/2.4, ultrawide 120-degree, fixed-focus unit. Then comes the telephoto 10MP, f/2.4 camera. It offers a 2x optical zoom factor and is closely tied to the main camera in the way of operation. What we mean by that will become a lot clearer once we take a quick tour of the camera UI and its settings. But, the gist of it comes down to some form of interpolation and cooperation between that and the main camera, which we will explore in the full review. In contrast, the ultrawide camera appears to be independent in its operation.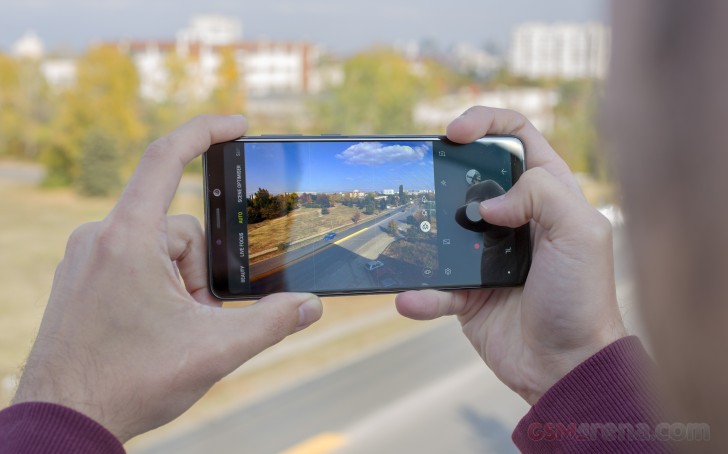 The camera UI is done in a very typical Samsung fashion. A lot of effort appears to have been put into organizing the plethora of options and modes as well as possible, but still, these tend to get overwhelming at times. Since we already eluded to this bit, let's start with the camera settings first and specifically resolution.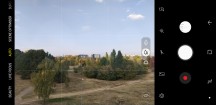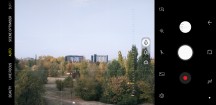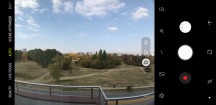 Samsung Galaxy A9 (2018) switching between cameras
The way Samsung handles selection between the three main cameras is via a toggle, with three tree icons (nice one). The icon with 3 trees means ultra wide-angle cam, 2 trees denote the regular camera, and 1 tree means the telephoto. This selector also appears to be tied to the "pinch to zoom" functionality as well, but only partially. While within the regular or telephoto modes, you can use the zoom to switch between the two. Drop below 2x, and the regular one kicks in. Above 2x, its the tele. But, do keep in mind that anything above 2x is digital zoom.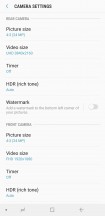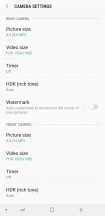 Resolution settings: Main and telephoto • Ultrawide
Oddly enough, there is no way to jump to the ultrawide camera via the zoom control. This appears to be eluding to the way the tele and main cameras are interlinked. Looking at the resolution settings in each mode, we see that the ultrawide tops out at 8MP. All the while, the settings for the tele camera go all the way to 24MP and don't even include a 10MP setting. That's no oversight either, since out of the box shots taken at 2x zoom (presumably with the tele camera) end up with a 24MP resolution, meaning that some sort of interpolation is being employed.
To go through the rest of the modes and camera options, first, we start with the Scene Optimizer. It's Samsung's Ai scene recognition (without any AI branding) and automatic settings tweaker. It has a total of 19 modes, including: Food, Portraits, Flowers, Indoor scenes, Animals, Landscapes, Greenery, Trees, Sky, Mountains, Beaches, Sunrises and sunsets, Watersides, Street scenes, Night scenes, Waterfalls, Snow, Birds, and Text.
The Ai also monitors the shot with a system called "Flaw detection". It promises to detect Eye Blink, Facial Blur, and backlight issues and warn the user while capturing photos. There is also a post-shot system that analyses shots in the background. The algorithms are very dependent on lighting conditions and the number of people in the frame, though. So, reading the manual might be necessary to better understand their potential and limitations. Other than that, it works just like the regular Auto mode.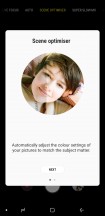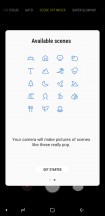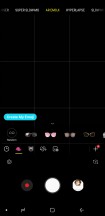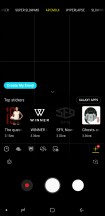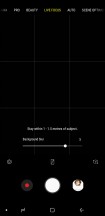 Scene optimizer • Scene optimizer • AR EMOJI • Live focus
Of course, you can leverage the advanced Ai algorithms and face recognition and tracking for much more "important" tasks as well. AR emojis are present, accounted for and extendible, with extra ones available of free and paid download right from the camera app.
Life focus is definitely on the list of modes. It better be, seeing how it gets its own dedicated camera on the back of the A9 (2018). There is a manual mode in the Galaxy A9 (2018)'s camera app, but it is rather limited. Super slow-mo video recording is also on the list of modes, but we couldn't exactly figure out what frame rate it records at. At first glance, our best guess is that it is the same 960fps system, as seen on Samsung's recent flagship models. We'll have to confirm in the full review.
Last, but not least, here are some samples we took with the Samsung Galaxy A9 (2018) and its three (well, technically, four) rear cameras. Bear in mind, it's an early pre-production unit, so don't judge the image quality too harshly.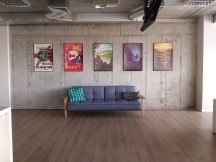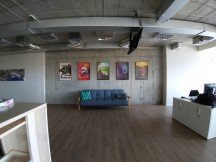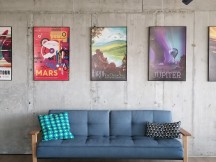 Camera samples: Normal • Ultra wide • Telephoto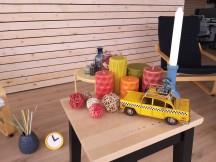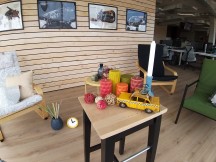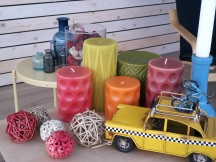 Camera samples: Normal • Ultra wide • Telephoto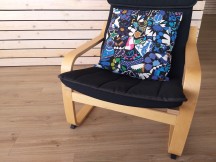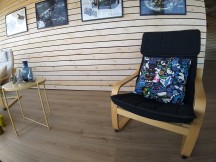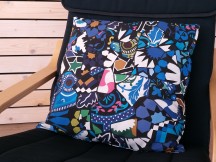 Camera samples: Normal • Ultra wide • Telephoto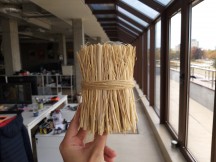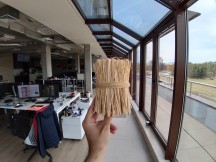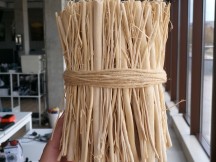 Camera samples: Normal • Ultra wide • Telephoto
Last, but not least, we snapped a few selfies with the 24 MP, f/2.0 unit on the front side of the Galaxy A9 (2017). We enjoyed the high resolution and the detail it provides, but our initial impressions are that the fixed-focus distance set a little bit too far, resulting in less than tack sharp shots.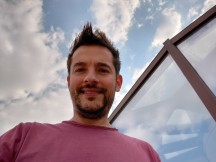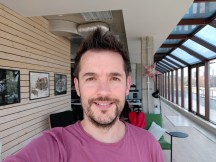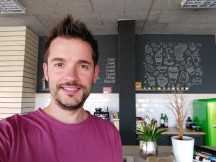 Samsung Galaxy A9 (2018) selfie samples
Last, but not least, here are a few selfie portrait shots. Naturally, done entirely through software. Although come to think of it, Samsung could have probably put a secondary camera on the front side as well, potentially going for another record.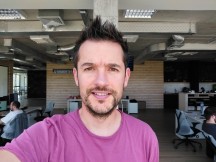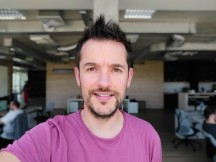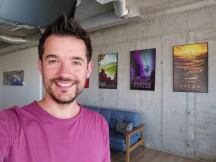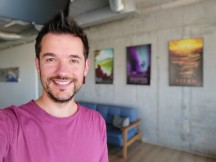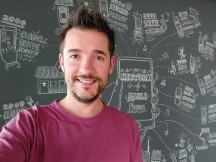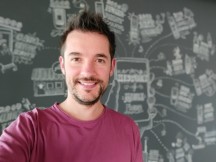 Samsung Galaxy A9 (2018) selfie samples: Regular • Portrait • Regular • Portrait • Regular • Portrait
Final thoughts
The Samsung Galaxy A9 (2018) is one of those rare devices that has a clear angle going for it, in a sea of smartphone sameness. In its case, that's both a blessing and a curse. It's very easy to focus on the world-first camera count achievement and simply stop there, either writing off the phone as a one trick pony or basing your opinion of it solely on its camera capabilities.
But step aside from the camera topic, and the rest of the Galaxy A9 (2018) is still a capable member of the Galaxy A family. It delivers a solid overall experience, with very few cut corners or omissions.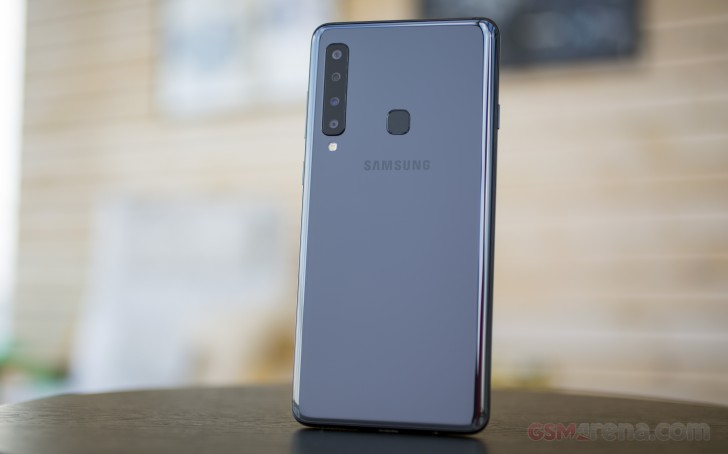 That being the case, we'll explore it in more detail as a well-rounded daily driver in the full review and definitely keep close tabs on its achievements as an ambassador, of sorts, to the hardware-first approach to the future of mobile photography.