Samsung Galaxy A9 Pro spotted on GFXBench with 4GB of RAM and a 16MP camera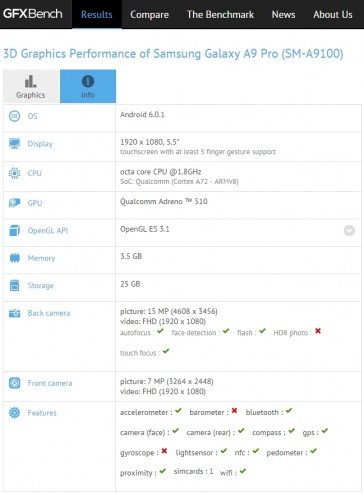 A couple of weeks ago a Samsung Galaxy A9 Pro was said to be under development, though it wasn't clear how it would differ from the regular Galaxy A9 (2016). The other day customs data revealed that the SM-A9100 model had entered India for testing, again leaving the specs a mystery.
A new entry in the GFXBench database finally sheds some light on the matter. Starting off with what doesn't seem too believable, the listing states that the smartphone's display size is 5.5 inches. The plain Galaxy A9 (2016) is 6 inches in diagonal, the A7 (2016) is at 5.5 inches and whether there will be a 5.7-inch Galaxy A8 (2016) or not, a 5.5-inch A9 Pro just doesn't make sense.
The rest, however, looks pretty good. An octa-core CPU with Cortex-A72 cores clocked at 1.8GHz inside a Qualcomm chip all sounds like the Snapdragon 652. One of the notable spec bumps is the 4GB of RAM versus the 3GB in the non-Pro A9.
The other is the primary camera, which the benchmark reports at 15MP. The 4,608 x 3,456 pixel resolution makes for 15.92MP and we're inclined to call that 16MP, but GFXBench seems to count only a complete million pixels as a megapixel, hence the 3,264 x 2,448 pixel front camera (7.99MP) is reported as 7MP.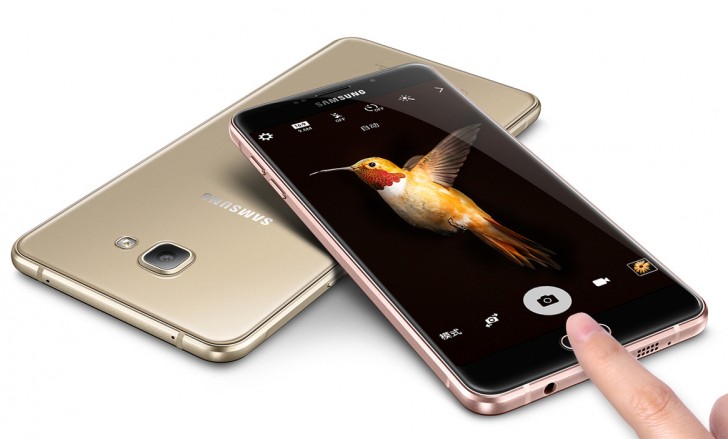 Anyway, the Galaxy A9 (2016) has a 13MP primary camera, while the Galaxy A9 Pro will allegedly have a 16MP one. The specific pixel dimensions of the image hint at the Sony IMX298 sensor, used in the Huawei Mate 8, but we have no way of verifying this for the time being. Samsung has used Sony sensors in the past, including on the current Galaxy S6 flagship, so it won't be a first, that's for sure.
That's all there is to know so far on the Galaxy A9 Pro (with a 2016 model year thrown in there somewhere, possibly), but by the looks of things, the smartphone is headed for official announcement in the coming weeks, and we'll keep you posted.
?
is this the correct benchmark from geekbench 3? http://browser.primatelabs.com/geekbench3/5356119
a
Lets just say 3/4 of a flagship price, with half of the specs of flagship series, voila thats how samsung make their money:)
ADVERTISEMENTS