We've got some great news for those owning the NovaThor U8500-powered Samsung Galaxy Ace 2 and Galaxy S Advance. Apparently the two mid-range smartphones will be getting the official Android 4.1 Jelly Bean treatment without any Ice Cream Sandwich jump in-between.
One of our readers from Bulgaria contacted the local Samsung branch, asking if the two smartphones will be getting Android 4.0 ICS. The surprise response was that the Galaxy Ace 2 and the Galaxy S Advance will be skipping on the Ice Cream Sandwich release and will be upgraded directly to Jelly Bean.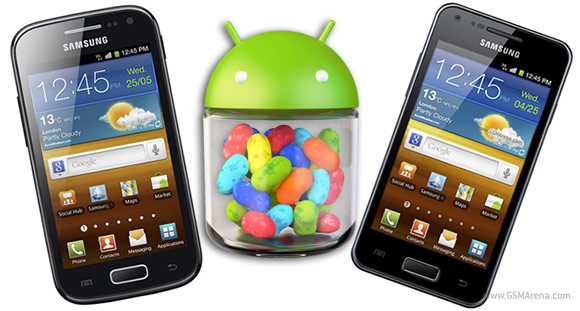 Of course, it could be that whoever is in charge of supporting the Samsung Bulgaria Facebook page got their facts wrong, but if that's not the case, the company deserves a pat on the back for taking such good care of its mid-range offerings. It will probably take a few more months for the update to be finalized, but we are really hoping it will come before the end of the year.
We'll be on the lookout for an official word from the Samsung on the global availability of the Jelly Bean update and we'll keep you posted if anything comes up.
Thanks, Grigorii, for sending this in!
Source (in Bulgarian)
a
will samsung galaxy s advance get an update to ics ????
f
i bought a samsung galxy s advance last day and qnd i am now sitting like a fool using gingerbread 2.3.6.samsung should really care abut user need.the sites like gsm arena stars showing that jelly bean update will soon come to s advance..anyway just ...
?
http://www.samsung.com/ua_ru/support/newsalert/view?spp_news_seq=43657 samsung ukraine and russia updates SGSA to 4.1.2 JB but,not in india..
ADVERTISEMENTS