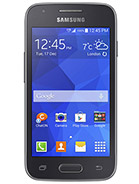 D
Ace 3 is better it has 1 gb ram and the most recent version of Android so ace 4 is trash in specification
?
If Ace 4 can handle kitkat vesion, then Ace 3 remain a better option if its current OS is upgraded to the latest android version. Is it that easy to release another phone than just upgrading the OS of the older ones?.
This will definitely not go well with Samsung users!
N483437
It's just a downgrade, not better than Ace 3, just win Kitkat only.
D
Sammy your so dissapointing instead of updating your old phones from High end phones to Low end phones to latest Android Kitkat v 4.4.2 why keep making new identical phones every 3 weeks from now and If you keep doing this Samsung will go down in the market and no one will buy Samsung phones anymore
?
Same shit just like Ace 3!
I am using the Ace 3 right now and I don't want to swap to that crappy phone...
?
4 inches is a perfect size for me, if this phone had a 8 MP camera, and virtual keys, it would be perfect. But this specification is too poor.
Total of 310 user reviews and opinions for Samsung Galaxy Ace 4.