Pocket rockets
Samsung Galaxy Ace Duos review: Pocket rockets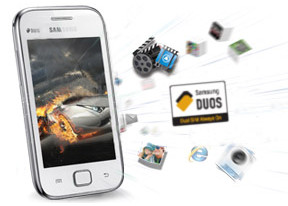 Slick gallery and file browser, but no real image editing
The Samsung Galaxy Ace Duos S8602 uses a slightly dumbed-down version of the standard Android gallery, as it does not include an edit feature. The gallery automatically locates the images and videos no matter where they are stored. It can even import the online photos from your Google Picasa web albums.
Little about the Gallery should surprise you. It displays full resolution images and supports double tap and pinch zoom. Sharing images over Bluetooth, email and MMS are enabled, and so is uploading to Picasa.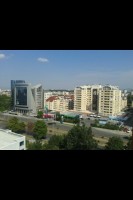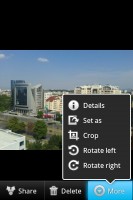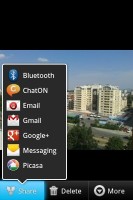 The Gallery offers almost no editing options
The My Files app is a simple to use but efficient file manager. It can move, copy, lock and rename files in bulk, even send multiple files via Bluetooth. My Files will only browse the memory card and the large internal storage (it can't access the system drive).
TouchWiz music player
The Samsung Galaxy Ace Duos uses the standard TouchWiz music player. Samsung have enabled equalizer presets (including a custom one) along with the sound-enhancing DNSe technology and 5.1 channel virtualization.
By default, tracks are sorted into four categories - All, Playlists, Albums and Artists. From the settings, you can add or remove categories to set up the music player just the way you like it.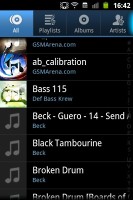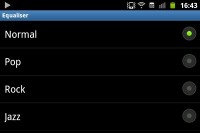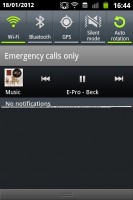 The music player is great • The DNSe settings • A now-playing interface in the taskbar
The album art has a central place in the Now Playing interface, but you can replace it with an equalizer. You can skip songs by sideways swipes, and there's an onscreen scrubber and volume slider.
Another nice feature allows you to quickly look up a song on YouTube or via Google search. The handset also prompts you to select whether to look up the artist, the song title or the album.
FM radio with RDS
The Samsung Galaxy Ace Duos is equipped with an FM radio with RDS. The interface is simple - there's a tuning dial and you can save as many as 4 stations as favorites. You can also play on the loudspeaker, but the headset still needs to be plugged in to act as an antenna.
Abysmal video codec support
Video playback is another area where the Broadcom processor lets us down. The Samsung Galaxy Ace Duos does not come with a dedicated video player application. Instead, to play video files, you have to browse them either from the My Files app or the gallery.
The player can handle pretty much only MP4 files, and not all types, either. There's no DivX/XviD support and HD video is, of course, out of the question. Sadly though, so are WVGA videos so you might need to do quite a lot of converting on your computer if you are to watch videos on your Ace Duos .
The video player seemed to only work with AAC audio and refused to play files containing audio in other formats.
The video player interface itself is as simple and as it could possibly be - there almost isn't one. The on-screen controls boil down to play/pause and skip buttons as well as a scrollable progress bar. Oddly enough, there's a video trimmer that is surprisingly functional. We only wish Samsung had added some codec support to go along with it.
Great audio output
Samsung Galaxy Ace Duos S6802 did really well in our audio quality test. The smartphone was nearly perfect with an active external amplifier and quite good when a pair of headphones was plugged in.
An active external amplifier lets the Galaxy Ace Duos show its full potential and achieve some excellent scores. It's only averagely loud, but that's just the only bad thing we can say about it here.
The degradation when headphones come into play consists of a minor hike in stereo crosstalk, and some extra intermodulation distortion. We'd call this a solid performance on far more expensive smartphones, but here it's even more imrpessive.
And here come the full results so you can see for yourselves:
| | | | | | | |
| --- | --- | --- | --- | --- | --- | --- |
| Test | Frequency response | Noise level | Dynamic range | THD | IMD + Noise | Stereo crosstalk |
| Samsung Galaxy Ace Duos S6802 | +0.03, -0.17 | -87.9 | 87.9 | 0.0047 | 0.029 | -84.0 |
| Samsung Galaxy Ace Duos S6802 (headphones attached) | +0.65, -0.32 | -87.2 | 87.9 | 0.0053 | 0.215 | -67.3 |
| Samsung Galaxy Ace 2 I8160 | +0.20, -0.27 | -88.7 | 87.6 | 0.0086 | 0.018 | -88.9 |
| Samsung Galaxy Ace 2 I8160 (headphones attached) | +0.37, -0.08 | -88.6 | 87.6 | 0.044 | 0.221 | -57.9 |
| Samsung S7500 Galaxy Ace Plus | +0.14, -1.30 | -88.2 | 88.1 | 0.010 | 0.065 | -84.1 |
| Samsung S7500 Galaxy Ace Plus (headphones attached) | +0.12, -1.12 | -86.0 | 88.1 | 0.018 | 0.186 | -43.1 |
| Samsung S5830 Galaxy Ace | +0.11, -0.47 | -84.9 | 86.8 | 0.025 | 0.084 | -82.1 |
| Samsung S5830 Galaxy Ace (headphones attached) | +0.82, -0.22 | -84.5 | 86.7 | 0.083 | 0.628 | -42.3 |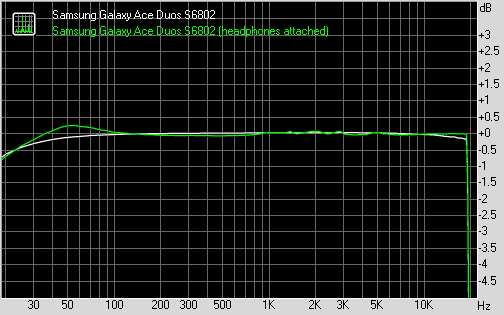 Samsung Galaxy Ace Duos S6802 frequency response
You can learn more about the whole testing process here.