First look
Samsung Galaxy Ace S5830 preview: First look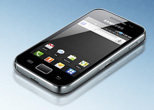 This article is outdated. We have already published a full review.
The web browser lacks Flash support
The user interface is completely minimalistic (it's the Google way). All you get on the screen is an address bar and +/- zoom buttons. The address bar is placed on top of the page, so scrolling down moves it out of view and the zoom controls auto-hide – that's essential for web apps because they need to have the whole screen estate to work with.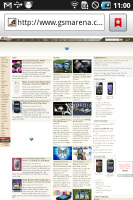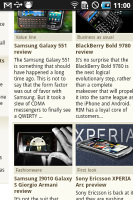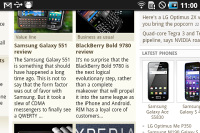 Browsing GSMArena.com on the Galaxy Ace
The Galaxy Ace browser supports three zoom methods – dedicated buttons, double tap and multi-touch pinch-zooming.
The browser supports text reflow – a moment after adjusting the zoom level, columns of text adjust to fit the screen width. It's a huge boost to usability on mobile displays. That way you never have to scroll sideways to read the text on screen.
You might have expected Flash support (we did, the Galaxy Ace runs Froyo after all) but it's not here. A little known fact is that not all hardware platforms support Flash, even though Froyo does. You can't do anything about it. The same issue plagues all entry-level Android smartphones such as the Optimus One and the Galaxy 551.
Sure, there's the YouTube app but that doesn't help much for other video-sharing sites or sites that use Flash for navigation.
First impressions
Samsung has already entered both mid-range Froyo scene with the Galaxy S Giorgio Armani and the QWERTY-fied Galaxy 551. The S5830 Galaxy Ace is the company's first Froyo device targeting the largest group of users.
The Galaxy Ace is more powerful than the Optimus One. It has a bigger and more responsive screen, a faster processor and a better camera (at least on paper, the one on our pre-release unit was malfunctioning). The Ace's connectivity package also features the Wireless N support. Unfortunately there is no Flash support.
There is no doubt Galaxy Ace will be a great performer and competitor. We guess, specs wise it would be closer to the Optimus Chic but we'll pass our judgment later when we see the retail prices of both.
The Ace should be reasonably priced and we guess it will sell well. Our overall impressions are positive and we're looking forward to our next meeting with a proper, retail Galaxy Ace unit.