Introduction
Utilitarian Samsung has finally put on their premium hat to produce a device with more refined looks and manageable size to match the upcoming iPhone 6. An Android super mini and an iPhone 6 competitor, the Alpha puts aluminum back in Samsung's design mix and is optimized for portability rather than massive screen size.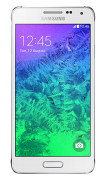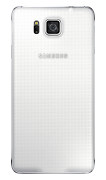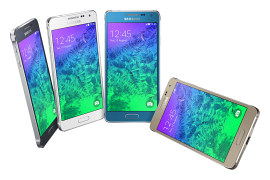 Samsung Galaxy Alpha official images
The Galaxy Alpha we are reviewing is based on the company's latest Exynos chipset, tailored to its needs, rather than using the ubiquitous Snapdragon. There's been talk of a Snapdragon-powered version but so far the details are vague.
The screen size hits right where the new iPhone and the Xperia Z1 Compact successor are supposedly aiming at - a more manageable 4.7-inch diagonal.
The Alpha comes with a unique camera with a 12MP 16:9 sensor and 2160p video capture.
Many things about the Galaxy Alpha make us wish it starts a new trend in Samsung design but the practical, mass-market genes of the company are still plainly visible in the Alpha's design.
Key features
Metal frame, 6.7mm slim, 115g of weight
LTE connectivity (Cat. 6, 300Mbps downlink)
4.7" 1280 x 720 Super AMOLED display with 312 ppi pixel density
Android OS v4.4 KitKat with TouchWiz UI
Octa-core processor (1.3 GHz Cortex-A7 + 1.8GHz Cortex-A15), Exynos 5 Octa 5430 chipset, Mali-T628MP6 GPU, 2GB of RAM
Optional quad-core processor (2.5GHz Krait 400), Snapdragon 801 chipset, Adreno 330 GPU, 2GB of RAM for a yet to be confirmed regional version
Cortex-A5 based Seiren audio co-processor (Exynos model only)
12MP camera with LED flash, 2.1MP front-facing camera, 2160p video recording
32GB of built-in storage
Fingerprint scanner with PayPal payments support and private mode access
Heart-rate monitor
Motion and gesture control, Air view
1,860mAh battery
Main disadvantages
Low battery capacity
Still plenty of plastic in the design
Non-expandable storage
No TV-Out option (no MHL or SlimPort)
Not water resistant (like the S5 mini or Z1 Compact)
The small battery capacity is the biggest practical issue with the Galaxy Alpha though the Exynos 5430 mobile chipset is the first built on a 20nm process (Snapdragons are at 28nm). That and the Cortex-A7 cores should be quite a power-efficient setup.
Another thing is the plastic back panel is at odds with the overall styling, it's the plastic of midrange devices. Still, the Alpha is the thinnest Galaxy smartphone Samsung has made and it's a featherweight, too. At 115g, it weighs as much as an iPhone 5s and is almost a full millimeter thinner to boot. It's only the lack of water-resistance that can possibly backfire.





Samsung Galaxy Alpha in the office • staring down the iPhone 5s
The metal edge on the sides does elevate the in-hand feel though. It's a popular design, the metal frame exposed on the sides with glass/plastic on the front and back. Apple, Sony and Nokia have all used it on their flagship devices.
We didn't expect Samsung to completely change its identity for the Galaxy Alpha but Galaxy S fans still have plenty to drool over. Fans of Android super minis will also see a glimmer of hope and maybe loosen their grip on the Xperia Z1 Compact. And even if you are the iPhone type, the following pages should still be of interest. You know, to check out what the competition has to offer - and this time, it's a lot of bang in a package small enough.
M
I dont know where you are in saying battery is not available? Amazon has batteries that fit the alpha.