Two browsers, same features
The Samsung Galaxy Alpha comes with both the stock Android browser (customized by Samsung) and Google's Chrome. Both support Multi-window, but only the stock browser supports Air View.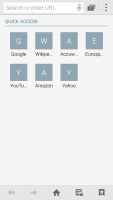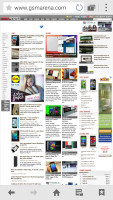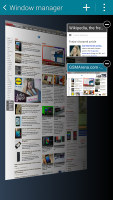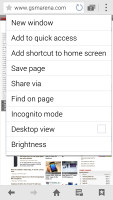 Browsing GSMArena.com on the Samsung Galaxy Alpha
Anyway, the interfaces of both browsers are very similar. Both show favorite web sites on their new tab page and can sync bookmarks and open tabs across devices (using Samsung and Google accounts respectively). The browsers handle multiple tabs (with Incognito mode), but in Chrome you can switch between tabs by horizontal swipes from the side, which is pretty handy.
Voice input is available if you don't feel like typing up a query.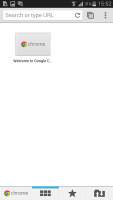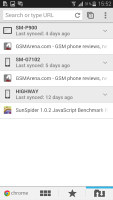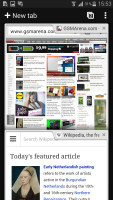 Chrome is also available out of the box
Air view, Smart scroll and Smart stay all work in the Android browser, the first of which lets you simply hover your finger over a web element and it will act like mouse-hover, which is great for websites not optimized for mobile devices.
Note that Chrome has an option to reduce traffic by compressing web pages on Google's servers before they are sent to the device, similar to how Opera's Turbo mode (and Opera Mini) work.
Flash is no longer welcome as even the stock browser has dropped support for plug-ins.
Chrome also lacks a dedicated Reading mode as found on iOS, which increases font size, removews distracting elements and ads and automatically joins multi-page articles in one single piece.
Other apps
While it wasn't preinstalled, the Polaris Office 5 is available as a free download from Galaxy Apps. Google's own document editing suite is quite comprehensive, too, but it's always nice to have an alternative.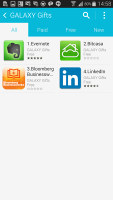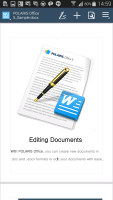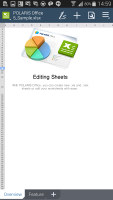 The Polaris Office editor hands Word, Excel and PowerPoint documents
The My Files app organizes your files into categories - Images, Videos, Music, Documents, Downloaded apps, Recent files and even Dropbox files. The My Files app can do bulk operations and even send multiple files to another phone. Or you can ZIP multiple files to be sent easier.
Samsung swapped the usual calendar with S Planner (as usual). It has a sleek UI and can pull calendar events and tasks from multiple accounts. You can download the Google Calendar to use instead but you'll lose the Air View gesture support.
There's a Memo app for note taking, which syncs with your Samsung account so you can access notes from multiple devices. A calculator and voice recorder are available out of the box. Voice recordings can go into the secure Private mode storage.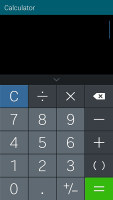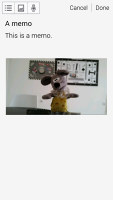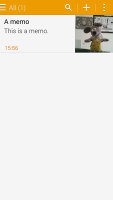 Calculator app • memo taking app
The Alarm app is quite advanced too. Each alarm has its own tone, snooze and repeat settings. It also features Smart alarm, which rings quietly, slowly turning the volume up for a less stressful wakeup. The app also features a world clock, stopwatch and a timer.
There's also Find my mobile out of the box, A Samsung alternative to Android Device Manager. It has remote controls so you can reset and lock the device if you lose it and check its location on a map. Once reset, you can prevent the phone from being reactivated. The phone can send out a message the moment a new SIM card is inserted.
There's also a built-in Backup function that keeps your phone logs, messages, wallpaper and several other settings backed up in the cloud.
S Health keeps step counter is always working in the background and can keep track of how many calories you've burned through other exercise too. The app can also keep track of what you eat and lets you set a weight loss goal.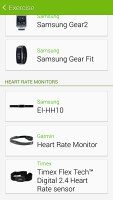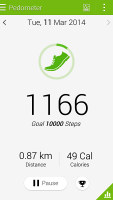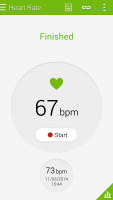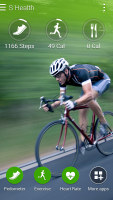 S Health tracks your exercise and heart rate
For more accurate measurements, the Galaxy Alpha also features a heart rate monitor. You can connect external exercise sensors via ANT+ or Bluetooth 4.0 LE to keep track of your heart rate, cadence and even weight.
The Samsung Galaxy Alpha has a GPS/GLONASS receiver. There's no barometer unlike recent Galaxy S phones but A-GPS can still speed up locks quite a bit, but requires Internet access. If rough positioning will do, Cell-ID and Wi-Fi positioning are on it. Wi-Fi positioning can work even if Wi-Fi is disabled or you can turn this off to save battery.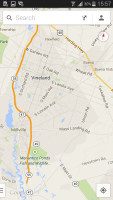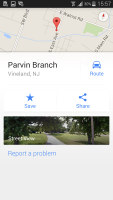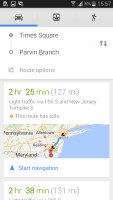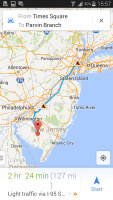 Google Maps with advanced routing options
Samsung's app store was recently renamed Galaxy Apps. It looks like an older version of Google Play, except here you'll find far fewer apps. The good news is Samsung uses this repository to distribute some exclusive titles and some promotional offers, available only to its customers. Also, you can use your fingerprint to simplify and secure access to Samsung Apps.