Final words
The Samsung Galaxy Alpha is a brilliant addition to the Galaxy line. Not quite an alpha dog but a starry-eyed pup, dreaming of leaving its own legacy. What if they dropped the "Galaxy" moniker and just called it "Samsung Alpha"?
A tempting thought. The plastic back, the hardware keys below the screen, and some of the TouchWiz bloatware are all weighing down the Galaxy Alpha and those are all Galaxy genes. Samsung missed an opportunity to one-up the iPhone 6 with water resistance and a large battery - one that Sony won't miss with the Xperia Z3 Compact.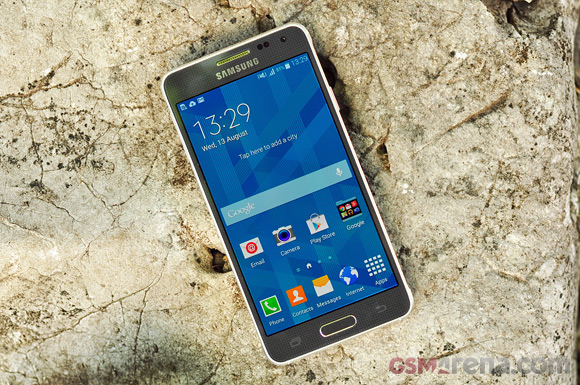 We have to give credit where credit is due - after handling the Galaxy S5 and S5 mini, the Galaxy Alpha was a revelation. The metal frame puts it a notch above its siblings and Samsung did a great job with the homemade chipset, which is a solid alternative to Snapdragon 801.
Key test findings:
Good build quality but premium feel suffers from the plastic back
The screen is sharp enough and great outdoors
Battery life is better than expected given the small battery capacity
The speaker loudness is only average
TouchWiz UI is responsive and comes with lots of proprietary features (but nothing unseen before)
Audio output quality is great
Takes great photos and videos
Video player won't play clips with multi-channel audio (AC3, DTS) or DivX video
The TouchWiz UI is incredibly rich in features and some of those actually make a difference. Like Multi-window, Smart stay, Smart pause, Smart rotation and Smart scroll. Air View (recognizing a finger hovering over the screen), Air Browse (scrolling with waving in front of the screen), Direct Call (motion-activated calling) Smart Alert (motion-activated alert about missed events), and Blocking mode (Do Not Disturb profiles).
The music player comes with proprietary features such as Music square (filtering music by tempo or mood), Smart Volume (track volume normalization), and Adapt Sound (tuning sound output to your headphones). The security-related features include the Private mode info vault, Samsung KNOX (switch between Personal and Work mode).
Next up, there is the Ultra power saving mode, which limits the device functionality to conserve energy. Samsung ChatOn (instant messaging between ChatON users) and the special My magazine homescreen, powered by Flipboard, are all Samsung proprietary features as well.
Samsung Sidesync allows you to share content between a Samsung smartphone and PC or a Samsung tablet and smartphone, as well as remotely control the smartphone from the bigger device (including mouse and keyboard input).
Aside from all that, Samsung's proprietary camera features include Selective focus, Virtual tour shot, 360-degree panoramas, and Audio zoom (amplifying the sound of the subject that's zoomed in).
Below is the list of Galaxy Alpha competitors but keep in mind those are only the ones currently available and not Samsung's real target. The Apple iPhone 6 and the Sony Xperia Z3 Compact will be unveiled in less than a month and then the real competition will begin.
The Apple iPhone 5s is still in the running though and unless Apple pulls an iPhone 5c on it, it will continue to be even when the 6 is out. It's metal all the way around and the epitome of a compact super phone. Its small screen is getting cramped even for long-time Apple faithfuls. The 8MP camera is also showing its age.
The Sony Xperia Z1 Compact is held up as example to other compact Androids out there. It puts flagship guts in a petite body without dropping components on the floor in the process. Even a month away from being succeeded it still turns heads with its powerful chipset and high-resolution camera. The Galaxy Alpha could have used its IP58 water-resistance rating to bolster its position - it's odd that the mid-range Galaxy S5 mini has it but not the new flagship line.
The Samsung Galaxy S5 mini has a slightly smaller screen than the Alpha (a 4.5" 720p Super AMOLED) though it's not noticeably more compact. It's all plastic and it's way behind in terms of processing power (it only has the four Cortex-A7 cores) and the camera department (8MP / 1080p). On the up side, it is water-resistant and comes in a dual-SIM version. It's more affordable than the Alpha too.
The HTC One - not the One (M8) - is not as compact as the Alpha but for the extra size you get front-facing stereo speakers. The premium metal unibody envelops the sides and back and the 4.7" screen is much sharper (1080p). It runs Android 4.4 with Sense UI with an option for pure Google Play Edition software. It's powered by the now-outdated (but still reasonably fast) Snapdragon 600 and the camera has a third of the resolution, though it does offer OIS.
The HTC One mini 2 is another all-metal option with a slightly smaller screen (4.5" 720p), which maintains the stereo speakers but bumps up the camera to 13MP. It's no match in terms of processing power though with a quad-core Cortex-A7, it's really meant to compete with the Galaxy S5 mini and not the Alpha.
An alternative option is the ZTE Nubia Z5S mini. It has a 4.7" 720p IGZO screen and dimensions close to the Alpha. It's powered by Snapdragon 600 and has a 13MP / 1080p main camera, plus a 5MP selfie shooter. Be warned that it runs an outdated Android 4.2 Jelly Bean and the LTE connectivity is market dependent.
LG has a mini too but it was discredited due to its low screen resolution (qHD) and little in the way of premium feel.
We haven't seen the iPhone 6 and Xperia Z3 Compact and rumors aren't enough to tell whether the Samsung Galaxy Alpha has a shot at all. We do know that it fills a gaping hole in Samsung's lineup, a proper compact flagship, a hole many other makers still need to worry about.
With the familiar Galaxy branding (a blessing and a curse) the Alpha should sell reasonably well. It won't make everyone happy but seems capable of helping Samsung extend their reach, perhaps even dip into Apple territory.