Safety, power saving, simplicity
The Samsung Galaxy Alpha features Private mode. It secures photos, voice recordings, music and other files with your fingerprint (any of the three prints set up, with the password as a failsafe). Those files are only accessible when Private mode is enabled and completely hidden from apps otherwise.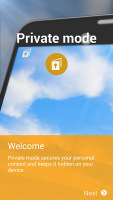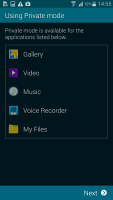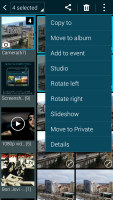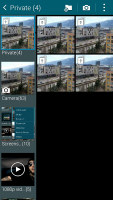 Enabling Private mode and moving photos to a secure location
Note that this is completely separate from the lockscreen - you can have the insecure Swipe to unlock screen and still keep your files safe with Private mode. You can also chose less secure options like a Pattern lock or PIN to use instead of a fingerprint.
The fingerprint scanner has been certified by PayPal and can be used by apps to secure transactions, unlike the iPhone's sensor, which cannot be accessed by third-party apps. You can also verify your Samsung account and sign into websites using the fingerprint reader.
Samsung offers two Power saving modes on its recent smartphones. Those are particularly welcome on the Galaxy Alpha and its small battery. The first can restrict chipset performance and background data and even turn the screen greyscale for extra power saving.
If you really need to make those last few percent battery charge last, you go to Ultra power saving mode. This one cuts off all advanced functions and even changes the homescreen to a simple one with big shortcuts (only 6 of them too).
This one also works with the Safety assistance feature. In case of an emergency, the phone will alert you to Geo News (e.g. extreme weather, earthquakes) and you get easy access to the primary contacts. Hitting the Power key three times fast can send out a message to your emergency contacts.
The Ultra power saving mode is enabled to make the battery last as long as possible but with a different set of shortcuts - flashlight, emergency alarm and sharing your location get top spots on the homescreen.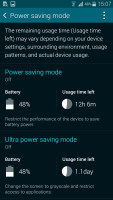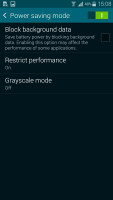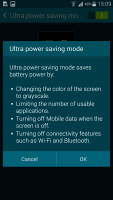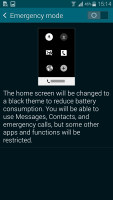 The two power-saving modes • Emergency mode
Finally, the TouchWiz feature tally is completed by the Easy mode, which shows only a handful of large shortcuts on the screen. The step counter is also visible on the homescreen, so this mode is perhaps meant for when you're out on a run and aiming for tiny icons is too hard.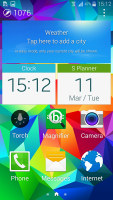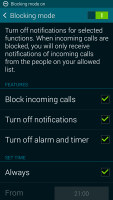 Easy mode simplifies the user interface
The Galaxy Alpha also has the Smart screen features - Smart stay prevents the screen from locking while you're looking at it, Smart pause stops video playback when you look away. Smart scroll lets you scroll through pages just by tilting your head or by glancing up or down. Air View is also available, it shows additional info when you hover your finger over a calendar entry or a folder in the gallery.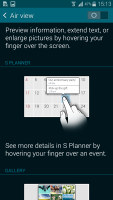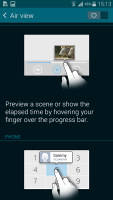 Motions gestures and Air View are available
Motion gestures are available too. Direct call dials the currently selected contact when you put the phone up to your ear, while smart alert will vibrate the phone when you pick it up if there are missed events.
S Voice and Google Now
The Galaxy Alpha features both Google Now and Samsung's S Voice.
Google Now integrates with your Google account and can access your daily routine, internet searches, email, etc. and give you information relevant to your interests and daily needs.
It provides traffic information to your work or home, knows the scores of sports teams you follow and gives you the weather forecast for your location. It's great for at-a-glance info, but can handle voice input as well.
Google Now also has its own dedicated homescreen widget.
S Voice is meant for just voice commands. It can be used to dictate text, play music, open an app, change a setting, make a memo (including voice memo), add a reminder, schedule an event, set an alarm or timer, check the weather, do a search on the internet, look for local listings (e.g. nearby restaurants) and even get an answer to a question.