The Samsung Galaxy Alpha duo from Mexico is back, this time starring in a two minute video. We get a short tour of the hardware and a confirmation that the software is Android 4.4.4 KitKat with TouchWiz on top. The whole Alpha line will feature a metal frame like the Galaxy Alpha but will not be flagship devices.
For one, they are powered by Snapdragon 410 – Qualcomm's mid-range 64-bit chipset – for another the Galaxy Alpha A5 has a 5" 720p screen, while the smaller Galaxy Alpha A3 has a 4.5" qHD screen. Both Super AMOLED but not spectacularly sharp. The bezels around the screen aren't thin like we're used to on premium devices either.
Both the Samsung Galaxy Alpha A3 and A5 were put through the GFX Benchmark leaving behind some specs. Not that we didn't know most of them from previous rumors, but it's another confirmation. Both phones are powered by Snapdragon 410 - quad-core Cortex-A53 @ 1.2GHz, Adreno 306, 1GB RAM - and have 16GB of built-in storage. The back cameras are 12MP and 8MP for the Alpha A5 and A3 respectively, while the front-facing cameras are 5MP shooters. All cameras record 1080p video. The benchmark also confirms the screen resolutions (screen diagonal measurements by software are inaccurate).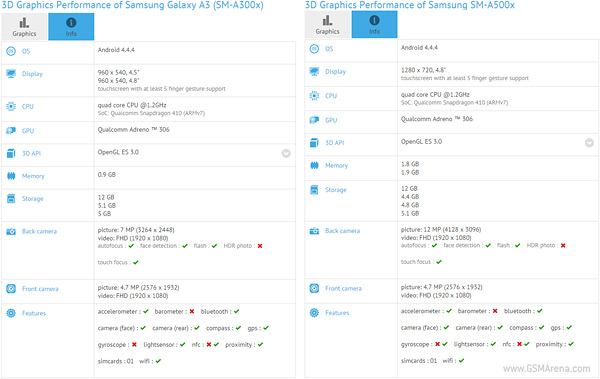 There will be a third member of the family, the Galaxy Alpha A7, but it doesn't feature in the video. Design-wise the Alphas are hard to tell apart – the white one on the left is the bigger Alpha A5, the white one on the right is the smaller Alpha A3 (both confirmed via their About screens).
We don't know the launch date for the three Galaxy Alpha A phones but we do know their price range – the Galaxy Alpha A5 will be around $400-$450, while the Galaxy Alpha A3 will be cheaper but not by much at $350-$400.
S
Will my samsung galaxy a5 have android 5 (lollipop )
A
Hi, wher can we buy it,but it's Loök like Süper mobil The New model Samsun,and I'Love it.
ADVERTISEMENTS