Metal mania
Samsung Galaxy Alpha vs. HTC One mini 2: Metal mania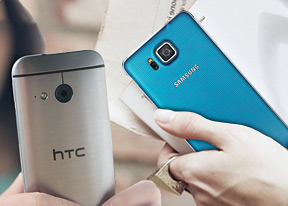 Displays
Both phones prioritize compact size over screen size and their parent companies settled on a 4.5-4.7" diagonal, 720p resolution giving them virtually equal pixel density.
The Samsung Galaxy Alpha has the raw screen size advantage and it doesn't have to reserve an area for on-screen buttons like the HTC. That said, we've seen some excellent screens from HTC and the One mini 2 is another success.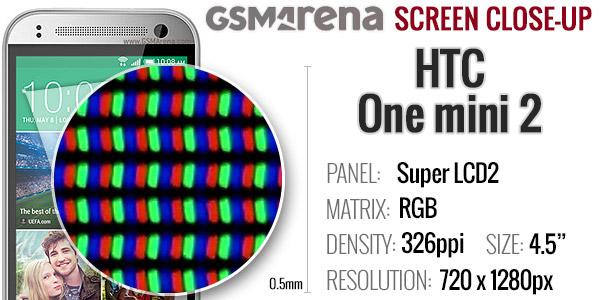 While pixel density is about the same, sharpness is slightly more complicated. The Super LCD2 has a standard RGB matrix while the Samsung Super AMOLED screen has a diamond pattern PenTile arrangement. Differences are slight but people with good eyesight can notice a crosshatch pattern up close. Nothing to worry about for normal day-to-day usage though.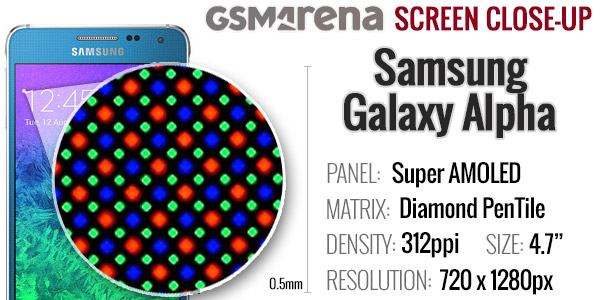 More important are things like brightness and contrast and as far as the first of those is concerned are virtually matched - 450nits for the Galaxy Alpha and 500nits for the One mini 2. The HTC even has a solid answer to Super AMOLED's theoretically infinite contrast and even black levels stay relatively low.
Display test
50% brightness
100% brightness
Black, cd/m2
White, cd/m2
Contrast ratio
Black, cd/m2
White, cd/m2
Contrast ratio
HTC One mini 2
0.19
220
1141
0.42
501
1196
Samsung Galaxy Alpha
0
228
∞
0
456
∞
Apple iPhone 5s
0.14
163
1145
0.49
596
1219
HTC One (M8)
0.2
245
1219
0.46
577
1256
Samsung Galaxy S5
0
274
∞
0
529
∞
Samsung Galaxy S5 mini
0
226
∞
0
432
∞
Sony Xperia Z1 Compact
-
-
-
0.34
626
1819
Sunlight legibility goes in favor of the Samsung in large part thanks to the low reflectivity of the Super AMOLED assembly. The HTC One mini 2 screen is fairly average in this respect.
Sunlight contrast ratio
Nokia 808 PureView
4.698
Samsung Galaxy Note 3
3.997
Apple iPhone 5
3.997
Samsung Galaxy K zoom
3.675
Nokia Lumia 930
3.567
Apple iPhone 5s
3.565
Samsung Galaxy S5
3.549
Alcatel Idol X+
3.527
Apple iPhone 5c
3.512
Samsung Galaxy Alpha
3.509
Samsung Galaxy Note 3 Neo
3.487
Motorola RAZR MAXX
3.42
Samsung I9300 Galaxy S III
3.419
Nokia Lumia 925
3.402
Gionee Elife S5.5
3.386
Samsung I9505 Galaxy S4
3.352
Samsung Omnia W
3.301
Samsung Galaxy S5 mini
3.174
Samsung I9000 Galaxy S
3.155
Samsung Ativ S
3.129
Samsung I9190 Galaxy S4 mini
3.127
Samsung Galaxy S4 zoom
3.118
Nokia N9
3.069
Samsung Galaxy Note
2.97
Samsung Galaxy Premier
2.958
Sony Xperia Z1
2.95
HTC One S
2.901
Samsung I8730 Galaxy Express
2.861
BlackBerry Q10
2.856
Samsung I9100 Galaxy S II
2.832
Samsung Galaxy S II Plus
2.801
BlackBerry Z30
2.79
Sony Xperia ZR
2.672
Huawei Ascend P1
2.655
Sony Xperia Z3 Compact
2.616
Sony Xperia T3
2.609
Nokia Lumia 900
2.562
Motorola Moto G 4G
2.546
HTC One Max
2.537
Nokia Lumia 720
2.512
HTC One
2.504
Motorola Moto G
2.477
Sony Xperia Z
2.462
Xiaomi Mi 4
2.424
Samsung Galaxy S III mini
2.422
LG G Flex
2.407
HTC One (M8)
2.371
Motorola RAZR i
2.366
Sony Xperia ZL
2.352
Samsung Galaxy Note II
2.307
Oppo Find 7a
2.279
Alcatel One Touch Hero
2.272
Apple iPhone 4S
2.269
HTC Desire 600 dual sim
2.262
Nokia Asha 311
2.25
LG Nexus 5
2.228
Nokia Lumia 820
2.193
HTC One (E8)
2.185
Nokia Lumia 920
2.17
HTC One X
2.158
Nokia N8
2.144
Nokia Lumia 620
2.142
Nokia 515
2.134
HTC Desire 500
2.129
Sony Xperia acro S
2.119
Nokia Lumia 1020
2.103
Oppo Find 5
2.088
Sony Xperia SL
2.078
Nokia Lumia 630
2.056
BlackBerry Z10
2.051
Samsung I9295 Galaxy S4 Active
2.022
Apple iPhone 4
2.016
HTC One mini
2.003
Xiaomi Mi 3
2.001
Huawei Ascend P7
1.992
LG G2
1.976
OnePlus One
1.961
Oppo R819
1.957
Sony Ericsson Xperia ray
1.955
Sony Xperia Z2
1.944
Nokia Lumia 1320
1.941
HTC One mini 2
1.94
Samsung Galaxy Camera
1.938
Sony Xperia J
1.932
Acer CloudMobile S500
1.931
LG Nexus 4
1.926
LG G Pro 2
1.922
Samsung Galaxy Mega 6.3
1.913
Nokia Asha 308
1.911
Sony Xperia T
1.894
HTC Desire X
1.878
HTC Butterfly
1.873
HTC Windows Phone 8X
1.873
HTC Butterfly S
1.867
Huawei Ascend P6
1.865
Huawei Ascend Mate
1.845
LG G2 mini
1.838
LG G3
1.82
Nokia Lumia 1520
1.813
HTC Desire 616 dual sim
1.797
Sony Xperia V
1.792
HTC Desire 816
1.783
Sony Xperia Z1 Compact
1.772
HTC Desire 700 dual sim
1.769
Sony Xperia U
1.758
Meizu MX3
1.754
LG Optimus G
1.753
Sony Xperia T2 Ultra
1.74
Sony Xperia SP
1.733
LG Optimus 4X HD
1.691
Oppo Find 7
1.691
HTC One V
1.685
BlackBerry Q5
1.682
LG Optimus Vu
1.68
Xiaomi Mi Pad 7.9
1.672
LG Optimus GJ
1.666
LG Optimus 3D Max
1.658
HTC Desire V
1.646
Samsung Galaxy Xcover 2
1.632
Samsung Galaxy Ace 3
1.622
Jolla Jolla
1.605
Sony Xperia Z Ultra
1.578
Sony Xperia go
1.577
Samsung Galaxy Ace 2 I8160
1.566
Samsung Galaxy Core
1.563
LG Optimus G Pro
1.552
Motorola Moto E
1.545
LG Optimus 3D
1.542
Nokia Asha 302
1.537
BlackBerry Curve 9320
1.488
Sony Xperia M
1.473
Oppo N1
1.47
Meizu MX 4-core
1.462
Nokia Lumia 610
1.432
Samsung Galaxy S Duos
1.4
Samsung Galaxy Grand Neo
1.393
Sony Xperia M2
1.393
Samsung Galaxy Grand 2
1.38
Sony Xperia E1
1.372
Nokia Lumia 625
1.371
Gigabyte GSmart G1355
1.361
Sony Xperia L
1.351
Samsung Galaxy Mega 5.8
1.35
Sony Xperia M2 Aqua
1.331
Sony Xperia miro
1.324
Samsung I9082 Galaxy Grand
1.321
Samsung I8530 Galaxy Beam
1.315
HTC Desire C
1.3
Nokia X
1.291
Sony Xperia C
1.283
Nokia Asha 503
1.281
Nokia Asha 501
1.27
LG Optimus L7
1.269
Nokia Lumia 510
1.268
Samsung Galaxy Fame
1.245
LG Optimus L9
1.227
Meizu MX
1.221
Samsung Galaxy Young
1.22
Sony Xperia E
1.215
Nokia XL
1.204
Sony Xperia E dual
1.203
Samsung Galaxy Pocket
1.18
Nokia Asha 305
1.178
Nokia Asha 306
1.175
Sony Xperia neo L
1.169
Sony Xperia tipo
1.166
Nokia Lumia 520
1.161
Samsung S6802 Galaxy Ace Duos
1.148
Samsung Galaxy mini 2
1.114
Viewing angles for both screens are excellent, on the HTC thanks to its IPS tech, on the Samsung thanks to AMOLED's inherent properties.
Now we get to the can of worms that is color rendering. Some people just don't like the oversaturated colors typical of AMOLED screens and for them Samsung has included a choice of four screen modes that make sure you get a choice between punchiness and perfectly accurate colors - as well as steps in-between.
The HTC One mini does not have color options but the default is good with beautiful (and not oversaturated) colors.
Winner: Samsung Galaxy Alpha. The screen offers more real estate and handles sunlight much better, plus it gives you the choice between oversaturated punchiness and accurate colors.
The HTC One mini 2 has an excellent screen but it's slightly cramped for the size of the device and has no definitive advantages over the Alpha.
Connectivity
Both the Samsung Galaxy Alpha and the HTC One (M8) are LTE-enabled phones but the Galaxy can be up to twice as fast at downloading data. LTE Cat. 6 promises up to 300Mbps downlink speeds, up from 150Mbps for Cat. 4.
That's for the Snapdragon 801-based Galaxy Alpha, the one with Exynos is at Cat. 4 150Mbps just like the One mini 2. That matters only if your carrier supports such speeds, of course, most are still at 100Mbps. Both categories of LTE upload at 50Mbps.
LTE aside, both phones use nano-SIM cards and have quad-band 2G. The Samsung also has quad-band 3G, while the One mini 2 offers tri- or quad-band 3G depending on region. Outside of LTE coverage both phones will do up to 42Mbps on an HSPA+ network.
Locally, the Galaxy Alpha wins out with 802.11ac, while the HTC only handles the previous standards - a/b/g/n. Both support dual-band Wi-Fi, DLNA and Wi-Fi hotspots. Bluetooth connectivity is on par with v4.0 support and both have NFC built-in.
Surprisingly Samsung didn't include MHL support for its Alpha flagship, while the HTC One mini 2 has it. MHL allows the phone to mirror its screen on a TV via an HDMI adapter, so Galaxy Alpha owners will have just wireless screen mirroring to rely on.
The Galaxy Alpha wins one back with ANT+ connectivity - sport sensors (an important part of Samsung's strategy) work either via Bluetooth 4.0 or ANT+, both low-power wireless standards.
Positioning is handled by the industry standard combo of A-GPS and GLONASS, but Samsung also supports the Chinese Beidou system. That one is yet to achieve worldwide coverage.
Neither phone has an IR blaster even though their bigger counterparts do.
Winner: Tie. Lack of MHL is certainly a negative for the Alpha but it is future-proof when it comes to LTE, Wi-Fi and positioning, plus it adds ANT+.
The HTC One mini 2 will perform slightly better in the short run but if you upgrade your Wi-Fi router before you upgrade your phone, you'll miss out on the new tech.